Tubbs-Carlisle House
Introduction
Erected in 1908, this historic home is significant for its architecture and association with its builders, Isham Tubbs and W. Augustus "Uncle Gus" Carlisle, who were early pioneers in the area and also brothers-in-law (their wives were sisters). The house is large because it was actually designed as two homes, side-by-side; one was for the Tubbs and his large family (12 children) and the other was for Carlisle and his wife, who did not have children of their own. In terms of architecture, the house is an excellent example of the Queen Anne style and it reflects the success the two men achieved when they built it. It was added to the National Register of Historic Places in 1908.
Images
The Tubbs-Carlisle House was built in 1908 and is one of the few Queen Anne-style buildings remaining in Lubbock.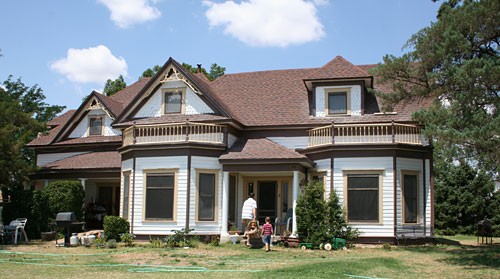 Backstory and Context
Isham Tubbs and his wife, Texana, got married in 1877 and moved to Lubbock County in 1890. Isham was a successful farmer and a prominent local figure, becoming one of the first school board trustees and a founding member of the first United Methodist Church in Lubbock. W. Augustus, who was a cattleman and landowner and his wife, Lizzie, also settled in Lubbock County in 1890. The families decided to live together so that Isham and Texana's children go to a new school in Lubbock. The Tubbs family had lived on a homestead that was some distance from Lubbock, so it made sense for them to live closer.
Isham and Uncle Gus contributed to the growth and development of Lubbock and the surrounding area. Both transported supplies to Lubbock before the railroads arrived in 1910, and both built fences that helped divide up the land. They also played a role in merging the two communities that formed Lubbock—North Lubbock and Monterey. Uncle Gus donated land for a school and another portion for cemetery that bears his name today. Both men and their respective wives lived in the house for the rest of their lives. Texana died in 1930 and Isham in 1947; Lizzie passed away in 1914 and Uncle Gus in 1920. Family descendants lived in the house at least through the early 2000s.
Sources
"Carlisle Cemetery." The Historical Marker Database. Accessed November 30, 2019. https://www.hmdb.org/marker.asp?marker=73613.
"Isham and Texana Tubbs House." The Historical Marker Database. Accessed November 30, 2019. https://www.hmdb.org/marker.asp?marker=73611.
Krites, Mary Kelly. "Tubbs-Carlisle House." National Parks Service - National Register of Historic Places Nomination Form. November 2, 1990. https://catalog.archives.gov/OpaAPI/media/40972874/content/electronic-records/rg-079/NPS_TX/90001719.pdf.
Additional Information