Emmett Till: Graball Landing/Fish Lake Landing (Pecan Point) Controversy
Introduction
Emmett Till was an African American boy whose story never got the light it deserved. Emmett Till grew up on the south side of Chicago. Everything started when he went to visit his grandma in rural Mississippi. His story highlights the oppression that takes place in Mississippi. This outline highlights the story associated with his body and the controversy on where it was found. Graball landing marks the spot where his body was found, but Fish Lake Landing is also another spot where his body was supposedly found.
Images
River Sign at the confluence of Black Bayou/Tallahatchie River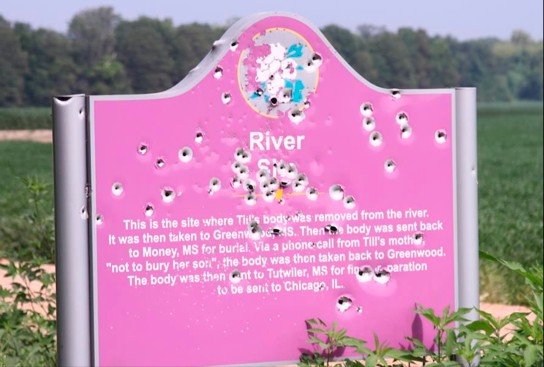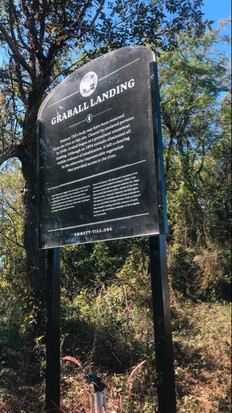 Backstory and Context
Graball landing is at the confluence of the Tallahatchie River and the Black Bayou. This was the believed site where Emmett Till's body was discovered. In 2008, a sign was put up here to commemorate Till, within six months the sign was stolen and was thrown into the Tallahatchie River. This site is nationally known for the vandalism associated with his story. The second sign went up later and quickly was filled with bullet holes. This was another incident of vandalism. 
Eight years later, an NYU student Kevin Wilson posted the shot-up sign on Facebook and it received so much media coverage, that it was all over the country. This sign will go up this year and will be bulletproof. It will be built out of ½ " AR500 steel, covered with a ¾ " acrylic panel. This sign will be able to withstand a rifle. 
Fish Lake Landing is the other side of this story. A fisherman, Robert Hodges, claims he found the body three days later. William Bradford Huie is an important contributor to this story because he is the one who made up that the body was never in the river at all. Huie was a reported for Look magazine and in 1956 published the confession of Roy Bryant in the newspaper. From there, Plater Robinson wrote a strongly worded letter claiming that the body was never in the river and that instead, the body had rolled down the levee in the drift. Then heavy rains made it appear that the body was in the river. 
This version arose because of the reliability of Huie the reported and that he had the confession statement of Bryant. This is the only known cite where there is faulty information displayed. The sign now stands at Sharkey Bridge where it crosses the Tallahatchie River. Also, Fish Lake Landing sign is now used for guidance to help people find Graball landing because it is so hidden.
Sources
Dave Tell et al., "The Sign at Sharkey Bridge," Emmett Till Memory Project, accessed November 19, 2019, https://tillapp.emmett-till.org/items/show/17.
Dave Tell et al., "Graball Landing," Emmett Till Memory Project, accessed November 19, 2019, https://tillapp.emmett-till.org/items/show/6.
Image Sources
https://tillapp.emmett-till.org/items/show/17

https://tillapp.emmett-till.org/files/show/100