The Equality House and Westboro Baptist Church
Introduction
Symbols of tolerance and hate stare at each other from across the street in Topeka. One side is Westboro Baptist Church, a nationwide symbol of hate. Located across from the Westboro Baptist Church is the Equality House, a symbol of peace and positive change. Aaron Jackson purchased the house through a nonprofit progressive organization, Planting Peace. In March 2013, the house was painted the colors of the rainbow flag, and the house was renovated to become what is now known as the Equality House. This house stablished itself as one of the country's most iconic symbols of LGBTQ advocacy, especially during the 2010s decade. -- Can you say a little more about what Equality House does? And what is its relation to Planting Peace?
Images
Equality House, located at 1200 SW Orleans St.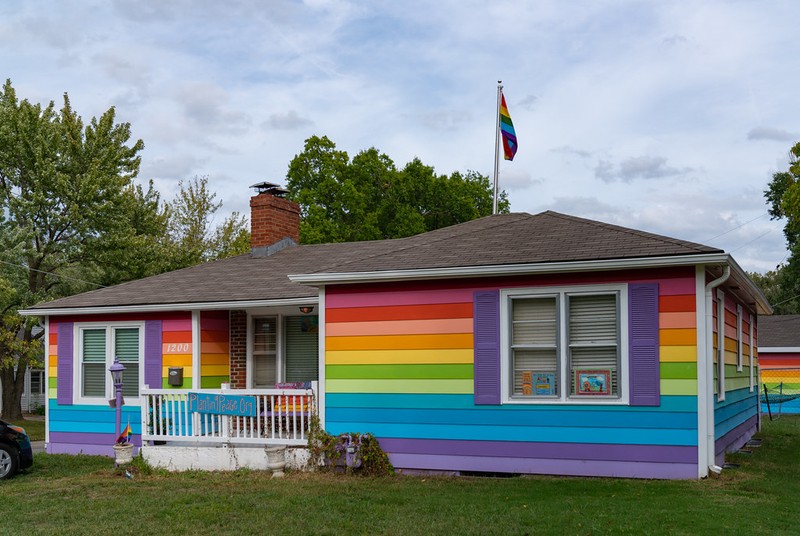 Equality House Donation Box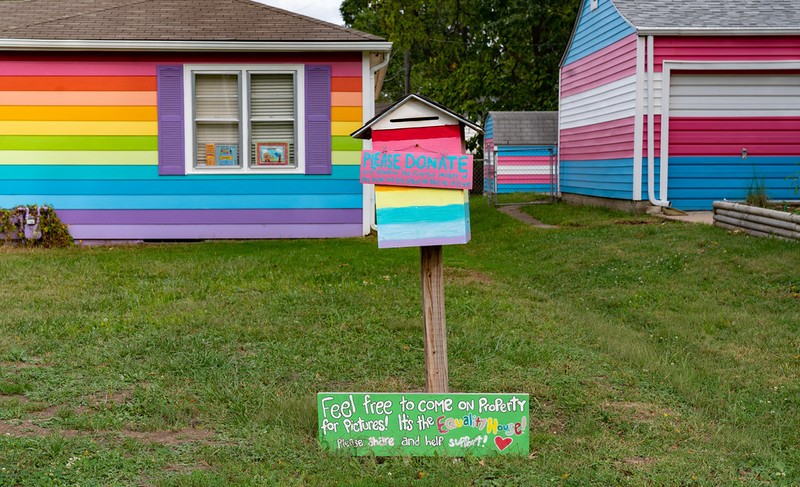 An event at the Equality House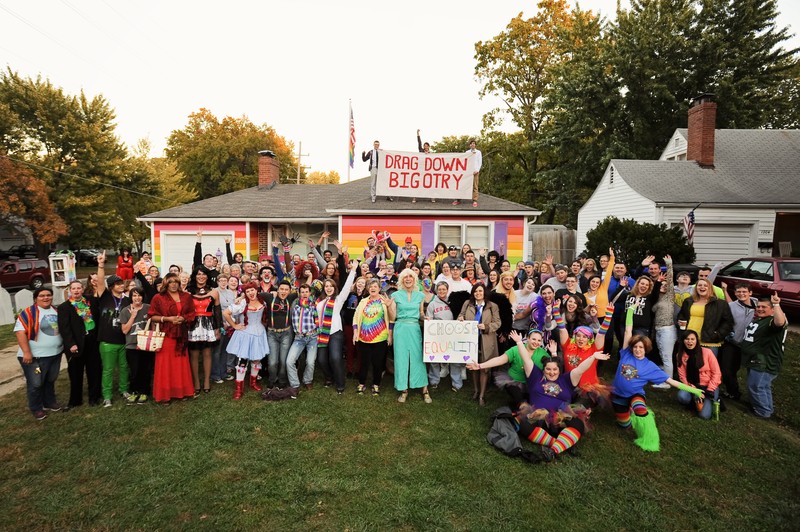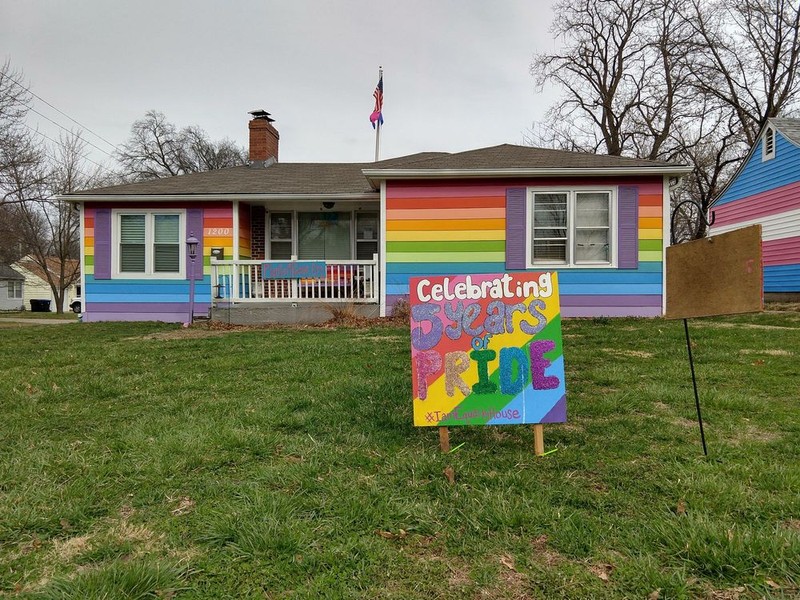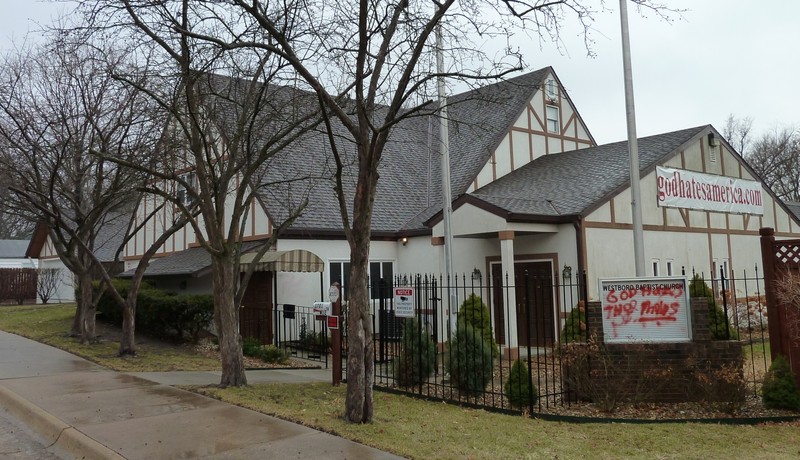 Member of Westboro Baptist Church Protesting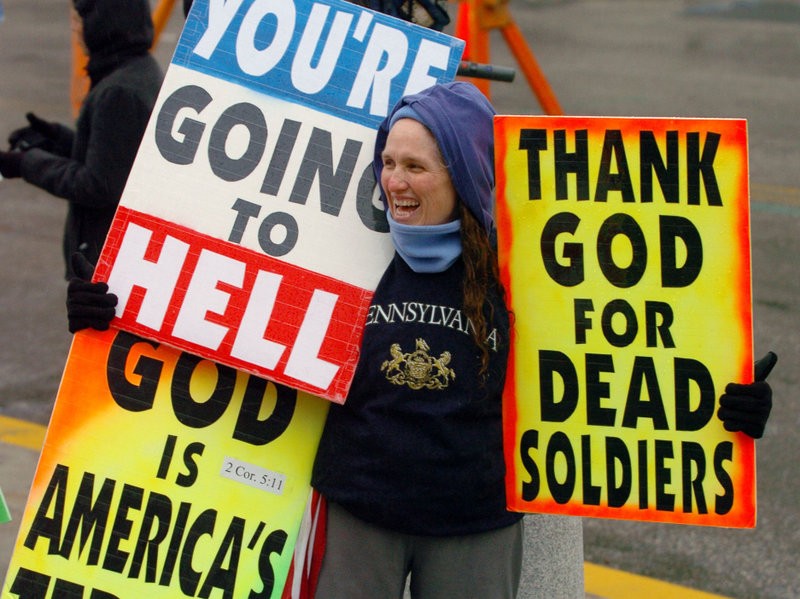 Aaron Jackson, founder of Planting Peace nonprofit organization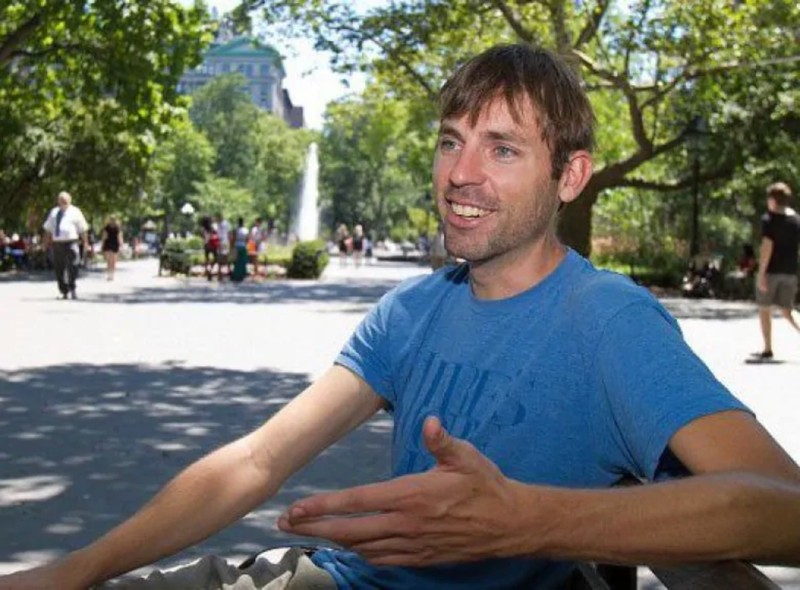 Fred Phelps, founder of Westboro Baptist Church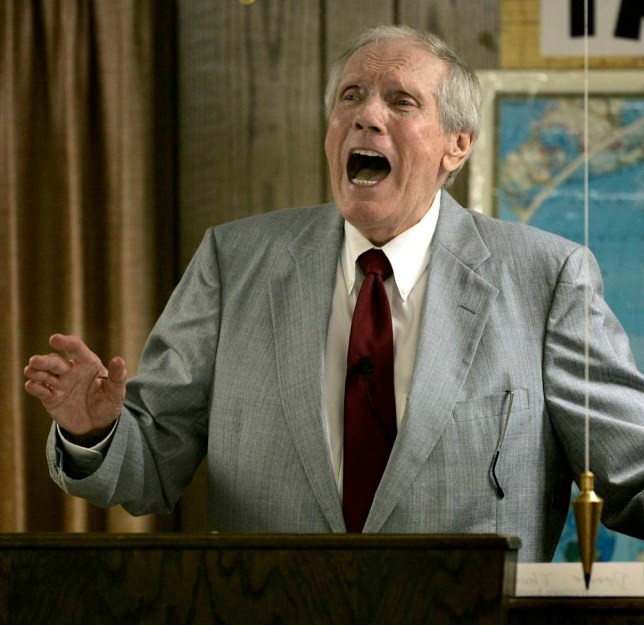 The picture of Josef Miles holding up a "God Hates No One" sign.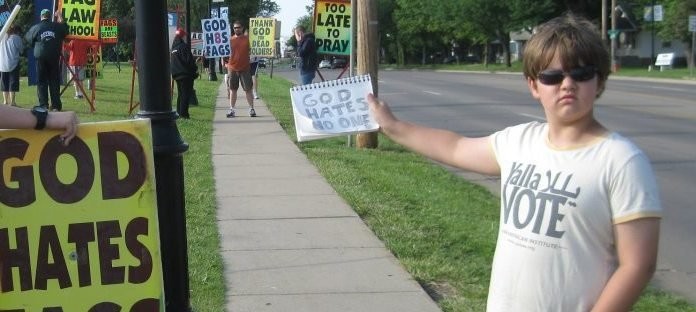 Backstory and Context
The Westboro Baptist Church is an anti-LGBT hate group, who was founded by Fred Phelps, who was a long-time pastor. The members of the church, almost all of whom are from a family of Fred Phelps, are known to protest at funerals of military veterans; they claim that "members want God to punish Americans for tolerating homosexuality" in hopes for them to "be converted and receive salvation" for their wrongdoings. Their picketing has been described as "the most offensive and ingenious theological campaign in modern memory." Although they claim to be Baptist, they set themselves apart from the other churches. [1, 3, 7]
The moment when 9-year-old Josef Miles staged a protest against Westboro Baptist Church with a sign "God hates no one" was when Aaron Jackson became intrigued with the church, and ultimately found the house through his curiosity. According to Josef's mom, he was confident to make his own statement about the church after they encountered some of the church's protestors around Washburn University. Going to the car and making the sign with just a pencil and sketchpad, Miles "stood strong, was respectful, and stood by his convictions." This act gained media attention, including Aaron Jackson's. [4]
Jackson's journey began when he dropped out of college in 2002 and began backpacking around the world. The adventure was proven to be an eye-opener for him, and he started to work with a charity organization. During a mission, he met John Louis Dieubon, a translator who dreamt of opening an orphanage. It was then that Jackson decided to work with Dieubon and eventually founded Planting Peace in 2003. The organization has the purpose of "spreading peace in a hurting world." [2,6]
During one late night in 2012, Jackson stumbled upon a house that was on sale across the street of the hate group. The house, built in 1950, was suited for a single family. Thinking of "how great would it be to paint [the house] in the colors of the gay pride flag," Planting Peace purchased the house six months later for $81,000, and Jackson was looking for a painter to help him complete his vision. Then, a military veteran named Mike McKessor took on the job, saying that he "don't like them [Westboro] messing with veterans." In response, Shirley Phelps-Roper, the church spokeswoman, claimed that she "loved" the painting, saying that Jackson is essentially keeping everyone's eyes on the message that God will not allow same-sex marriage. [7]
When the house officially became the Equality House in March 2013, the public's response was so enthusiastic that it caused traffic jams in Topeka. Thousands of people have stopped by to take pictures or to drop off donations to the cause. Jackson says the unexpected response is "incredible." The house also became the headquarters of Planting Peace in 2016; then, the house ceased to be the headquarters in September 2018. [7]
In recent years, the Equality House continues to serve as an area for people to voice for the LGBTQ community. In 2014, as a counteraction of the church's protest at Robin Williams' funeral, Planting Peace launched a CrowdRise campaign for St. Jude's Children's Hospital, which Williams famously supported. The campaign ended up raising over $110,000. [2]
Additionally, in 2015, in response to Brownback's rescinding executive order regarding protection from sex discrimination, Planting Peace hosted a NOH8 photoshoot campaign to promote marriage, gender, and human equality. [2,5,7,8] 
Sources
Barrett-Fox, Rebecca. God Hates. University Press of Kansas, 2016.
Erbentraut, Joseph. "What The Equality House Can Teach Us About Making Societal Change." HuffPost,​ HuffPost, 6 Nov. 2015, www.huffpost.com/entry/equality-house-aaron-jackson-planting-peace_n_562e9080e4b0 6317990eff22. Accessed 21 Oct. 2019.
Hagerty, Barbara Bradley. "A Peek Inside The Westboro Baptist Church." ​NPR​, NPR, 2 Mar. 2011, www.npr.org/2011/03/02/134198937/a-peek-inside-the-westboro-baptist-church. Accessed 20 Oct. 2019.
Memmott, Mark. "9-Year-Old To Westboro Baptist Protesters: 'God Hates No One.'" NPR. NPR, 16 May 2012, https://www.npr.org/sections/thetwo-way/2012/05/16/152821271/9-year-old-to-westboro-baptist-god-hates-no-one. Accessed 11 Dec. 2019.
Planting Peace. "Planting Peace." Planting Peace, 2019, www.plantingpeace.org/. Accessed 23 Oct. 2019.
"Planting Peace hosts NOH8 open photo shoot in Topeka." ​UWIRE Text​, 24 Mar. 2015, p. 1. ​Gale Academic OneFile Select,​ https://link.gale.com/apps/doc/A407059716/EAIM?u=ksstate_ukans&sid=EAIM&xid=0056759a. Accessed 23 Oct. 2019.
Reese, Diana. "Rainbow House Fights Westboro Baptist with Love." ​The Washington Post​, WP Company, 22 Apr. 2019, www.washingtonpost.com/blogs/she-the-people/wp/2013/03/21/rainbow-house-fights-we stboro-baptist-with-love/. Accessed 23 Oct. 2019.
Shorman, Jonathan. "Brownback Rescinds Executive Order That Offered Protections on Basis of Sexual Orientation." ​The Topeka Capital-Journal​, The Topeka Capital-Journal, 10 Feb. 2015, www.cjonline.com/article/20150210/NEWS/302109659. Accessed 6 Oct. 2019. 
Additional Information