St. Francis Xavier Church
Introduction
St. Francis Xavier Church has been an important gathering place for the growing Catholic population of Montana since its founding in 1881. The downtown church is well known for Brother Carrignano's intricate murals. Construction of the building began in 1892; once completed, St. Francis Xavier Church was the largest church in Montana.
Images
St. Francis Xavier Under Construction, 1891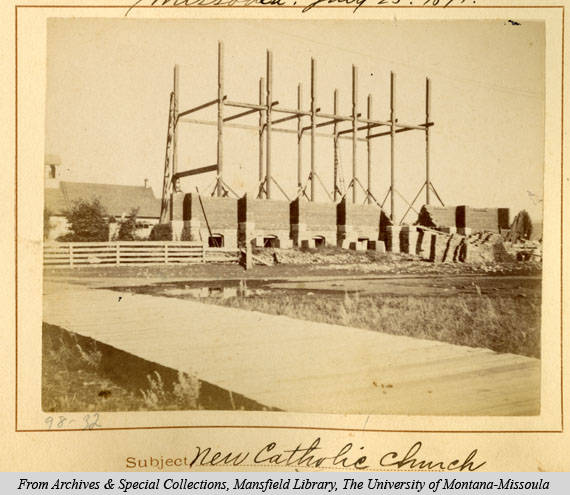 View of St. Francis Xavier (Center Horizon) 1956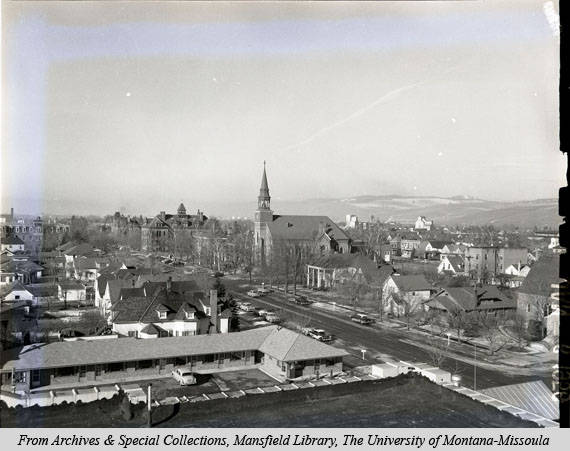 Father Palladino of St. Francis Xavier Church (Date Unknown)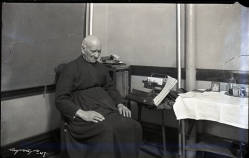 1936 Map of Missoula. St. Francis Xavier Church is Marked "11" Under "Locations of Points of Interest" as "Catholic Church"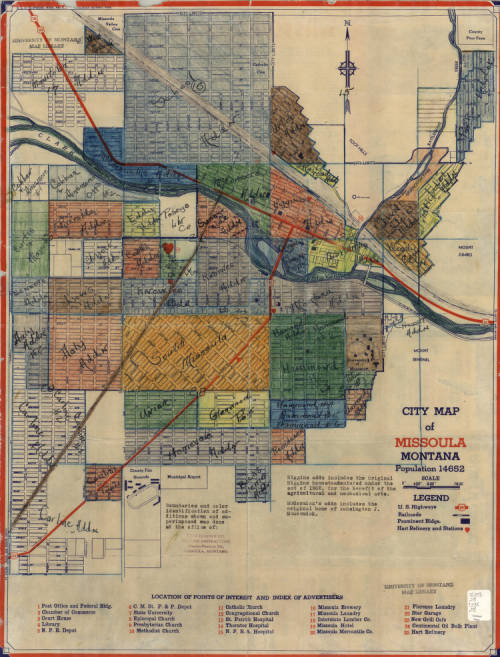 Backstory and Context
Before 1860, the Catholic population in Montana was limited to missionaries sent to convert the Native American populations (Golden Jubilee p. 17). However, in 1834 Pope Gregory XVI entrusted the spiritual health of the Native Americans to the Society of Jesus. The Jesuits began sending members to the region, such as Father De Smet, who built St. Mary's Mission in 1841, the first Catholic Mission in Montana (Greytak p. 32-34). St. Ignatius, another Catholic Mission, was built in 1854 (Golden Jubilee p. 17). Gold was then discovered at Grasshopper Creek in 1862 and Alder Creek in 1863 (Greytak p. 34). With the discovery of gold came an influx of white Catholics (Golden Jubilee p. 17). In 1884 the Catholic population was around 15,000; it grew to 50,000 by 1903 (Greytak p. 44-45). More Catholics meant the need for more churches (Golden Jubilee p. 21). 
St. Michael's Church finished construction summer 1863 outside Frenchtown (Golden Jubilee p. 17). St. Michael's was the first place of worship specifically for white Catholics in Montana (Greytak p. 35). Before the construction of St. Francis, it was the biggest place for worship in the region (St. Francis Xavier p. 4-5). In Missoula, Reverend L. B. Palladino purchased two pieces of land for $3000. The Sacred Heart Academy, St. Patrick's Hospital, and St. Joseph's School all eventually would occupy this property. Palladino held the first mass in Missoula on April, 19th, 1873 inside a makeshift church, an unfinished frame structure. The first baptism took place here as well in the spring of 1874. However, with a growing population, the setup became too small (Golden Jubilee p. 21-23). 
St. Francis Xavier Church was founded the winter of 1881. The former land owners had already built a frame, so contractors Patrick, James, and Thomas Walsh had a solid place to begin (Golden Jubilee p. 25). The church was under construction through 1891 (Hoblitzelle). Construction ended August 1891, and St. Francis Xavier stood as the largest church in all of Montana. The church opened October 9th the following year (Saint Francis Xavier Church p. 4-5). From 1884 to 1903 the number of churches in the Diocese of Helena increased from 16 to 65 (Greytak p. 44-45), illustrating the state's growing Catholic presence.
St. Francis is well known for its many beautifully decorated interior paintings. As parishioner of St. Francis Xavier Church, Janet Sproull, put it in an interview: "It's just gorgeous. The whole ceiling is just covered with murals and stations of the cross on the sides, big pillars. It's just a beautiful church," (Janett Sproull Interview). Brother Joseph Carrignano finished the paintings in 1902. Carrignano was born in 1853 and grew up in Northern Italy. The Society of Jesus sent Carignano to Missoula in 1901 as part of his assignment to the Pacific Northwestern region. The painting process took place over an 18 month period and ended with the completion of 66 individual murals. The murals were painted in egg tempura, which wears easily in the light. To mitigate damages, the windows were replaced with stained glass. Because of Carrignano's Italian heritage, the artworks have a distinctly Renaissance era influence (St. Francis Xavier Church p. 9, 14-15). 
For Father Palladino's 50th anniversary in the Society of Jesus, the church purchased a new bell in part with donation money for Palladino and his service. The bell weighed so much--over a ton at 2,270 lbs--that the Church commissioned a new belfry. Bishop Carrol blessed the bell February 1906. The Latin inscriptions on the bell mention various saints important to the church, such as St. Francis Xavier and St. Ignatius. The text goes on to describe appropriate times for sounding off, like feast days and funerals, as well as the bell's dedication to God, the living and the dead, and as a celebration of the Golden Jubilee (Golden Jubilee p. 27-29). 
The Parish Council recognized the church for its historical value in 1981. Various reconstruction projects have been carried out throughout the 1980s to preserve the church's infrastructure, as well as the various artworks inside (St. Francis Xavier p. 17-19). The church has carried out marriages and funerals (Obituary p. 7). St. Francis also hosts events outside of religious functions, such as holiday performances (Pupils of Academy p. 9). Along with the various paintings and church bell, St. Francis boasts an impressive Hook Hastings Company organ (Golden Jubilee p. 27). St. Francis Xavier Church continues to practice and host mass and is an important landmark in the history of religion in Montana, being one of the largest, most exuberantly decorated religious constructions at the date of its creation. In the words of the official St.Francis Xavier Church website, "To Christians, St. Francis Xavier Church symbolizes the continuity of a 2,000 year old religious tradition," (History). 
Sources
Golden Jubilee: St. Francis Xavier Church . Missoula, Montana. Missoulian , 1942.
Greytak, William . The Roman Catholic Diocese of Montana: An Abbreviated History . Volume 2. Religion in Montana: Pathways to the Present. Billings , Montana. Rocky Mountain College , 1995.
History , St. Francis Xavier Missoula's Jesuit Parish . Accessed November 5th 2019. https://www.sfxmissoula.org/about-st-francis-xavier-parish/history/.
Hoblitzell, William A. Catholic church construction, Missoula, St. Francis Xavier Church under construction, Missoula, Montana. Image labeled 'New Catholic Church at Missoula', 1891, digital collection, Montana Memory Project, https://mtmemory.org/digital/collection/p16013coll27/id/2741
Janet Sproull Interview, March 19, 2007, University of Montana History Oral History Collection,
Archives and Special Collections, Mansfield Library, University of Montana-Missoula, https://scholarworks.umt.edu/northside/3/
Obituary, Daily Missoulian, Jan. 26, 1918, pg. 7, https://chroniclingamerica.loc.gov/lccn/sn83025316/1918-01-26/ed-1/seq-7/.
"Pupils of Academy Will Entertain Tonight" The Daily Missoulian. [volume XL] (Missoula, Mont.), 22 March 1914, pg. 9. https://chroniclingamerica.loc.gov/lccn/sn83025316/1914-03-22/ed-1/seq-9/
St. Francis Xavier Catholic Church Missoula. St. Francis Xavier Restoration Foundation, 1997.
Image Sources
https://mtmemory.org/digital/collection/p16013coll27/id/2741

https://mtmemory.org/digital/collection/p16013coll27/id/3201/rec/9

https://mtmemory.org/digital/collection/p16013coll27/id/6562/rec/1

https://mtmemory.org/digital/api/singleitem/image/p15018coll5/514/default.jpg?highlightTerms=missoula%20%20city

Additional Information