White Feather Spring Historical Marker and Tenskwatawa
Introduction
Tenskwatawa was an influential leader of the Shawnee in the early 1800s, along with his older brother Tecumseh. This historical marker near the spring is believed to be the approximate location of Tenskwatawa's grave. During his life, Tenskwatawa became known as "The Shawnee Prophet." In 1808, Tenskwatawa and Tecumseh founded Prophetstown in Indiana Territory as a communal village consisting of their followers. In 1811, Tenskwatawa predicted a victory against US forces gathering outside of the village, but the town was defeated in the ensuing Battle of Tippecanoe. Tenskwatawa moved to Canada, but returned to the United States ten years later to join a group of about 250 Shawnee being relocated to Kansas Territory. Tenskwatawa lived near White Feather Spring for the rest of his life and passed away in 1837. The site has been on the National Register of Historic Places since 1975.
Images
The historical marker at Tenskwatawa's presumed gravesite. Although he did indeed die in poverty, the harsh indication that he was a "broken and forgotten man" is debatable.
Tenskwatawa in the 1820s, painted by Charles Bird King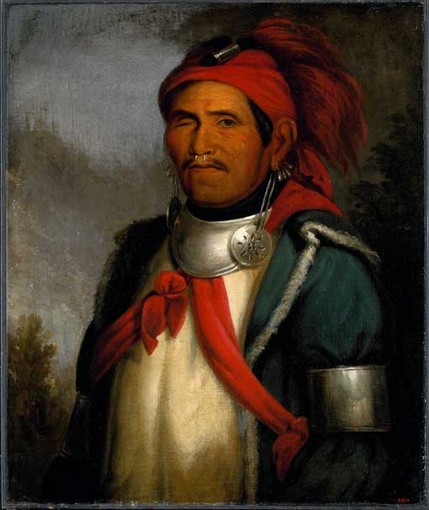 Part of the Argentine mural, which depicts Tenswatawa's eclipse prophesy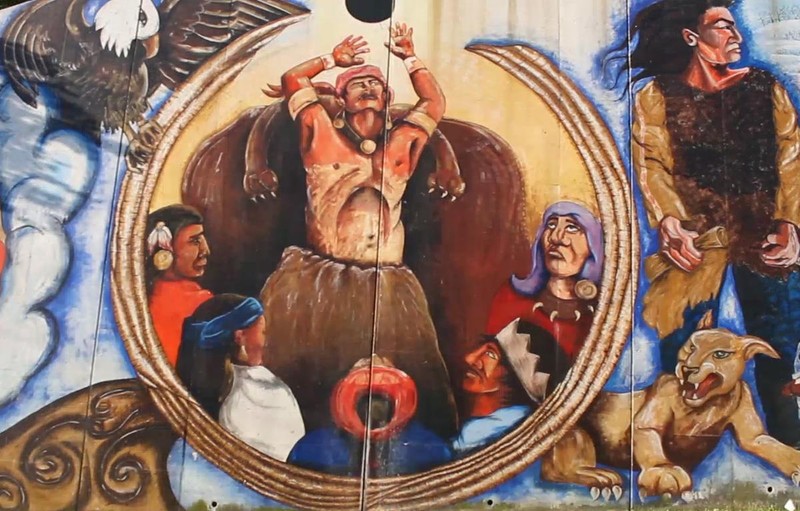 The site of Prophetstown has become a state park in Indiana, and some traditional Native American structures have been recreated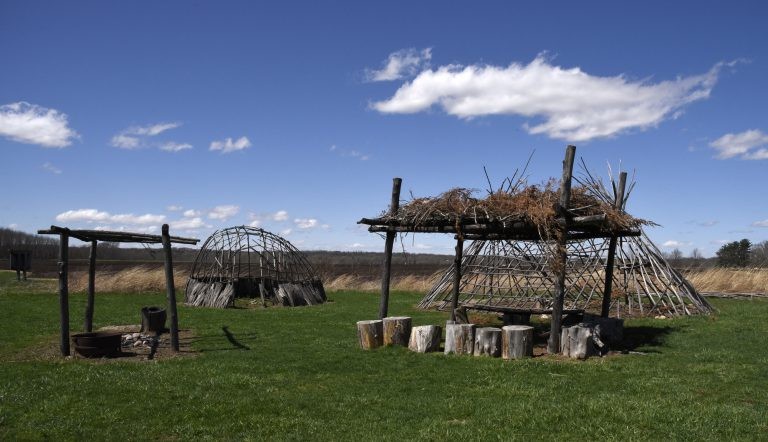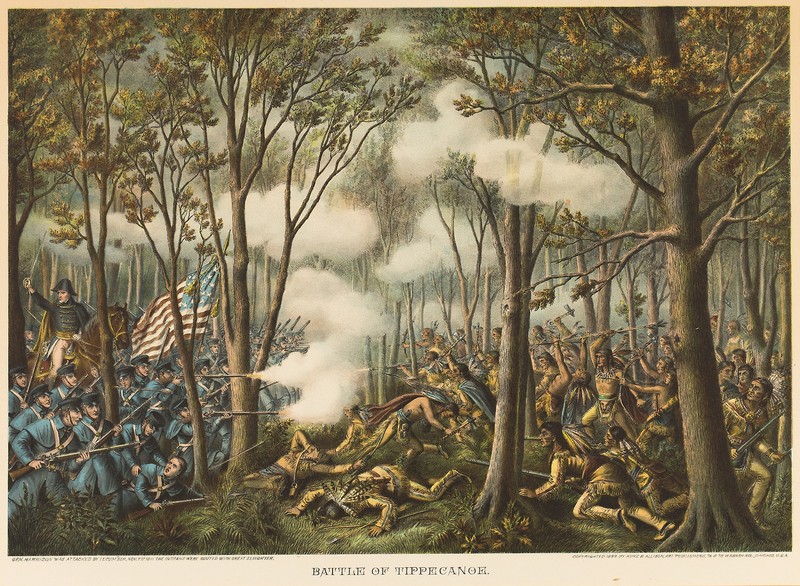 Another depiction of Tenskwatawa later in life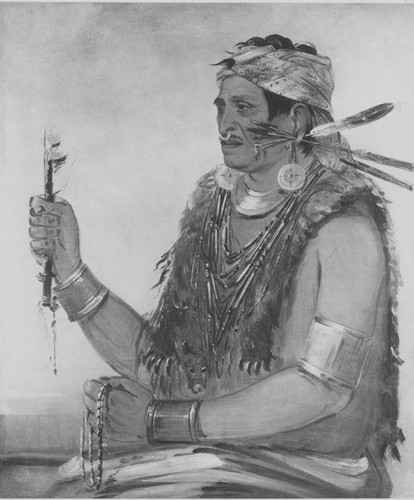 White Feather Spring. Tenskawatawa's hut was reportedly located on the bluff overlooking the spring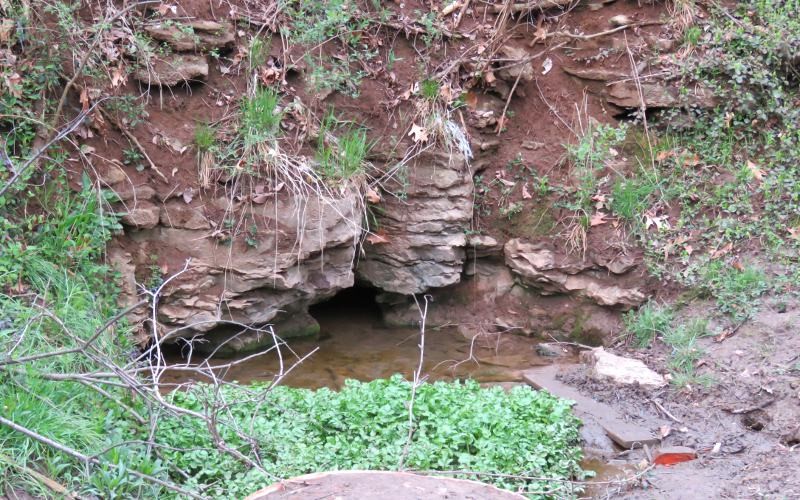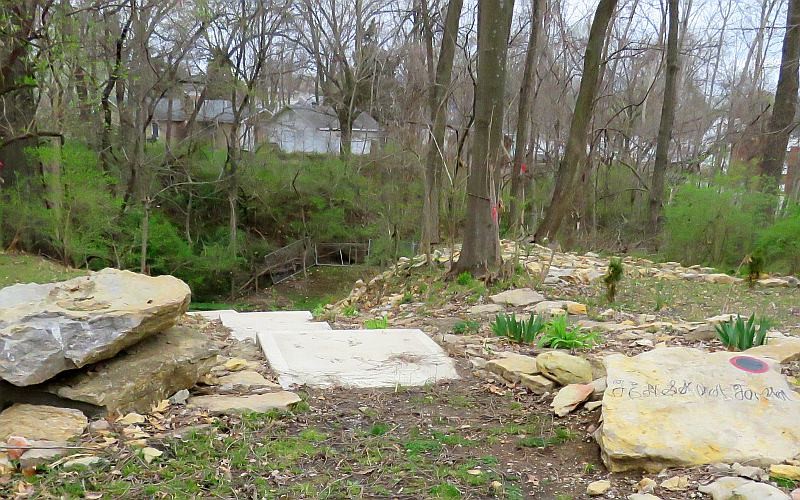 Offerings left at the site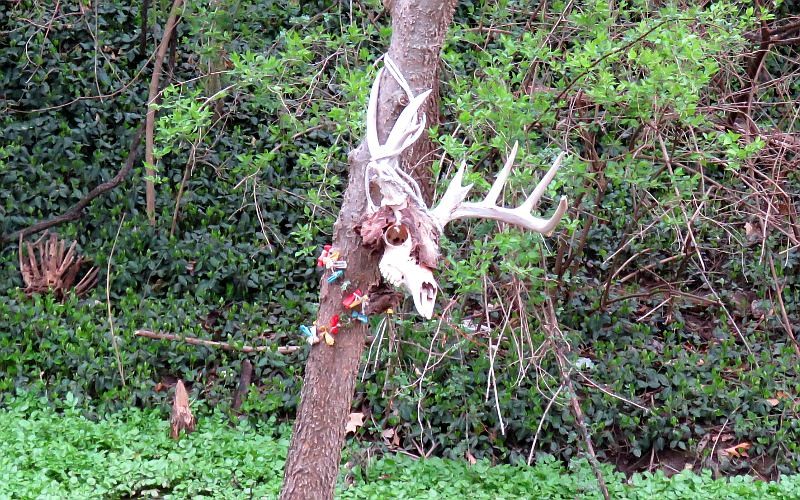 Backstory and Context
Tenskwatawa was born Lalawethika in 1775 to a Shawnee father and a Creek mother. His older brother was Tecumseh, a respected Shawnee chief and warrior who fought against European American expansion. As a young man, Lalawethika was not as highly regarded as his famous older brother. He was blind in one eye due to an accident as a child playing with a bow and arrows, ruining any chances to become much of a warrior like his brother, and he also battled severe alcoholism. [1] However, in April 1805, Lalawethika claimed to have received a vision from the "Master of Life," telling him that Native Americans must reject the European way of life, including Christianity, and stop European American encroachment onto native land. He gained credibility and a large following by successfully predicting a solar eclipse. He adopted the new name Tenskwatawa, meaning "Open Door," and would also be known as "The Shawnee Prophet." [1]
In 1808, the Tenskwatawa and Tecumseh founded Prophetstown, a Native American village consisting of their followers, who were members from multiple tribes. Located in Indiana Territory, the community was a model of Tecumseh and Tenskwatawa's vision of an independent, unified Native American confederacy, governed separately from the US. Tenskwatawa preached for Native Americans to hold to the traditional ways of their ancestors rather than adopt the foreign ways of European Americans. [3] Prophetstown thrived for three years until it was abandoned after the community's defeat against American forces at the Battle of Tippecanoe in 1811. He temporarily rebuilt Prophetstown with a few supporters, but ultimately fled to Canada as the War of 1812 began. Tenskwatawa and Tecumseh would fight alongside the British in the war, but Tecumseh was killed at the Battle of Thames in 1813. [3]
In 1824, Tenskwatawa, no longer seen as a threat by the US government, was allowed to return in order to lead the Shawnee to lands reserved for them in Kansas. He and about 250 Shawnee arrived in Kansas in May 1828. [1] They established a second Prophetstown near present-day 26th Street and Woodend Avenue. Sometime in the early 1830s, he moved with his immediate family and a few others to live about a mile northwest of Prophetstown, next to Whit Ffeather Spring. He spent the rest of his days in a traditional Native American hut there. He died in 1837 and was buried on the bank of the ravine. [4] His legacy has often been controversial, but revisionist historians generally acknowledge his great spiritual influence on Native Americans. Along with Tecumseh, Tenskwatawa was one of the most influential Native American leaders of his time. [3]
White Feather Spring got its name from Susan Whitefeather, a Shawnee who claimed 200 acres of land, including the spring, in 1859. [2] In 1897, Charles Bluejacket, a well-known Shawnee leader, took a newspaper reporter to the site of Tenskwatawa's grave, unmarked and long since forgotten. At that point, it had been sixty years since Blue Jacket had attended Tenskwatawa's funeral, so it's doubtful he was able to determine the precise location. They used metal rods to mark the approximate location of the grave to the best of their ability. Over the years, multiple efforts have been made to continue to preserve the grave; around 1917 a cement marker was also placed there and later more metal rods. Despite these efforts, the grave was in danger of being covered up by erosion. The ravine around the spring has also been used as a neighborhood dumping site. [4]
In 1974, a group from the Kansas State Historical Society was able to do some excavation work and find some of the original metal rods. [4] A historical marker was erected on the site, located where Ruby Avenue dead-ends at the ravine. White Feather Spring was added to the National Register of Historic Place in 1975 for its association with Tenskwatawa. Today, the spring and surrounding property is Shawnee-owned land, considered sacred by many. Native and non-native caretakers continue to visit the site to pay their respects to The Shawnee Prophet. [5] Please note that although the marker on public property, permission should be obtained before visiting the spring.
Sources
1.      Edmunds, Russell David. The Shawnee Prophet. Lincoln: University of Nebraska Press, 1983. Accessed November 13, 2019. https://archive.org/details/shawneeprophet00edmu/page/182.
2.      Pankratz, Richard. "National Register of Historic Places Registration Form: White Feather Spring." Kansas State Historical Society Website. Form prepared June 20, 1975. Accessed November 13, 2019. https://www.kshs.org/resource/national_register/nominationsNRDB/Wyandotte_WhitefeatherSpringNR.pdf.
3.      Cave, Alfred A. "The Shawnee Prophet, Tecumseh, and Tippecanoe: A Case Study of Historical Myth-Making." Journal of the Early Republic 22, no. 4 (2002): 637-73. Accessed November 13, 2019. https://www.jstor.org/stable/3124761?read-now=1&seq=34#page_scan_tab_contents.
4.      Shutt, Edwin Dale II. "'Silver City,' A History of the Argentine Community of Kansas City, Kansas." Masters' Thesis, Division of Social Sciences, Emporia Kansas State College. August 1974. Accessed November 13, 2019. https://esirc.emporia.edu/bitstream/handle/123456789/2565/Shutt%20II%201974.pdf?sequence=1.
5.      Hogan, Suzanne. "Meet The KCK Couple Who Helps Look After A Sacred Shawnee Indian Grave." KCUR 89.3, National Public Radio Website. February 1, 2015. Accessed November 13, 2019. https://www.kcur.org/post/meet-kck-couple-who-helps-look-after-sacred-shawnee-indian-grave#stream/0.
Image Sources
Keith Stokes: http://www.kansastravel.org/kansascitykansas/whitefeatherspring.htm

https://en.wikipedia.org/wiki/Tenskwatawa#/media/File:Shawnee_Prophet,_Tenskwatawa.jpg

Michael Coy: https://www.kcur.org/post/take-journey-through-history-along-argentine-mural-kck#stream/0

Marilyn Culler: https://visitindiana.com/blog/index.php/2019/04/17/three-must-visit-places-for-a-weekend-in-lafayette/

Art Institute of Chicago: https://www.artic.edu/artworks/193416/battle-of-tippecanoe

Kansas Historical Society: https://www.kshs.org/kansapedia/shawnee-indians/19230

Keith Stokes: http://www.kansastravel.org/kansascitykansas/whitefeatherspring.htm

Keith Stokes: http://www.kansastravel.org/kansascitykansas/whitefeatherspring.htm

Keith Stokes: http://www.kansastravel.org/kansascitykansas/whitefeatherspring.htm

Additional Information