Site of Cabin of Wanton Corey (Cuyler, NY)
Introduction
This marker stands in the location of the home belonging to a pioneer by the name of Wanton Corey, born in 1786 in Rhode Island, passing away in the year 1888. This cabin is where Wanton Corey and his wife, Deborah Morse, resided for the remainder of their lives, also being owned by their son, Wanton Corey Jr. The marriage of Corey and Morse remains significant due to it being the first documented marriage in the town of Cuyler.
Images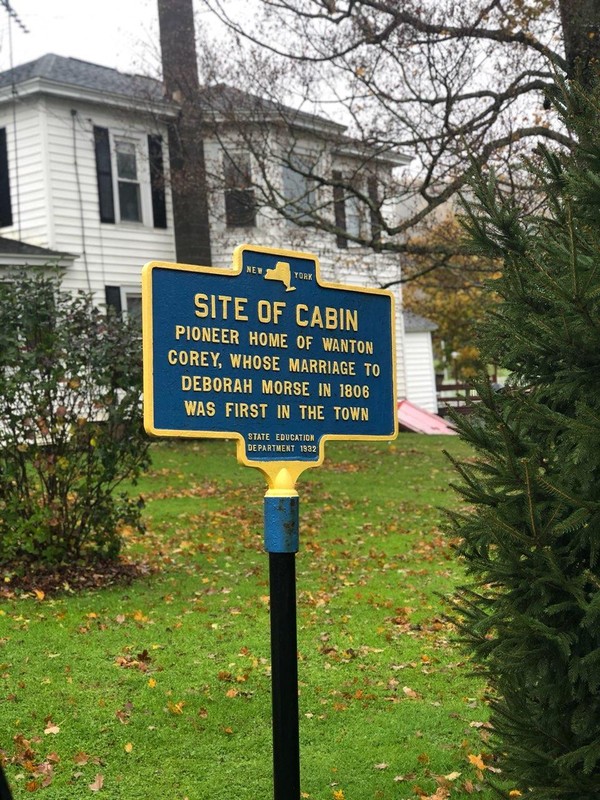 Backstory and Context
The town of Cuyler is located in North East corner of Cortland County and was a part of the Central New York Military Tract, consisting of townships set up to help settle the area following the Revolutionary War, despite it being already settled by the Native People of the Iroquois nation. Originally, soldiers were offered at least a hundred acres of land following their service but this was increased by five hundred acres per soldier to create incentive for more to enlist. The town was originally a part of the town of Truxton and was broken off in 1858, being renamed Cuyler. Those who settled here found one of the greatest threats were actually the wild life, mainly wolves.
This cabin is the home of pioneer Wanton Corey who was born in 1786 in Rhode Island. This cabin is where Wanton Corey lived with Deborah Morse following there marriage on May 11, 1806. This marriage is significant due to it supposedly being the first marriage in the entire town of Cuyler. However, according to the research on Wanton Corey, it is believed that they actually got married in Warwick. Wanton Corey came to Cuyler in approximately 1805 and built his own house on this land. Wanton later died in 1888 at the age of 95. The marker was placed soon after the wedding by the State Education Department for the cite of the cabin. Unfortunately, no exact date was provided regarding the erecting of the marker.
Wanton and Deborah Corey had a son, Wanton Corey Jr. who was born in 1817 in Cuyler. He would later buy forty acres of land South of his father's land to farm on for one thousand dollars, being located on David Moss' Lot 87. David Moss, also referred to as David Morse in the towns documentation, was known being one of the first recorded white settlers in Cuyler after receiving 600 acres of land in the area as a pension for his five years of service in the revolutionary war, ending with his honorable discharge. He came to Cuyler from New Jersey. Wanton Corey Jr. then went on to serve in several town offices. Not much is known about his personal life, however it is believed he had two daughters who's names are unknown, the oldest "probably named Deborah." According to the Corey family file, in can be determined that their descendant, David Corey, was a Blacksmith who had three children that emigrated to Illinois with other members of the Morse family.
Sources
Blodgett, Bertha Eveleth. Stories of Cortland County. Edition Third edition. Cortland, New York. Cortland County Historical Society, 2008.
Corey Family File located at the Cortland County Historic Society
Additional Information