City Fresh Market: Mi Bandera
Introduction
Mi Bandera is a supermarket/restaurant located in Union City, New Jersey. This location was established in 1992 and is located on Bergenline Avenue. The current President of Mi Bandera Corp. is Abel Hernandez. Furthermore, the demographic of Union City, it is predominantly Latino. Mi Bandera supermarket is filled with products and people thus reflecting New Jersey's pluralistic society.
Images
Here is the entrance of Mi Bandera located on 32nd St and Bergenline. The location of the establishment itself is very important. There is a high volume of people who pass back and forth all day. Especially where the train and bus station is located just a block away. Not only that, but it is on Bergenline avenue as well which is the melting pot of all of Hudson County.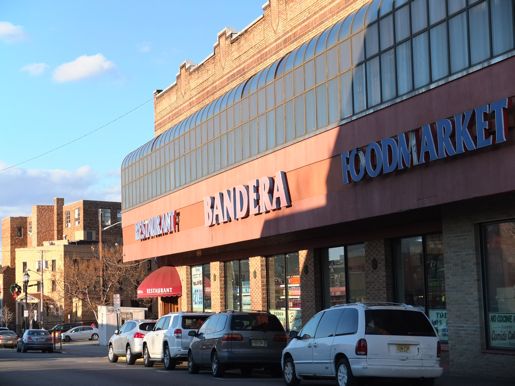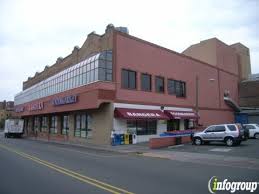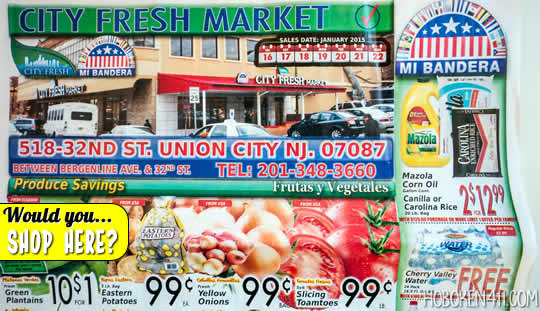 Backstory and Context
The arrival of the first Cubans to the United States was took place during the middle to late 1940s. Yolanda Prieto, author of The Cubans of Union City, had her very own experience of the Cuban migration when she arrived in 1968. There were many different progression of the Cuban population being driven into the US especially where the people knew where business would boom. Being able to get into the city in about 10 mins, not just Cubans, but, many immigrants found their way to Hudson County. Till this day Hudson County remains a melting pot of many countries and cultures.
Although there isn't a direct connection with the founder of Mi Bandera restaurant/supermarket it makes a lot of sense as to the supermarket's location. When visiting Union City you can get a good sense of the people who live within these areas. There are many bodegas and minimarts all over Hudson County, but coming to Mi Bandera is a whole other cultural experience. Aisles of traditional foods and products come from various regions of the Americas.
There are so many places to bring you back to your homeland but none like this one. Every weekend as a kid I would have had to go to Mi Bandera to get the specific cookies that I wanted because they had come from Argentina, my family's background. It drew in a lot of attention from many cultures around the area. Having such an establishment in the heart of a city causes the mixing of cultures and the sharing of ideas.
Sources
Prieto, Yolanda. The Cubans of Union City: Immigrants and Exiles in a New Jersey Community. 
     Philadelphia, PA: Temple University Press, 2009.
By JERRY GRAYSpecial to The New York Times. "Hudson County a Harbinger of a New
     Hispanic Influence: Union City: Harbinger of Hispanic Era 'this is Like being in Havana 
     in the Afternoon,' an Immigrant Says." The New York Times (1923-Current File), Feb 23,   
     1991.
Eckstein, Susan. Social Forces 89, no. 3 (2011): 1073-074. 
     http://www.jstor.org.proxy.libraries.rutgers.edu/stable/41290109.
Additional Information