International Circus Hall of Fame
Introduction
Honoring important figures in circus history, this museum exhibits posters, wagons and models, including a miniature replica of the 1934 Hagenbeck Wallace Circus. The International Circus Hall of Fame also hosts the seasonal Big Top Circus, a professional circus with performers from around the world. The museum is open from May through October.
Images
A front view of the Circus Hall of Fame.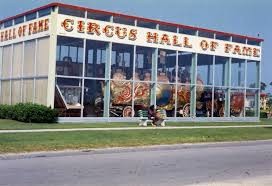 Backstory and Context
The Circus Hall of Fame originated in Florida, stemming from The Ringling Brothers Circus popularity, which established its winter quarters in Sarasota, Florida in 1927. During the 1950s, it became a popular idea to create a hall of fame to honor outstanding circus artists. Initially conceived by fans of the circus in the Sarasota community, by 1956 the Circus Hall of Fame opened its doors to the public. Near the Sarasota airport, the Circus Hall of Fame included exhibition space in several different buildings. Buildings were filled with dozens of pieces of circus memorabilia, including personal objects directly from famous performing artists and impresarios, such as costumes, props, posters, and circus wagons. In addition to the exhibits, the Circus Hall of Fame presented circus acts several times during the day, for several months every year.
The Circus Hall of Fame went on to receive much attention over the years. NBC-TV and host, Ed McMahon, once broadcasted a special on the business in 1970.
Although tourism was generally healthy over the years, by the late 1970s it became unprofitable and the owners began preparations to close the museum. In 1980, the lease on the property finally expired and on May 27, 1980 the Circus Hall of Fame held one last performance.
In 1981, a group of organized citizens from Peru, Indiana found that the effects of the Circus Hall of Fame were up for sale. Interested in preserving the circus' history and concerned that they might be auctioned off separately to different locations, Indiana residents, businesses, and the state government contributed to the purchase of the entire collection of circus memorabilia. The collection was later brought it to Peru, Indiana and the current museum was set in place, re-opening as the International Circus Hall of Fame. Many other antiques have since been added to the original Sarasota collection, including sixteen historical wagons reconstructed in the Hall of Fame wagon shop and the Peru Wagon Works Shop, both of which are open to the public.
Sources
History of the Circus. International Circus Hall of Fame. n d. Accessed November 01, 2018. http://visit.circushalloffame.com/history-of-the-circus/.


Additional Information