Brownell Statue
Introduction
Bishop Brownell founded Trinity College in 1823, creating the second college in Connecticut after Yale University. He was born in 1779 and lived until 1865. The statue was dedicated to Brownell on November 11, 1869 at the original Trinity campus, formerly known as the Washington campus. It now stands at the center of the current campus, right in front of the chapel on the quad.
Images
Brownell Statue at Washington Campus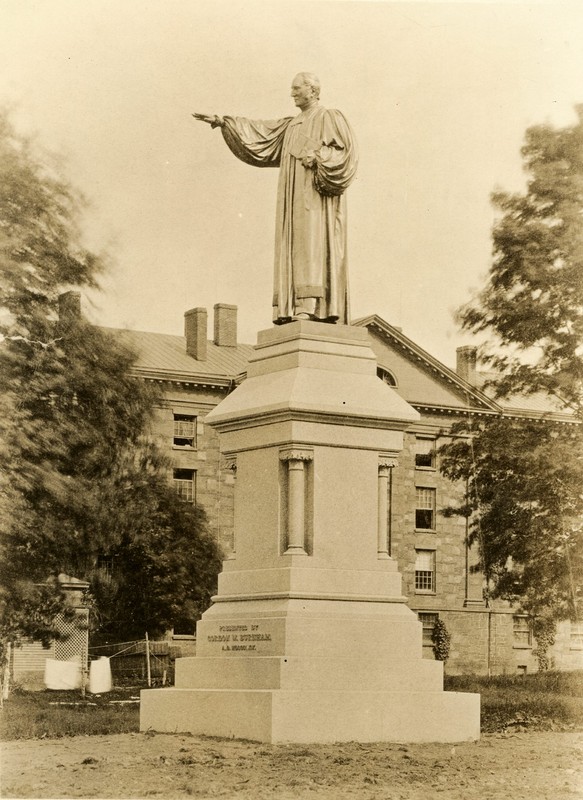 Brownell Statue at Trinity College Campus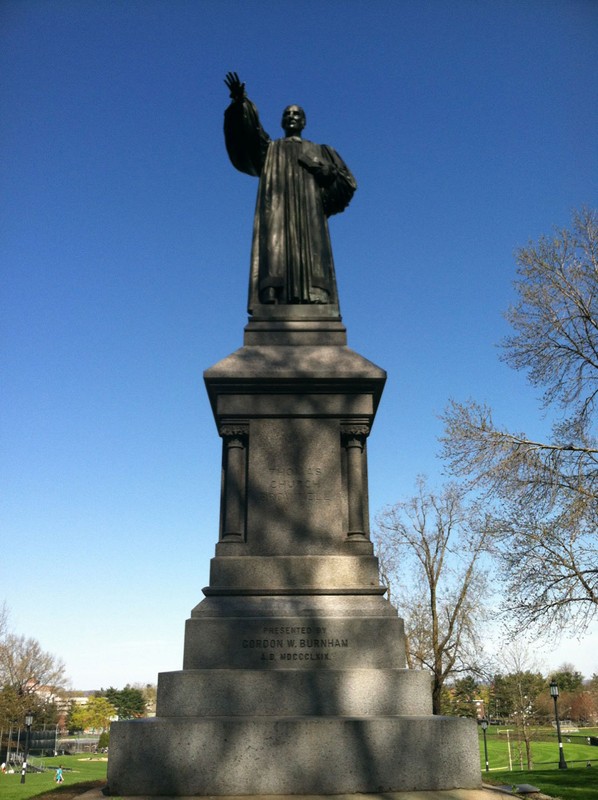 Backstory and Context
Bishop Brownell attended Union College in upstate New York, where he graduated as valedictorian in 1804. He then taught at the college. In 1816, he was admitted into the Holy Order of Deacons and soon entered Priesthood later that year. In 1818, he became the assistant at Trinity Church in New York. He assumed the title Reverend Thomas Brownell, Bishop of the Episcopal Diocese of Connecticut. In 1823, he founded Washington College, the original Trinity campus in Bushnell Park. In 1845, the college changed its name to Trinity College, the second college in Connecticut. Bishop Brownell lived on until 1865.
The Brownell Statue was a gift to Trinity College from Bishop Brownell's son-in-law. It was originally meant to stand over his grave, but his family felt it would be better off standing over the college he founded. The statue was designed by Chauncey Bradley Ives in Rome and cast by Ferdinand von Miller Foundry in Munich. The price of the statue at the time was around $3,500, or $10,000 in gold. The price of the pedestal was $5,000. 
On November 11, 1869, the opening ceremony for the statue was conducted at the original Washington Campus by Bishop Williams, Bishop Potter, the president of the College, and C.F. Cleveland, the former governor of Connecticut. It moved to the Trinity campus in 1878. Brownell's pose resembles an orator, designed to look like he has authority over the people he is talking to. The 30 foot statue is wearing an official clergy outfit and holding a prayer book. The Brownell Statue has become a staple landmark of Trinity College as many gatherings occur under his shade, including Convocation and Commencement. A Student at Trinity College is quoted: "he is the symbol of the beginning and the end of our time at Trinity College." 
Sources
Statue of Bishop Brownell, Hartford Art 2. February 15th 2017. https://commons.trincoll.edu/commons-2/artwork/statue-of-bishop-brownell/.
"The Trinity Reporter – Fall 2016." Trinity College Commons | Websites & Blogs, commons.trincoll.edu/reporter-fall2016/trinity-treasure/.
Image Sources
https://www.facebook.com/TrinityCollege/photos/a.10157500202833696/10157500204603696/?type=3&theater

http://www.babcocksmithhouse.org/GraniteIndustry/MapUS/CT/Hartford/Brownell%20Trinity%20College.html