Emma Goldman's Residence
Introduction
Located close to the intersection of 3rd Avenue and E 13th Street, this plaque marks a building where American anarchist Emma Goldman once resided. The plaque reads, "Emma Goldman (1869-1940) anarchist, orator and advocate of free speech and free love, lived here from 1903-1913, and published the radical magazine "Mother Earth." She was deported to the Soviet Union in 1919."
Images
An image of the plaque with a person for scale.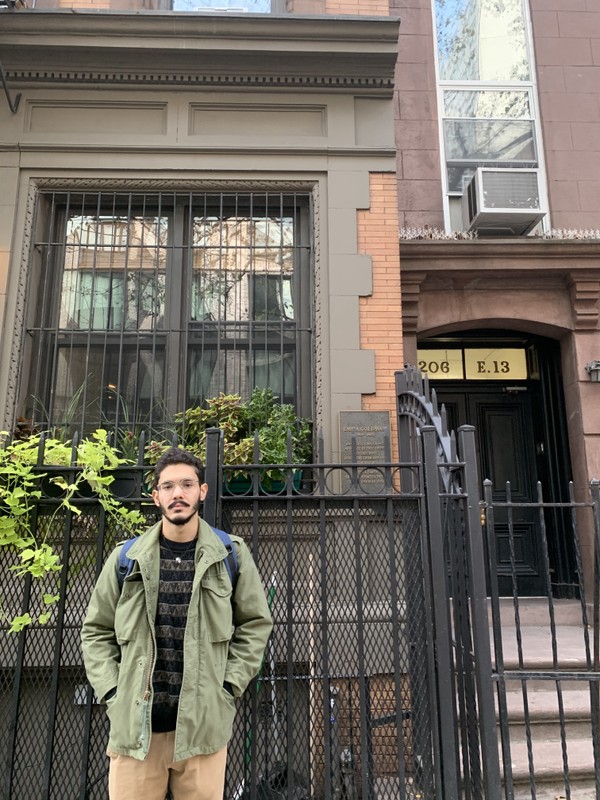 An image of the plaque as it is visible from the street.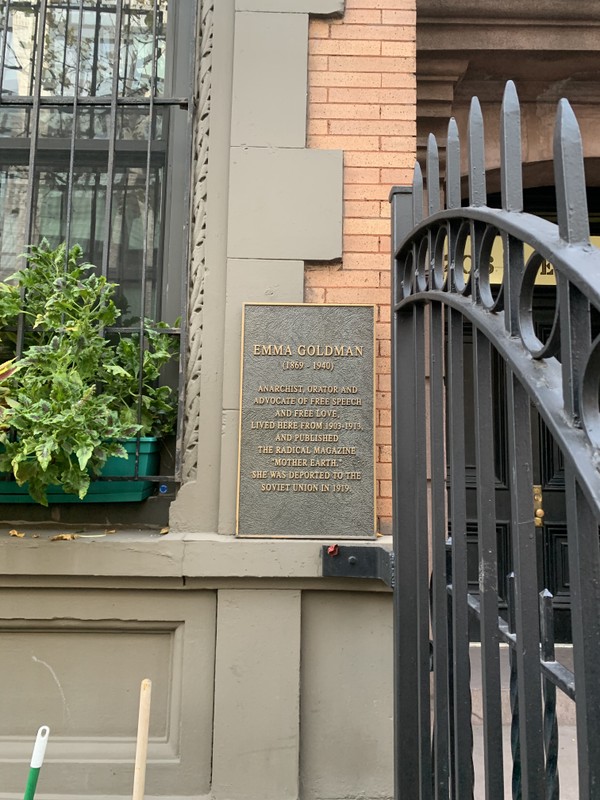 Backstory and Context
Emma Goldman was born in Konovo, a small Lithuanian city in the Russian Empire in 1869. She became interested in modern ideas and movements when her family moved to St. Petersburg twelve years after her birth. At the age of 16, she immigrated to the United States, at first working in a factory in Rochester, New York before finally moving to New York City, where she would become a prominent member of the city's anarchist community. Not long after her move to the city, she began to give lectures in New York and throughout the country. She supported a wide variety of controversial ideas, including free speech, birth control, women's rights, labor rights, and union organization. All of this, and her involvement with the attempted assassination of Henry Clay Frick, caused the FBI to dub her "one of the most dangerous women in the country."
She began residing in this building in 1903. It was from this building that she began publishing Mother Earth in 1906, a monthly periodical that served as a hub for anarchist ideas and expression. However, Mother Earth was shut down in 1917 by the federal government. This was due to her open opposition to the First World War and the US's involvement in it. As the US began to get closer and closer to joining the war in 1916, Emma Goldman began advocating against it. She refuted claims saying that the war was being fought to make the world safe for democracy. Instead, she saw the war as an imperialist venture meant to benefit the upper capitalist classes at the expense of the workers.
The forced closure of her publication did not dissuade her from expressing her views, and shortly after official US entry into the war as a combatant, Emma Goldman helped found the No-Conscription League. Goldman argued that conscription went against the core American values of liberty. In June of 1917, she was arrested and charged with conspiring against the draft. She was sentenced to two years in prison. After her sentence was completed, she was deported to the Soviet Union along with 247 other foreign-born radicals.
As of the writing of this entry it is not known who erected the plaque or when it was erected.
Sources
. Emma Goldman, Jewish Women's Archive. Accessed November 5th 2019. https://jwa.org/womenofvalor/goldman.
. Meet Emma Goldman, The Emma Goldman Papers. Accessed November 5th 2019. https://www.lib.berkeley.edu/goldman/index.html.
Woodruff, Sheryl. East Village Tenement Housed "the Most Dangerous Woman in America", Greenwich Village Society for History Preservation. November 29th 2011. Accessed November 5th 2019. https://gvshp.org/blog/2011/11/29/east-village-tenement-housed-the-most-dangerous-woman-in-america/.
Image Sources
Juan Carlos Peña, November 4th, 2019

Gonzalo Appiani, November 4th, 2019