Studebaker National Museum
Introduction
The Studebaker National Museum is a state-of-the-art, 55,000-square-foot facility that opened in October 2005. The building has three levels and features fully climate-controlled galleries and storage facilities to ensure the best possible care for the Collection. The Studebaker National Museum was designed by South Bend's own James Childs Architects and features several design elements from Studebaker's factory buildings. The museum also tells the history of this South Bend company that dates back to 1852 when it produced carriages. The company's vast South Bend factory closed in 1963 and the company produced its last vehicle in 1966.
Images
Studebaker National Museum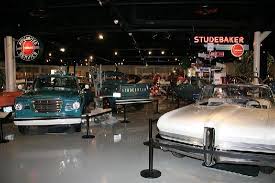 Backstory and Context
On February 16, 1852, Henry and Clement Studebaker opened the H & C Studebaker blacksmith shop at the corner of Michigan and Jefferson Streets in South Bend, Indiana. Younger brothers Peter, John Mohler and Jacob would later join the firm, and the Studebaker Brothers Manufacturing Company, as it would later be known, became the world's largest manufacturer of wagons and buggies.

he Studebaker Brothers Manufacturing Company entered the automobile market with an electric car in 1902. Thomas Edison purchased the second electric car produced by Studebaker. Gasoline powered models arrived in 1904 as Studebaker offered a full line of horse drawn and self-propelled vehicles until 1920. During this era, Studebaker automobiles were produced in Detroit, while the South Bend plant remained devoted to horse drawn vehicles. The company's name changed once again in 1911 to The Studebaker Corporation.

Horse drawn production ended in 1920, and during this decade Studebaker began shifting automobile production from Detroit to South Bend. Although the 1920s were very profitable years for Studebaker, the effects of the Great Depression saw Studebaker enter receivership in 1933. Company Vice Presidents Paul Hoffman and Harold Vance were appointed receivers and led Studebaker back to solvency by 1935.
Sources
History of Studebaker, Studebaker National Museum website accessed 4/3/2018
Additional Information