Pennington County Courthouse
Introduction
Erected in 1922, the Pennington County Courthouse is one of Rapid City's most striking landmarks. Architecture firm W.E. Halse and Company designed it in the Beaux-Arts style and in fact, it is the city's only example of this style. Indiana limestone covers the building's exterior, which features eight Ionic columns and three two-story arched windows.
Images
The Penningtion County Courthouse was built in 1922.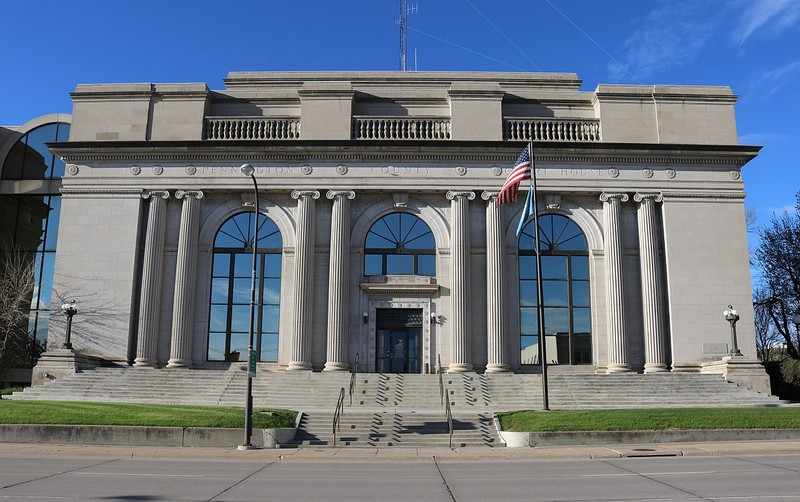 Backstory and Context
The courthouse has served as the seat of county government since its construction. At least through the mid-1970s, it housed the offices of the Auditor, Treasurer, and Register of Deeds. Interestingly, the building originally had a dome but this was removed in the 1960s to add office space. One of the most notable features of the interior are the Corinthian columns and two curved marble staircases located on each side of the building. Over the years, the county built additional modern buildings, creating the large complex that exists today that includes the county jail and parking structure. The courthouse building was added to the National Register of Historic Places in 1976. 
Sources
Gerloff, Scott. "Pennington County Courthouse." National Park Service - National Register of Historic Places Nomination Form. May 28, 1976. https://s3.amazonaws.com/NARAprodstorage/lz/electronic-records/rg-079/NPS_SD/76001751.pdf.
Image Sources
Jeffrey Beall, via Wikimedia Commons: https://en.wikipedia.org/wiki/Pennington_County_Courthouse#/media/File:Pennington_County_Courthouse_2017.JPG

Additional Information