Phenix Hall (Concord, NH)
Introduction
Phenix Hall (1894) replaced "Old" Phenix Hall (1855), which burned in 1893. Both buildings featured auditoriums on the top floor used for political speeches, lectures and conventions, theater and music, productions, boxing and wrestling matches, agricultural fairs and dances. In 1860, Abraham Lincoln spoke at a Republican Hall meeting in the old building. In 1912, Teddy Roosevelt spoke to guests. The theater has primarily remained vacant since the Great Depression, but plans have been made (2019) to restore the theater soon.
Images
1899 Image of Phenix Hall, Concord, NH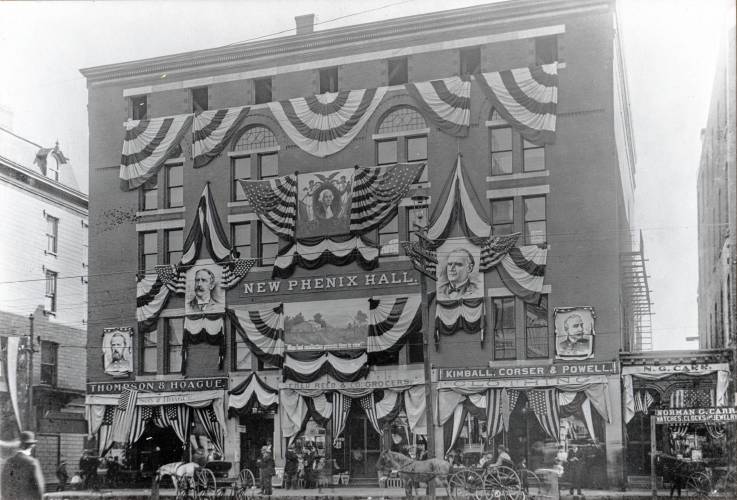 1895 Image of the Phenix Hall, Concord, NH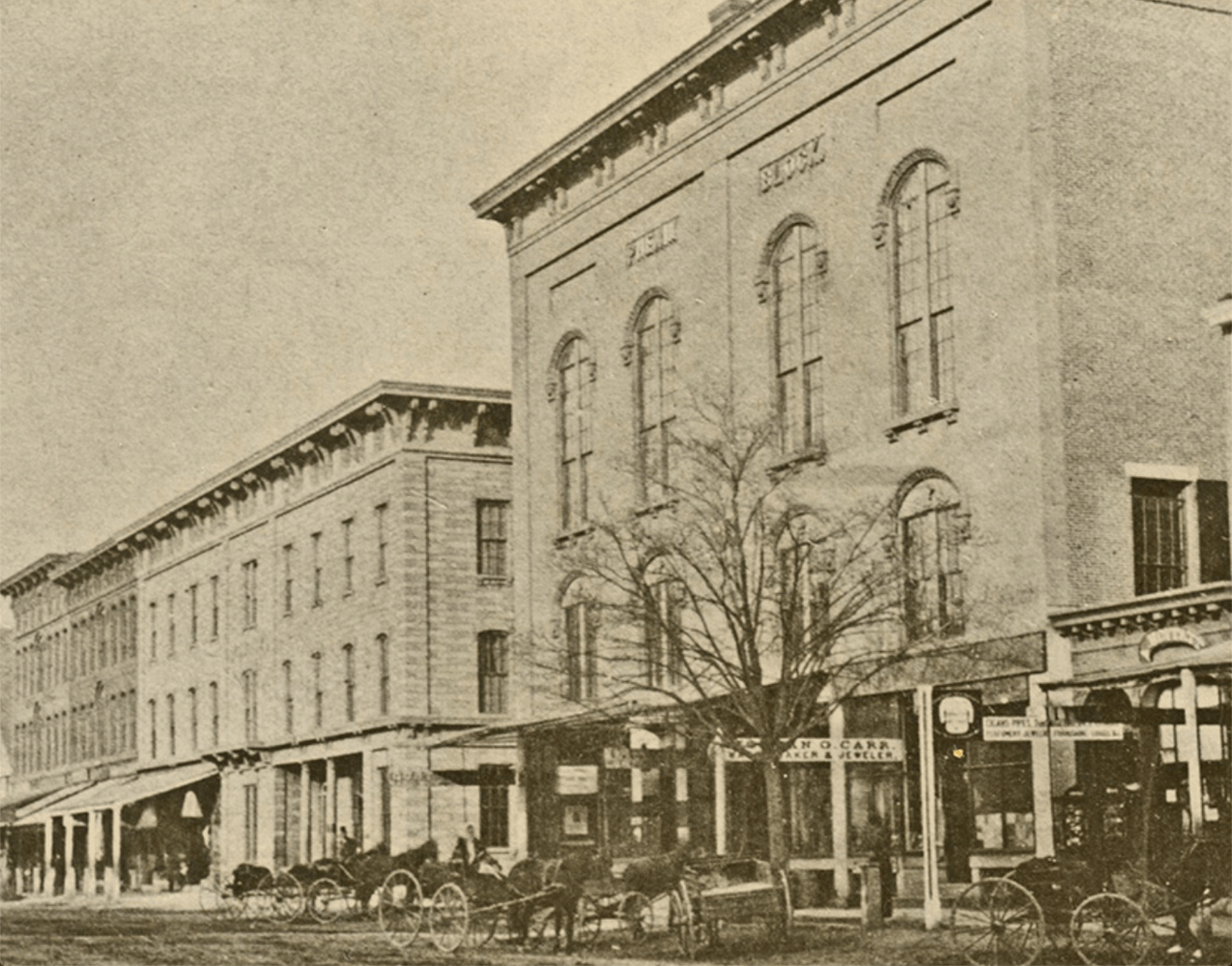 Modern image of the Phenix Hall, Concord, NH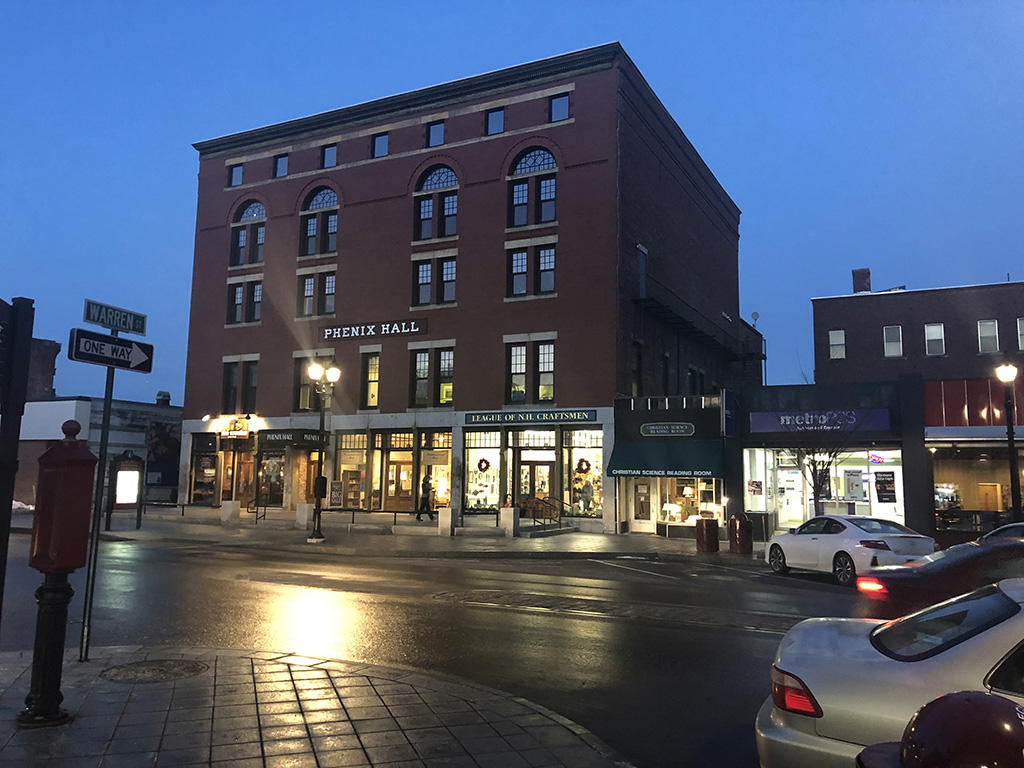 Rendering of how the Phenix Block (Phenix Hall) will look when renovations are completed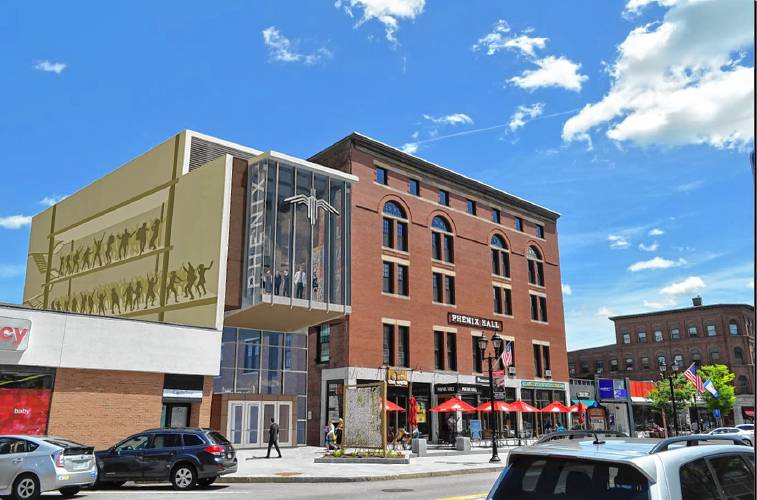 Backstory and Context
Phenix Hall opened 1894, which replaced the original structure (constructed in 1855) that had burned down in 1893. Many described the auditorium located on the third floor as one of the most beautiful in the state upon opening in March 1895. Both the old and new buildings' auditoriums were used for political speeches, lectures, theater productions, dances, conventions, and even boxing and wrestling matches. Abraham Lincoln spoke at the original building in 1860 while Theodore Roosevelt spoke at the "new" Phenix Hall in 1912. 
In 1950 a fire struck the hotel across the alley, which had been connected to Phenix Hall, notably the theater, via a pedestrian bridge. In 1954, the hotel's three top stories came down. However, during the Phenix Theater's heyday, it would not have been uncommon for people to stay in the hotel specifically to attend an event at the Phenix Hall. 
While various retail establishments, such as clothes, hardware, and jewelry stores, occupied the first floor through the 1960s, Phenix Theater closed during the Great Depression. The theater remained unused until the early 1970s when Jacob Ciborowski bought the building and spent $100,000 over two years to restore it. But, the theater again ceased operations in 1989 due to a need for costly repairs. 
In 2018, another makeover project proposal emerged. Plans are made to bring the building up to code, build a new entrance and lobby, and open a new, 499-seat theater venue. The restoration of the Phenix is included in a broader civic strategy to restore much of downtown Concord. 
Sources
Andrews, Caitlin. "Downtown: Phenix Hall owner looks to revive building." Concord Monitor (Concord) July 29, 2018. E-Edition ed, Local sec. https://www.concordmonitor.com/Downtown-Phenix-Hall-music-function-hall-renovation-19089746.
--- --- --- "Downtown: Main Street changes in the pipeline." Concord Monitor (Concord) June 30 2019. E-Edition ed, Local sec. https://www.concordmonitor.com/Concord-NH-Phenix-Hall-renovations-Main-Street-building-demolition-Fourth-of-July-news-26578432
Mausolf, Lisa. "Nomination Form: Downtown Concord Historic District." National Register of Historic Places. nps.gov. June 9, 2000. https://npgallery.nps.gov/NRHP/GetAsset/3c668d70-60a7-4275-9d2d-2162d080e449
Image Sources
Concord Monitor: https://www.concordmonitor.com/Downtown-Phenix-Hall-music-function-hall-renovation-19089746

https://hereinnh.com/phenix-hall-rise-ashes/

https://www.thephenixblock.com/

Concord Monitor: https://www.concordmonitor.com/Concord-NH-Phenix-Hall-renovations-Main-Street-building-demolition-Fourth-of-July-news-26578432

Additional Information