Mitchel Square
Introduction
Mitchel Square is a small urban park in the Washington Heights neighborhood of Manhattan, New York. It is enclosed by Broadway to the west and St Nicholas Avenue to the east. The park is named after John Purroy Mitchel, who became the second youngest mayor of New York in 1914, and later died in a training mission as a pilot in the Army Aviation Corps. The park features a memorial plaque in honor of Mitchel and a statue honoring the men from the neighborhood who gave their lives in World War I.
Images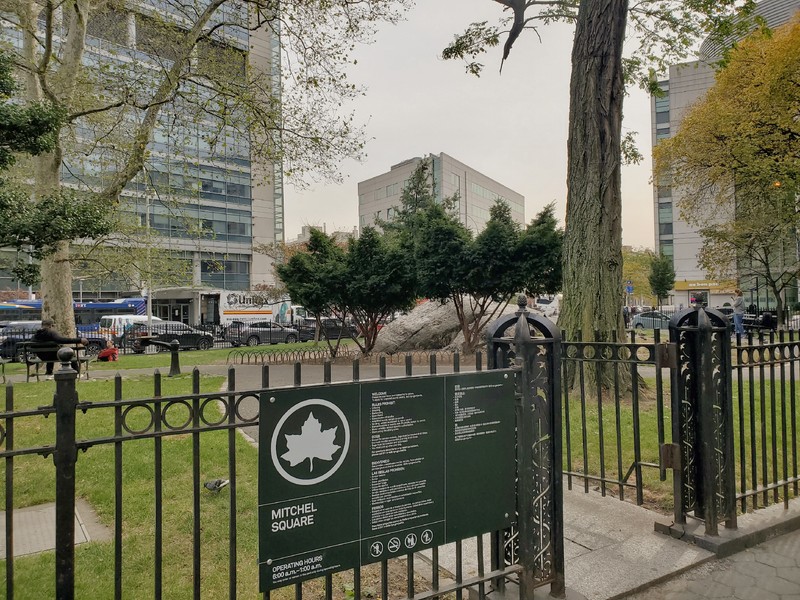 A closer look at the sign by the entrance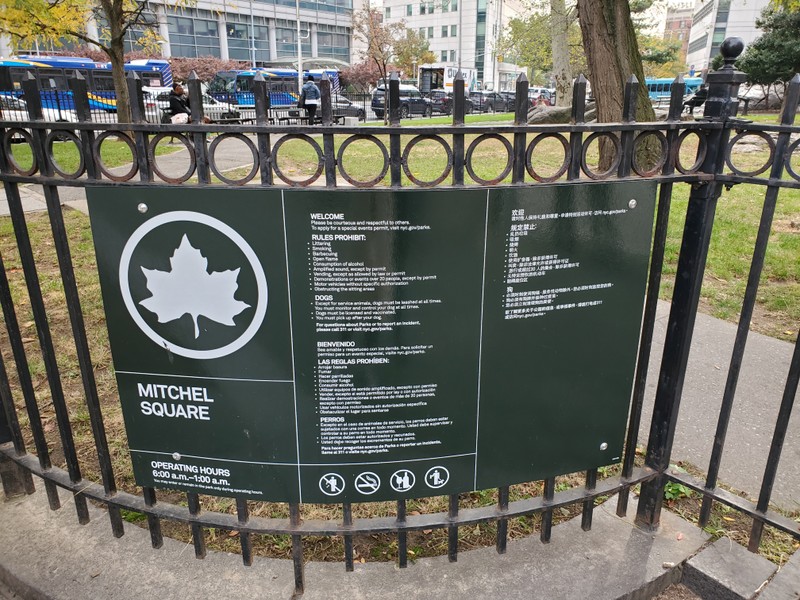 The plaque, with a foot for reference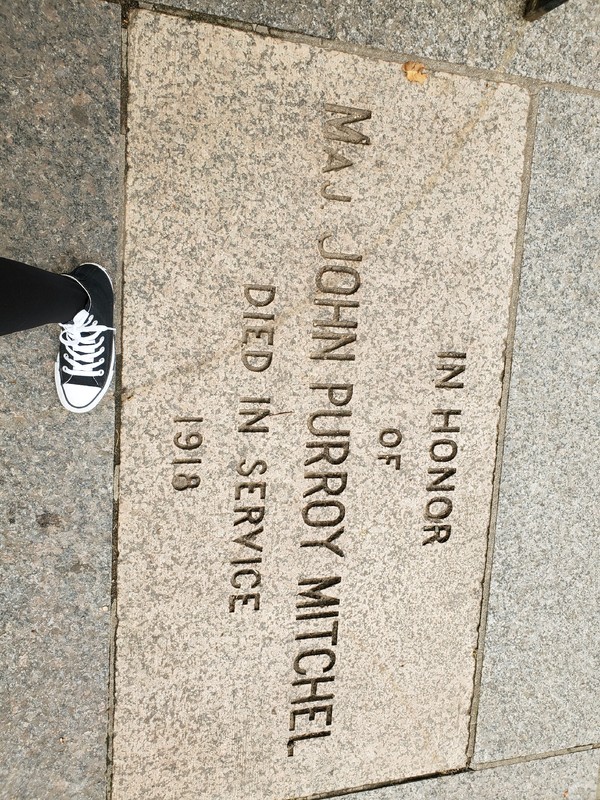 The Washington Heights-Inwood War Memorial in the park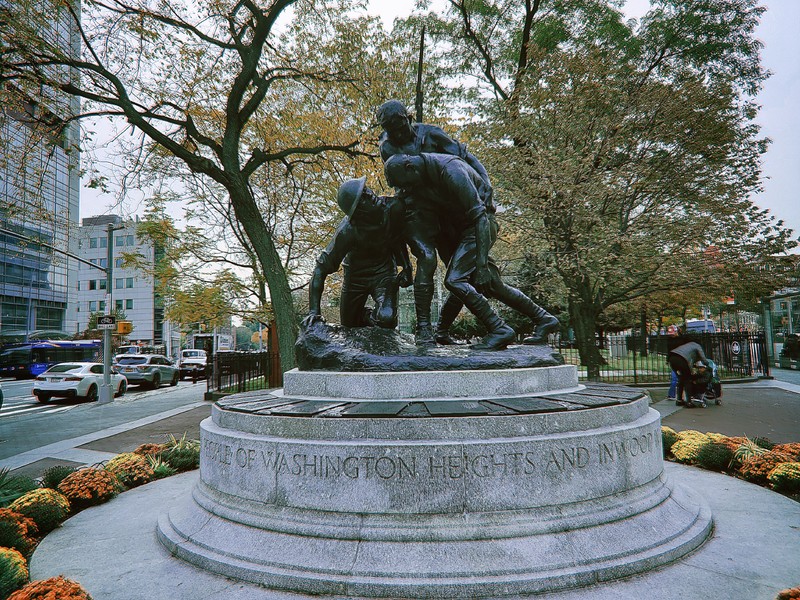 Another entrance to the park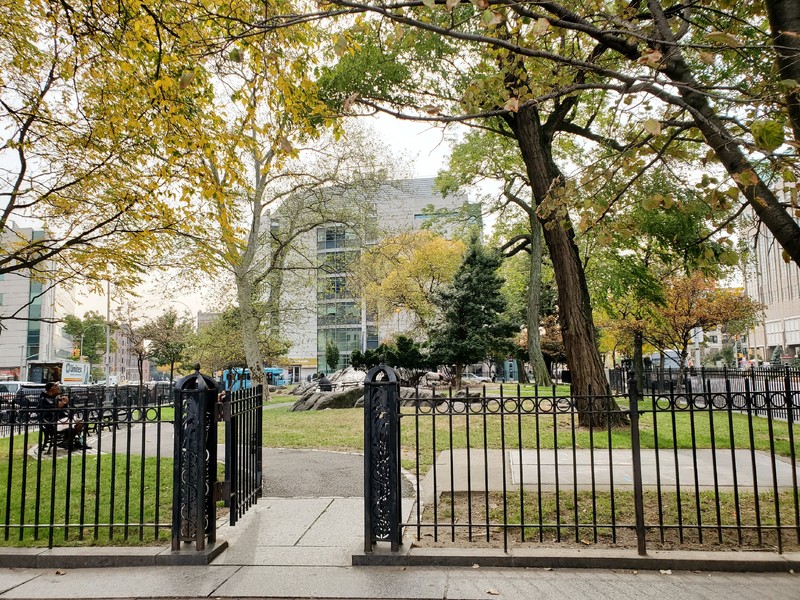 A slanting rock at the center of the park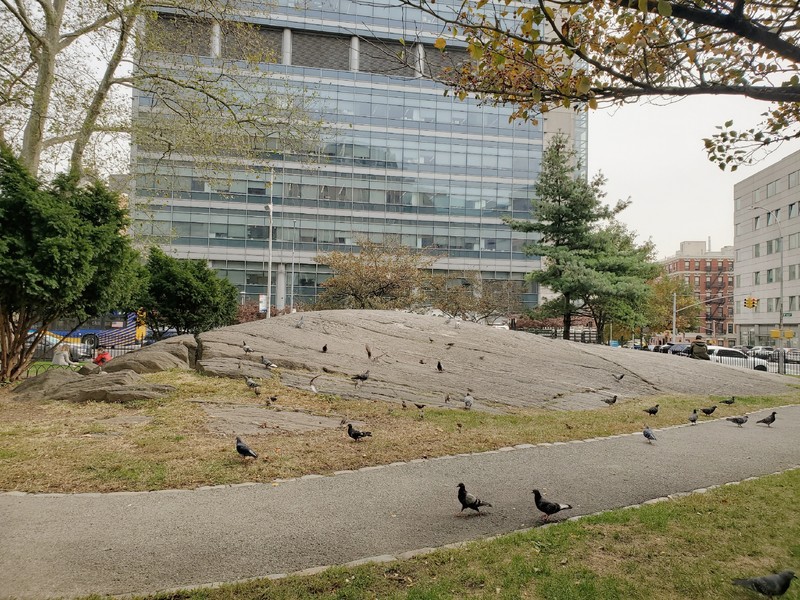 Backstory and Context
Mitchel Square honors the memory of John Purroy Mitchel, the second youngest mayor of New York ever and U.S Army Air Service officer.
Mitchel was born to an Irish Catholic family in Fordham, Bronx, New York City. His grandfather and namesake John Mitchel was a writer and leader in the Irish independence movement. The young Mitchel's career took off in 1906 when he was hired to investigate Manhattan Borough President John F. Ahern and Bronx Borough President Louis Haffen. Both of them were dismissed as a result of the investigations. His reputation as a reformer gathered support for him from anti-Tammany forces. In 1909, he was elected President of the Board of Alderman (an organization similar to the City Council today). Four years later, he was elected mayor, making him the second youngest mayor of New York ever.
After failing the get re-elected, he heeded the call for volunteers to serve in the First World War, joined the Army Air Service, completed training and earned the rank of major. On July 6, 1918, Mitchel fell 500 feet from his plane returning from a training flight to Gerstner Field, near Lake Charles, Louisiana, reportedly due to an unfastened seat belt. Numerous memorials were made for him. The former Mitchel Air Force Base located in Long Island, now the cite of Nassau Community College and the Cradle of Aviation Museum, is named after him. On February 8th, 1919, the Board of Alderman named this park for Mitchel. There is also a plaque of his likeness on the entrance to Central Park through 90th Street.
Sources
"Mitchel Killed by Fall From Aero; Safety Belt Loose." New York Tribune, July 6, 1918.
NYC Parks. "Mitchel Square." Accessed October 29th 2019. https://www.nycgovparks.org/parks/mitchel-square/history.
Pollak, Michael. "Answers to Questions About New York: Young and Younger." The New York Times, April 15, 2011.
https://www.nytimes.com/2011/04/17/nyregion/unraveling-a-mystery-new-york-citys-youngest-mayor.html
Freeman, Paul. "Abandoned & Little-Know Airfields: New York, Central Long Island." Revised August 6, 2007. https://web.archive.org/web/20071221082902/http://www.airfields-freeman.com/NY/Airfields_NY_LongIsC.htm
Image Sources
Yuxin Jiang, 29 Octoer, 2019

Yuxin Jiang, 29 October, 2019

Yuxin Jiang, 29 October, 2019

Yuxin Jiang, 29 October, 2019

Yuxin Jiang, 29 October, 2019

Yuxin Jiang, 29 October, 2019

Additional Information