HMCS Provost in the Carling Block
Introduction
Author-Uploaded Audio
From 1939 to 1957, the Carling Block, located where this drug store now stands, was the site of HMCS Provost; the London Division of the Royal Canadian Naval Volunteer Reserve. During World War Two, 4,480 officers, men and Women's Royal Naval Service (also known as wrens) were enrolled here into the Canadian Navy and after the war, veterans were likely demobilized, or "rehabilitated" here as well. An individual up for discharge was given a complete medical examination and then interviewed to discuss employment, education and other options. Local army veterans attended the rehabilitation program at No. 1 District Depot, at Wolseley Barracks on Oxford Street, or at the Armouries at Dundas and Waterloo.
Images
HMCS Prevost in the Carling Block at Richmond and Carling Streets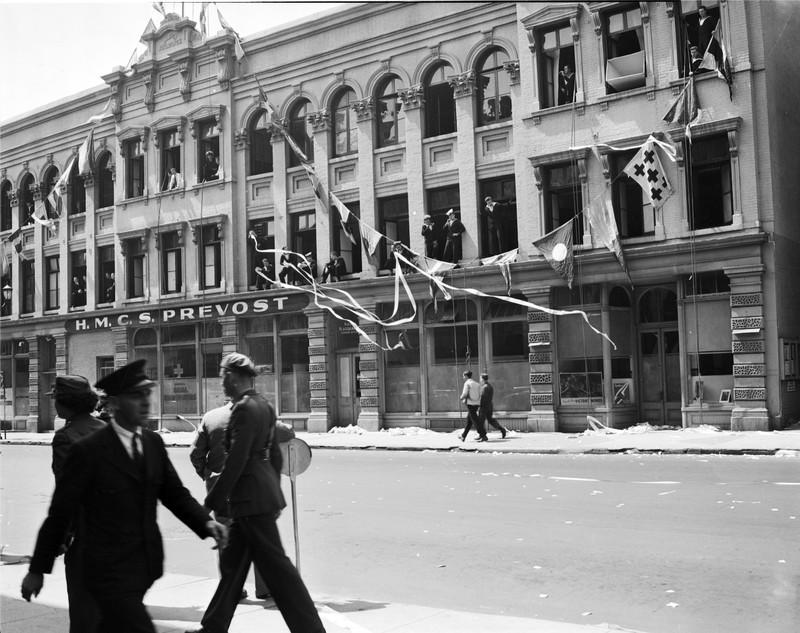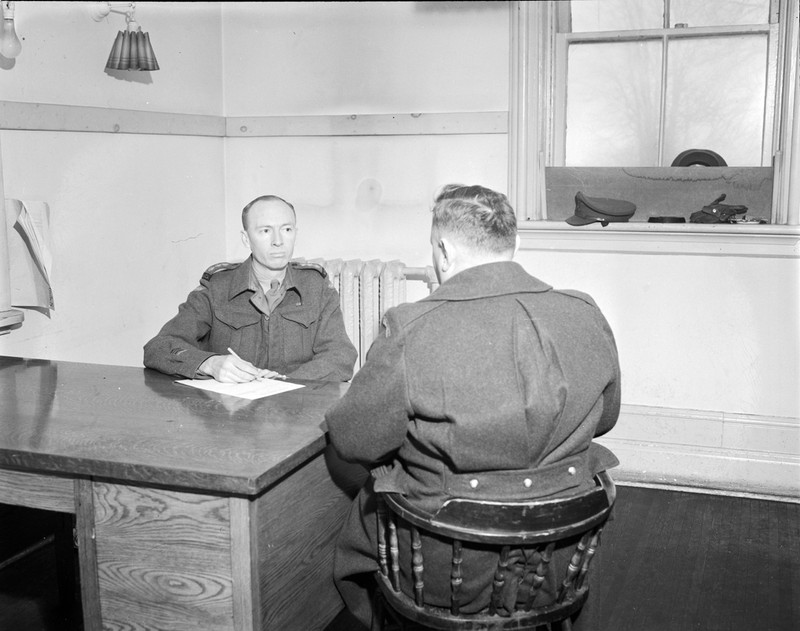 Backstory and Context
Author-Uploaded Audio
All World War Two veterans were promised rehabilitation assistance, post-discharge cash payouts, a guarantee of resuming one's previous employment, or finding a comparable job, vocational re-training, or free university education up to a period equal to the time spent in uniform. The right to claim the newly implemented unemployment benefits for a year and subsidized loans to start a business were also guarantees. The Department of Veterans Affairs was established in March 1944 to coordinate and implement these programs, and it quickly ballooned to over 12,000 employees by the end of 1946. While the numbers of those assisted nationally seem impressive, only 3.3% obtained land for farming through the Veterans' Land Act, 8% received vocational training, and 5.4% went on to university. 
Once back in Canada, each soldier received 30 days leave, followed by discharge from the military. Each veteran received $100 to buy civilian clothing, and a war service gratuity of $7.50 for each 30 days' in service. An additional 25 cents for each day overseas and a week's pay for each six months of service outside Canada were added on. At the time, a two-storey four-bedroom home, constructed for servicemen and their families, rented for $30/month.  
Sources
Boles, Ed. "Paving Way Home for Servicemen". London Free Press, March 17, 1945, Saturday Supplement Sec.
Munro, Ross. "Claim First In, First Out Policy Not Being Followed." Hamilton Spectator, July 18,1945.https://www.warmuseum.ca/cwm/exhibitions/newspapers/canadawar/demobilization_e.html, accessed 15 October 2019.
Swanson, Maj. Frank. "Crerar Orders Troops to End All Bickering". Hamilton Spectator, July 12, 1945. https://www.warmuseum.ca/cwm/exhibitions/newspapers/canadawar/demobilization_e.html, accessed 15 October 2019
Unknown Author "War-time Houses Built in Ealing District". London Free Press, February 20, 1945, PM Sec. 1
Veterans Affairs Canada. "Back to Civvy Street: Post-war Veteran Re-establishment." https://www.veterans.gc.ca/eng/remembrance/history/historical-sheets/civvy , accessed 09 October 2019.
Image Sources
London Free Press (Western Archives and Special Collections) 07 May 1945