Museum of Death
Introduction
The Museum of Death houses the world's largest collection of serial killer artwork, antique funeral ephemera, mortician and coroner instruments, Manson Family memorabilia, pet death taxidermy, crime scene photographs, and much more. Visitors can experience a self-guided tour lasting approximately forty-five minutes. While there is no age limit for guests, it is strongly recommended only for mature audiences.
Images
The Museum of Death was originally in San Diego but moved to this location in Hollywood, California in 1999.
Charles Manson is a feature exhibit in the museum.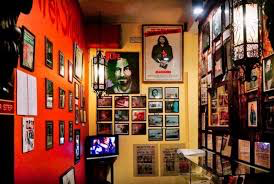 The Heaven's Gate suicide cult is also a featured exhibit.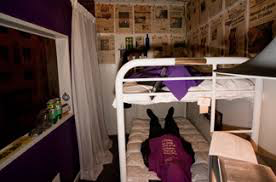 Backstory and Context
The Museum of Death was established in June of 1995 in San Diego and founded by J.D. Healy and Cathee Shultz as a way to educate the masses on a part of life so many of us fear and find taboo. The museum's first building in San Diego, once owned by Wyatt Earp, is reputed to have held the city's first mortuary. Collecting serial killer memorabilia became a hobby for Healy and Shultz. As they wrote to serial killers, they acquired a large amount of artwork in which they exhibited in a yearly specialty show. As the couple's collection expanded, the ​public's interest grew which resulted in their eviction. This led to the opening of the Hollywood location in 1999. 
The museum takes visitors through the small building with exhibits of capital punishment, cult suicides, traffic accidents, and serial murders. Standout exhibits include Heaven's Gate room. This exhibit recreated the scene investigators found in San Diego when 39 cult members committed suicide in March 1997. High-profile cases such as Black Dahlia, Charles Manson, and John Wayne Gacy are also featured. 
There are currently two museum locations. There is one in Hollywood, California and a second in New Orleans, Louisiana. The New Orleans location opened its doors in 2014. Each museum features different artifacts as there are no duplicates. Both are currently open to the public, and there is a third location, in Seattle, Washington, in the works.
Sources
Museum of Death. Accessed October 17th 2019. http://www.museumofdeath.net/.
La Ganga, Maria L. At the Museum of Death, every day is like a Charles Manson anniversary, Los Angeles Times. August 10th 2019. Accessed October 17th 2019. https://www.latimes.com/la-me-museum-of-death-manson-2019-story.html.
Genki. The Museum of Death, Atlas Obscura. Invalid date. Accessed October 17th 2019. https://www.atlasobscura.com/places/the-museum-of-death-los-angeles-california.
Museum of Death, Wikipedia. Accessed October 17th 2019. https://en.wikipedia.org/wiki/Museum_of_Death.
Image Sources
https://www.viator.com/en-AU/Los-Angeles-attractions/Museum-of-Death/d645-a23133

https://www.pinterest.com/pin/726416614878402477/?nic=1

https://www.scpr.org/programs/madeleine-brand/2010/10/29/16653/some-thrills-at-the-museum-of-death-in-hollywood

Additional Information