The Battle of Hoke's Run: A Splendid Falls
Introduction
Dedicated in 2008, this marker talks about the Battle of Falling Waters and how a waterfall impacted it. Right on the edge of the Eastern Panhandle border of West Virginia lies a small town that houses historic and residential homes. Falling Waters was established in 1815. With its location lying between Martinsburg and Hagerstown, Falling Waters has become a residence for many people employed in Washington, D.C. and Baltimore. Two Civil War battles were fought in Falling Waters: The Battle of Hoke's Run and The Battle of Williamsport.
Images
On top of the waterfall near the stream is the "A Splendid Falls" marker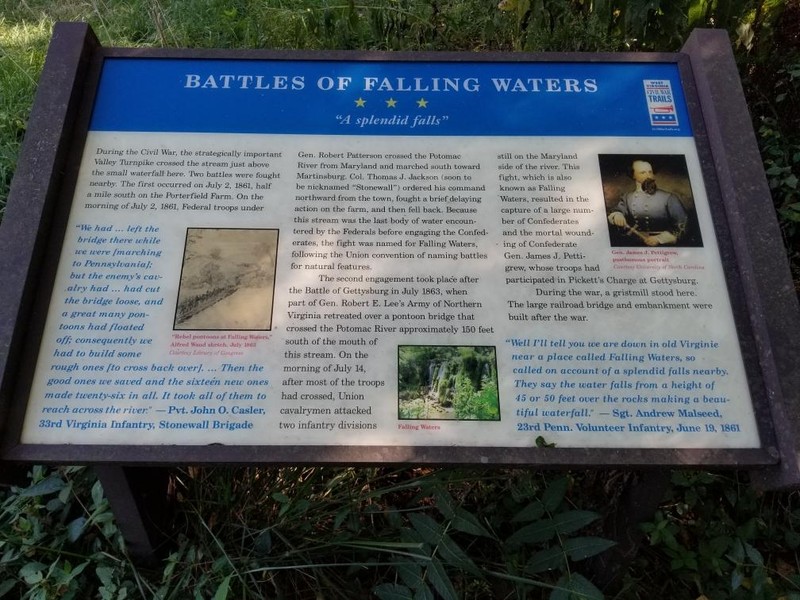 Right above is the stream and Valley Turnpike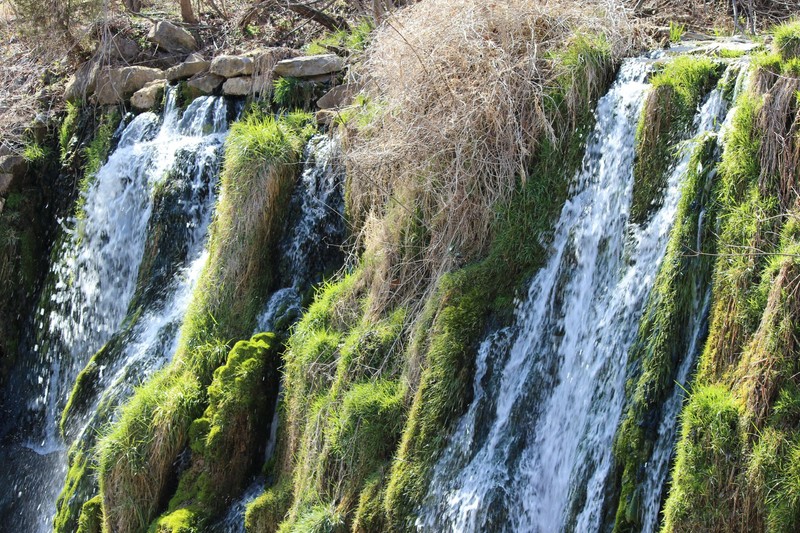 The waterfall is open for all to visit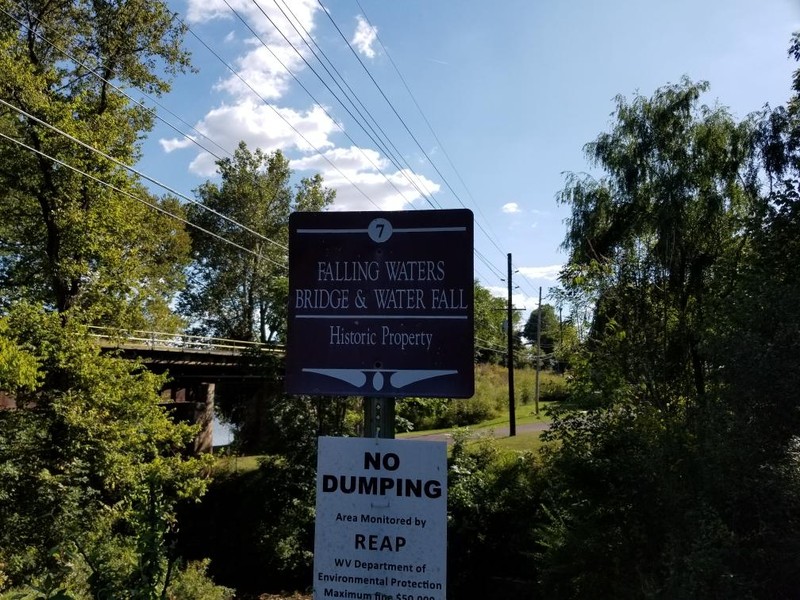 Backstory and Context
At this time in history, America was in a civil war. The individual states of the United States could not agree on state rights, specifically the ownership of slaves. Particularly, the state of Virginia was greatly affected. Part of the state wanted to be loyal to the Union side of the war, and the other part's loyalty lied with the Confederates. The Battle of Hoke's Run was the first Civil War engagement in the Shenandoah Valley.
The Battle of Hoke's Run was fought on July 2nd, 1861. Another name for this battle is "The Battle of Falling Waters." This battle was part of the Manassas campaign as one of the battles of the American Civil War. The Union was led by General Robert Patterson, and the Confederates were led by Colonel Thomas J. Jackson. On the morning of July 2nd, the Union crossed the Potomac River from Maryland to Virginia using the Valley Turnpike.
The Falling Waters waterfall feeds into the Potomac River, and above the waterfall is a stream. The Valley Turnpike crosses the stream at the top of the waterfall. Since this waterfall was the last body of water seen by the Union before the fight half a mile south on the Porterfield Farm, they named the battle after it. The Union has a reputation to name their battles after natural landmarks. After naming their upcoming battle, they were on to take on the Confederates.
Sources
The Battle of Falling Waters July 2, 1861, Falling Waters Battlefield Association. Accessed October 4th 2019. http://www.battleoffallingwaters.com/.
Coughlin, Bill. Battle of Falling Waters "A Splendid Falls", HMDB.org. August 5th 2012. Accessed October 5th 2019. https://www.hmdb.org/Marker.asp?Marker=58083.
Battle of Hoke's Run July 2, The Civil War in West Virginia. Accessed October 5th 2019. http://wvstatemuseumed.wv.gov/hoke-s-run.html.
Additional Information