Scottsbluff Carnegie Library
Introduction
Now home the West Nebraska Arts Center, the former Scottsbluff Carnegie Library building was constructed in 1922. Designed in the Classical Revival style, it was one of the last Carnegie libraries to be built in the state. It was erected during the city's early period (the city was platted in 1900), during which the city grew rapidly and as such, the library is representative of this prosperous time. For these reasons, the library was added to the National Register of Historic Places in 1981. Established in 1967, the West Nebraska Arts Center features exhibit galleries and promotes art education and awareness for the North Platte Valley Region.
Images
The Scottsbluff Carnegie Library was built in 1922.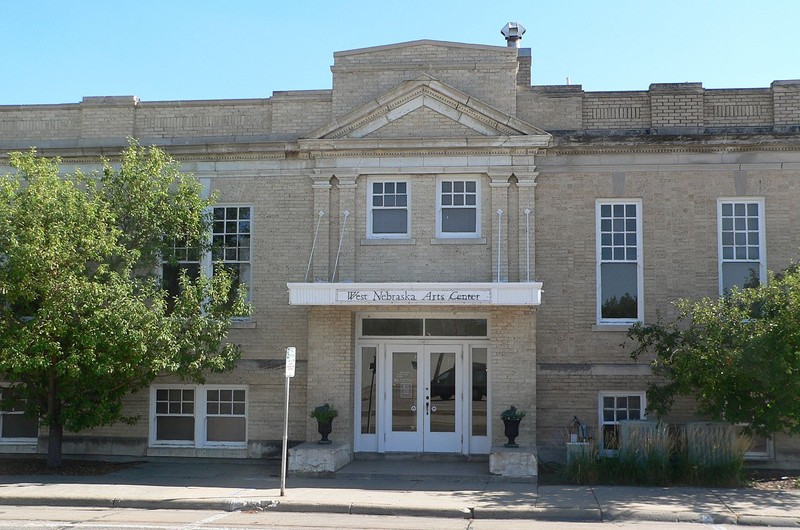 Backstory and Context
Scottsbluff is one of the youngest cities in Nebraska. It owes its existence to a subsidiary of the Burlington Railroad, which established the city in 1900. It didn't grow quickly in the first few years but this situation changed when the North Platte Valley was irrigated and farmers started to grow sugar beets. As a result, Scottsbluff started to prosper and became an important economic center for western Nebraska.
It was in this context that the library was built. A local women's group founded the first library in 1916, which was very successful. A new library board was established and it requested funds from the Carnegie Corporation, named after its founder and philanthropist Andrew Carnegie—the steel magnate who was one of the richest people in the world at the time. He gave the library board $12,500 in June 1917 but after the U.S entered WWI, the city decided to wait to begin construction until the war was over. However, the library board soon realized it needed to expand the library to accommodate the growing city and asked for additional funds, which they received. The addition was built in 1936. It is not readily apparent how long the library operated but it did eventually move into its current building.
Sources
"Mission." West Nebraska Arts Center. Accessed October 13, 2019. http://www.thewnac.com/welcome.
Chatfield, Penelope. "Scottsbluff Carnegie Library." National Park Service - National Register of Historic Places Nomination Form. September 3, 1981. https://en.wikipedia.org/wiki/Scottsbluff_Carnegie_Library.
Additional Information