British Occupation of Dauphin Island in 1815
Introduction
Dauphin Island is a small marshy island off the Gulf coast of Alabama, situated at the mouth of Mobile Bay. The island holds strong strategic value and was used as such during the War of 1812 and the American Civil War. During the War of 1812, the British occupied the island in February of 1815 following their defeat in the Battle of New Orleans. They held this position until April1815 when they received news of the peace agreement to end the war.
Images
British encampment on Dauphin Island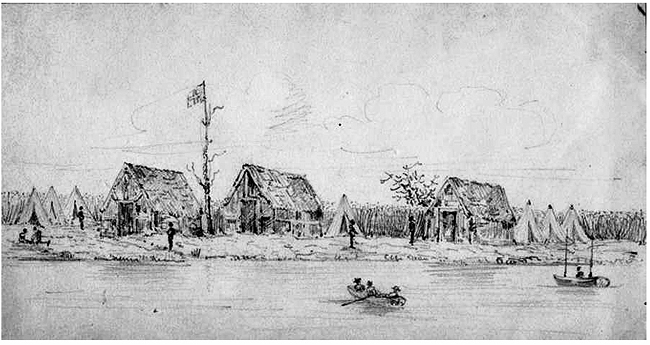 Backstory and Context
During the war of 1812, British troops mounted an assault on the city of New Orleans on January 8, 1815. New Orleans was important for its position on the end of the Mississippi River as control here would allow the British to control all of the Louisiana Purchase. With a 2:1 advantage in terms of troop numbers, and with better training, the British were humiliated by the Americans. With this loss, they retreated towards Mobile Bay in an attempt to gain advantage and control there.
When they reached the opening of Mobile Bay, the British army split in two. One half attacked Fort Bower at Mobile Point, while the other half waited on Dauphin Island in reserve. The soldiers that attacked Fort Bower were successful in their attack and occupied the Fort on February 12th, 1815. Just two days later, news came of the treaty, and the British troops withdrew from the Fort, took the Americans as hostages, arrived back on Dauphin Island and awaited the ratification of the treaty by the U.S. President.
The British soldiers occupied Dauphin Island until April 5th. Once on Dauphin, the soldiers thought only of relaxing and enjoying themselves. They took trips to the mainland to gather supplies, and even went on shooting parties. The British soldiers erected a theatre on Dauphin Island called Theatre-Royal, "Isle Dauphine," and put on many different plays in order to ease their idle minds. American soldiers even attended these plays, and joined in on the amusement.
The treaty was ratified on March 5th, 1815, and following this a prisoner exchange was conducted on Dauphin Island. The British soldiers stayed for another month while boats continually left filled with soldiers.
Sources
Hilton, Mark . British Occupation of Dauphin Island, The Historical Marker Database. August 25th 2018. Accessed October 9th 2019. https://www.hmdb.org/marker.asp?marker=122427.
Kessler, Benjamin. The Battle of New Orleans, National Geographic. November 20th 2012. Accessed October 9th 2019. https://www.nationalgeographic.org/media/battle-new-orleans/.
. New Orleans: Chalmette Plantation, American Battlefield Trust. Accessed October 9th 2019. https://www.battlefields.org/learn/war-1812/battles/new-orleans.
Surtees, William. Twenty-Five Years in the Rifle Brigade. Edinburgh. Ballantyne and Company, 1833.
Image Sources
http://dauphinislandhistory.com/1815british_encamp_expand.htm

Additional Information