Parkman Bandstand
Introduction
Located in the Boston Common, the Parkman Bandstand hosts theater, concerts, and speeches. The bandstand is dedicated to George Francis Parkman. The structure was built in 1912 and restored in 1996 (About.com). Parkman left over $5 million for the maintenance of Boston Common and other city parks at his death (Jennings).
Images
Parkman Bandstand from side of stage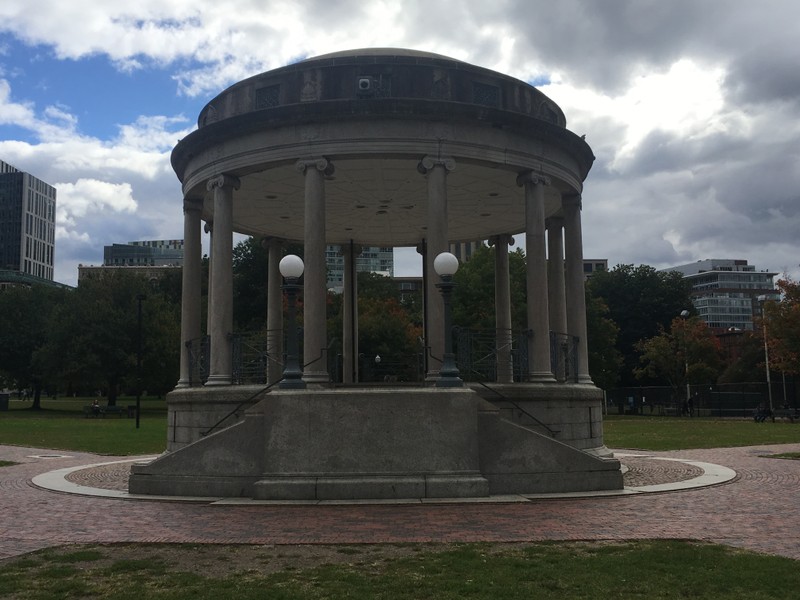 Almost indistinguishable commemoration on side of bandstand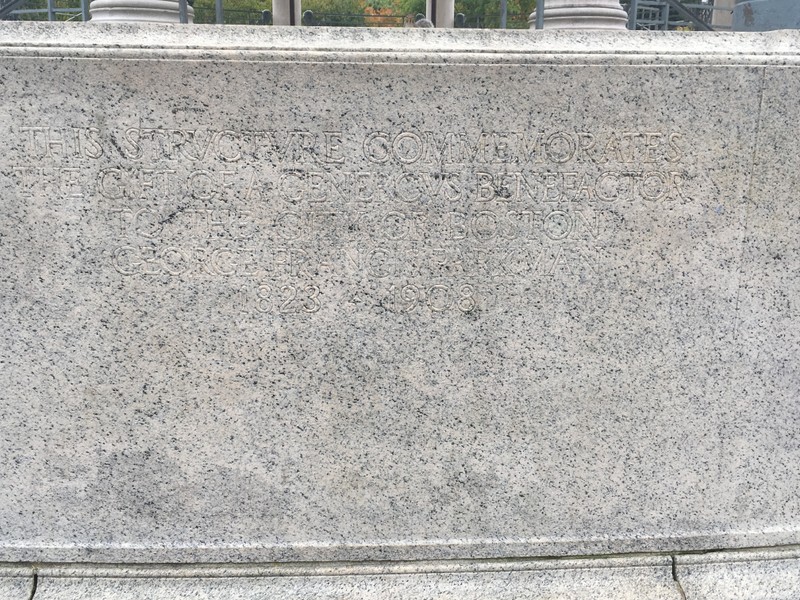 Parkman Bandstand from the back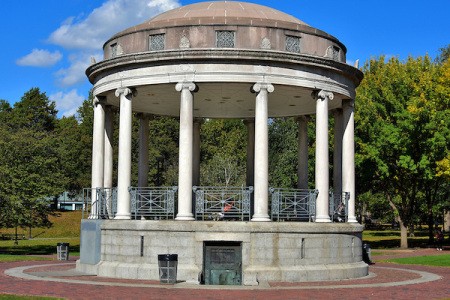 Backstory and Context
George F. Parkman was a prominent Bostonian during his lifetime (Jennings). He attended Harvard Law School and practiced law for a short time (Architectural Heritage). He was a Boston Brahmin, or part of Boston's upper class. His father Dr. George Parkman was a doctor and businessman, who donated land to the initial campus of Harvard's Medical School (Jennings).
In 1849, Dr. Parkman went missing. His body was found dismembered in Dr. John White Webster's Harvard Medical School lab. Webster was later convicted of murder (Dwyer). It was alleged that the murder was provoked by Dr. Parkman's discovery that minerals that were pledged to him as a security on a loan were also pledged to his brother-in-law, Robert Gould Shaw (Architectural Heritage). Shaw was the grandfather of the man of the same name who led the first all-Black regiment in the Civil War (Wills). On November 23rd 1849, Dr. Parkman met with Webster in Webster's lab to get money that he was owed. He never returned from the appointment. Webster became a suspect in Parkman's disappearance when Ephraim Littlefield, a janitor at Harvard Medical School, received a Thanksgiving turkey from Webster, with whom he was not close. Littlefield broke into Webster's lab and found human remains. Webster was sentenced to death after a controversial March 1850 trial (Dwyer). The trial and sentence disturbed the wife of Dr. Parkman, his daughter and George F. Parkman (Architectural Heritage). George F. Parkman felt his father was portrayed unfairly as avaricious during the trial (Dwyer). Mrs. Parkman, Parkman, and his sister became recluses at 33 Beacon Street once Mrs. Parkman bought it in 1853. They did not allow strangers to enter their house. George F. Parkman and his sister both remained single (Architectural Heritage).
The Boston firm Derby, Robinson & Shepard constructed the bandstand in recognition of Parkman's bequest of over $5,400,000 to the city of Boston for the maintenance of its parks (Jennings). It does not appear to be dedicated to anyone, until you look closely at the outline of letters that say "This structure commemorates the gift of a generous benefactor to the city of Boston George Francis Parkman 1823-1908." The donation took the form of the 33 Beacon Street estate and is one of the largest donations to the city of Boston to date (Architectural Heritage). The land on which the bandstand lies was previously a watering hole for cows that grazed in Boston Common (Jennings). The hole had been filled in 1838 when cows no longer grazed the Common (Marie).
In the summer, the Commonwealth Shakespeare Company performs free Shakespeare shows in front of the bandstand. In addition to the shows and concerts, the bandstand has held political events, including a 2007 Presidential Primary rally involving then candidate Barack Obama and Massachusetts governor Deval Patrick. The Boston Freedom Rally is hosted each September in front of the bandstand (Jennings). This event educates the public about cannabis (MassCann).
Sources
About.com. The Parkman Bandstand in A Walking Tour of Boston Common, About.com. Accessed November 10th 2019. https://web.archive.org/web/20090513073538/http://boston.about.com/od/walkingtours/ss/bcWalkingTour_3.htm.
Jennings, Laura. Celebrating 100 Years of the Parkman Bandstand, Patch.com. March 26th 2012. Accessed November 10th 2019. https://patch.com/massachusetts/beaconhill/bp--celebrating-100-years-of-the-parkman-bandstand.
Architectural Heritage. Parkman house, 33, beacon street, Boston, Massachusetts, Archive.org. 1970. Accessed November 10th 2019. https://archive.org/details/parkmanhouse33be00arch/page/n5.
Dwyer, Dialynn. Murder at Harvard Medical School: The story of the 19th century slaying that shocked Boston, Boston.com. November 22nd 2017. Accessed November 10th 2019. https://www.boston.com/news/history/2017/11/22/a-19th-century-murder-at-harvard-medical-school .


Wills, Matthew. The Infamous Tale of the Murderous Chemistry Professor, JSTOR Daily. February 24th 2017. Accessed December 2nd 2019. https://daily.jstor.org/the-infamous-tale-of-the-murderous-chemistry-professor/.
Marie, Lybia. George Parkman JR bio- Parkman Genealogy, WordPress. July 30th 2014. Accessed December 2nd 2019. https://parkmangenealogy.files.wordpress.com/2010/01/george-parkman-jr-bio.docx.
MassCann. How to Safely Enjoy the Boston Freedom Rally, MassCann. Accessed December 2nd 2019. https://masscann.org/boston-freedom-rally/faq/.
Image Sources
Nicholas Cook

Nicholas Cook

https://parkmangenealogy.wordpress.com/2010/01/02/parkman-bandstand-boston-common/

Additional Information