Lanesfield Historic Site
Introduction
In the 1860s, the town of Lanesfield was a small but bustling community, located along the Santa Fe Trail. Today, nothing remains of the historic town except its 1869 stone schoolhouse and some outbuildings. Interpreters at the site lead tours and programs through the remaining 150-year-old structures. The visitors center has exhibits explaining the significance of the site and provides guests with modern amenities.
Images
Lanesfield Historic Site Schoolhouse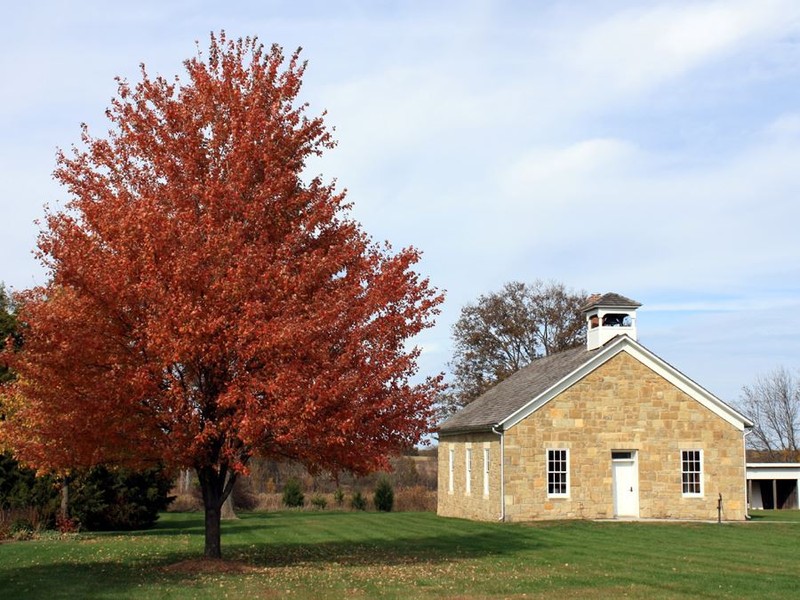 Inside the one-room schoolhouse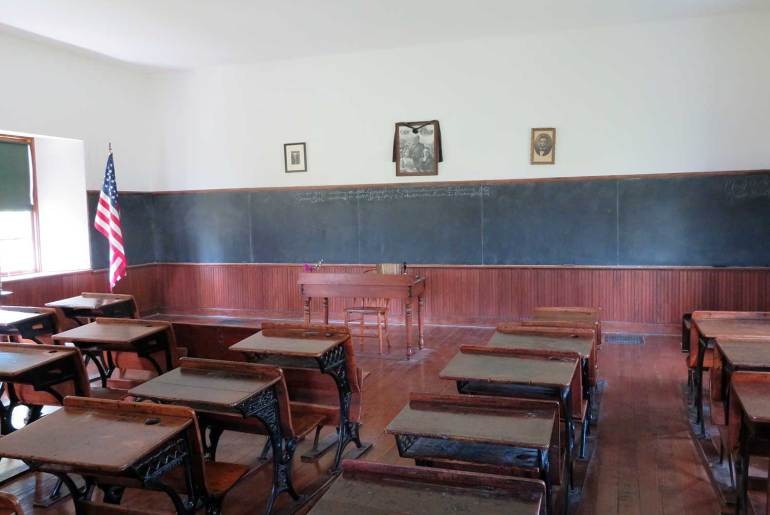 A costumed "school marm" leads a group in activities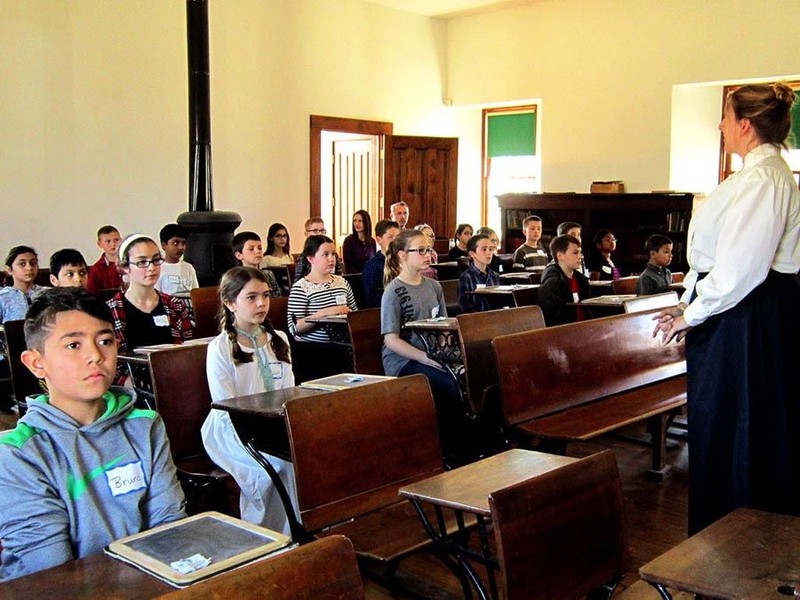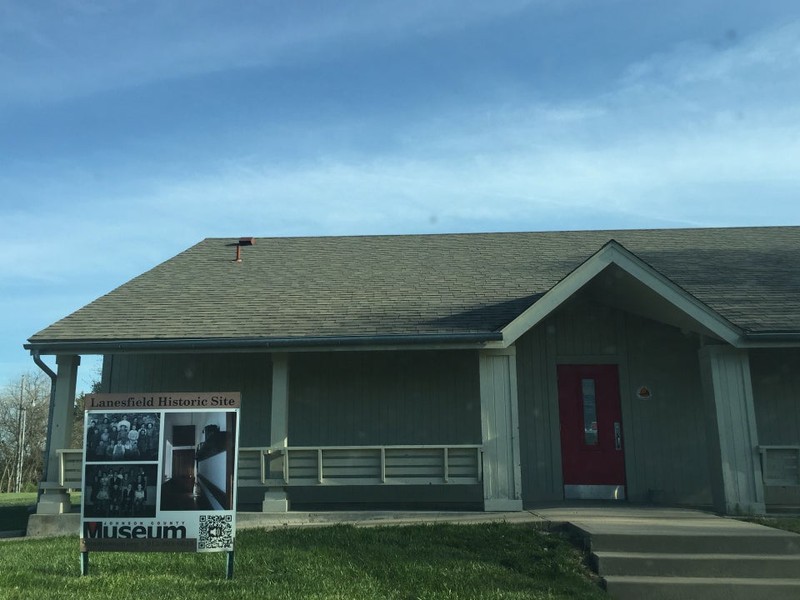 Interpretive panel at the site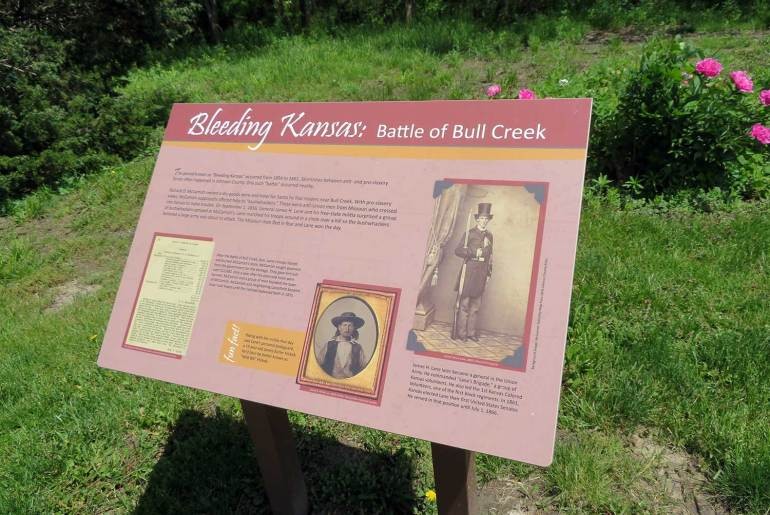 James Henry Lane, US Senator and General, for whom the town is named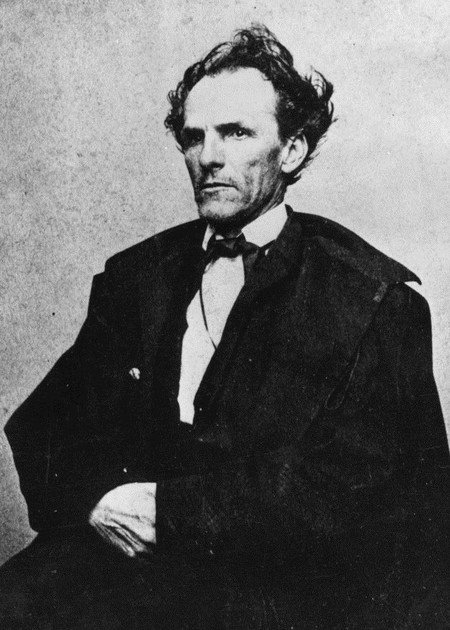 Backstory and Context
The Santa Fe Trail was established in 1821 and ran through this area, about 100 yards from the schoolhouse.[1] The town of Lanesfield was founded in 1858 and was used as a mail and trading stop along the trail. The town was named after General and US Senator James Lane, who had successfully led a group of 200 abolitionists against 1600 pro-slavery supporters from Missouri in the nearby Battle of Bull Creek in 1856. [1] At its peak, the town had 100 residents, a hotel, a Blacksmith, three stores, three churches, and, of course, a one-room schoolhouse. The schoolhouse was constructed in 1869 out of local limestone. [1]
A fateful decision in 1870 to construct the local portion of the Transcontinental Railroad through the town of Edgerton, a few miles south, rather than through Lanesfield, led to the town's demise. Residents gradually moved to be closer to the railroad, and Lanesfield became a ghost town. However, the schoolhouse was still used for almost another 100 years by the rural community. [1]
Today the schoolhouse is the only remaining building in the town of Lanesfield and the oldest schoolhouse in Johnson County. [2] It was listed on the National Register of Historic Places in 1988. The site consists of the schoolhouse, four outbuildings, a modern visitors center, an audio guide, and interpretive panels explaining the history of the town. [2] Costumed interpreters also lead visitors and school groups on living history experiences through the site to learn what life was like for the children who attended as well as the teachers who taught there. Johnson County Parks & Recreation manages the property, as well as the adjacent prairie land, where visitors can go on a short nature hike to an observation tower over the creek.
Sources
1.      "Lanesfield Historic Site Audio Tour." Johnson County Museum, Parks & Recreation Official Website. Accessed October 8, 2019. https://jcmuseum.wixsite.com/lanesfield.
2.      "Lanesfield Historic Site." Johnson County Museum, Parks & Recreation Official Website. Accessed October 8, 2019. https://www.jocogov.org/facility/lanesfield-historic-site.
Image Sources
Johnson County Parks & Recreation: https://www.jcprd.com/435/Lanesfield-Historic-Site

Travel Artsy: https://travelartsy.com/kansas-road-trip-santa-fe-trail/

https://www.jcprd.com/435/Lanesfield-Historic-Site

Ethan Loewen: https://foursquare.com/v/lanesfield-school-historic-site/4cb7593f76ad9c74a37be4cb?openPhotoId=57090897498edd885de7f2f8

Travel Artsy: https://travelartsy.com/kansas-road-trip-santa-fe-trail/

https://jocohistory.wordpress.com/2014/06/10/jim-lane-hero-of-the-border-war/

Additional Information