Skirmish at Greenland Gap during the Jones-Imboden Raid
Introduction
Near this site on April 25, 1863, two companies of Union soldiers led by Captain Martin Wallace held out in the Greenland Gap on New Creek Mountain for nearly four hours against 2200 Confederate cavalrymen under General William E. Jones. The skirmish, which gave Federal forces in what is now West Virginia valuable time to prepare for their defense against Jones' men, was one of the first engagements of the 1863 Jones-Imboden Raid. The raid was intended as a last-ditch effort to prevent the pro-Union "Restored Government of Virginia" in Wheeling from succeeding in its efforts to establish the new state of West Virginia, which it eventually did on June 20 of the same year. Because of Jones' delay at the Greenland Gap, his men went on to encounter stiff resistance at later destinations like Rowlesburg in Preston County and Fairmont in Marion County. Greenland Gap is now a State Natural Landmark that is part of a 255-acre nature preserve, which is open to the public seven days a week from dawn to dusk.
Images
Historic marker commemorating the skirmish at Greenland Gap.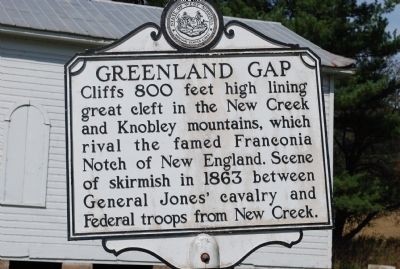 The eastern end of Greenland Gap in 1890, the direction from which General Jones entered.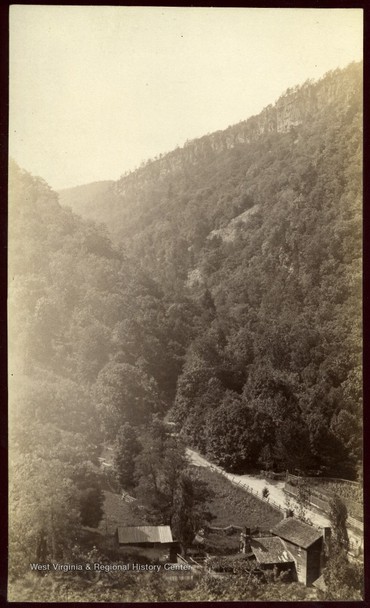 Confederate General William E. Jones, rebel commander at the Greenland Gap.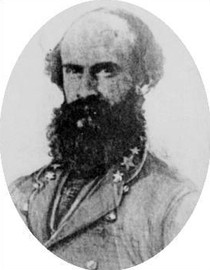 Backstory and Context
Confederate General William E. Jones was known to his men by the nickname "Grumble," a reference to his irascible temper and reputation as a disciplinarian. Both were on full display in the weeks leading up to the beginning of his expedition into what is now West Virginia, Jones performing minute inspections of every unit under his command to ensure that they were ready for a hard trek through mountain terrain in what already promised to be less than favorable weather conditions. Though his troops had little idea of the specifics regarding their mission early on, Jones' orders that substantial amounts of gunpowder accompany them on their march gave them clue: many guessed correctly that their leader intended to target the Baltimore & Ohio Railroad. The railroad was a vital link between the eastern and western theaters of the war over which the Union government had fought strenuously to maintain control. While Confederate leaders hoped the planned raid into the western area of Virginia might disrupt Unionist efforts to form a new state separate from the secessionist counties to the east, Army of Northern Virginia commander Robert E. Lee was just as hopeful that it might prevent Federal troops from arriving from the west to reinforce the Army of the Potomac under General Joseph Hooker.
With those goals in mind, Jones and 3500 Confederate cavalry, artillery, and infantry set out from their rendezvous point at Cootes' Store ten miles to the northwest of the general's headquarters in Lacey Springs, Virginia. From there, Jones intended to march his men on the Moorefield-Alleghany Turnpike connecting what was then Hardy County, Virginia to Cumberland, Maryland. Almost immediately, however, Jones ran into obstacles that forced him to rethink the nature of his entire campaign. Upon arriving in Moorefield the Confederates were faced with the task of crossing the southern branch of the Potomac River, an endeavor that while normally of little cause for concern had been rendered considerably more dangerous by heavy rains. Determining the crossing at Moorefield to be impossible Jones proceeded a dozen miles southwest to the town of Petersburg (not to be confused with the community of the same name near Richmond), which while still along the South Potomac featured a more passable ford. Because the town and surrounding area of Hardy County was heavily pro-secession, Jones found a number of willing locals to assist his men in their journey across the river. Despite this assistance and the lower water levels at Petersburg, only the cavalry was able to make the crossing. The infantry and artillery, meanwhile, were ordered to return to Lacey Springs, leaving Jones with only 2500 men. With the deaths and desertions that resulted from those cavalry troopers who were either unable to unwilling to make it across, his numbers were reduced further to 2200.
With this much reduced force, Jones proceeded along the turnpike to attempt a crossing of the New Creek Mountain through a cleft in the ridgeline known as Greenland Gap in what was then Hardy Count, Virginia and is now Grant County, West Virginia. The gap itself was less a hundred yards wide at its entrance on the eastern end with a small meadow near the western outlet about an acre in size, while the walls of the gap reached a height of over eight hundred feet. The road westward ran parallel to a small body of water known as Patterson Creek through the gap, the two forming a D-shape in the meadow. It was ideal defensive terrain and the Federal forces that waited for Jones there took full advantage. Dispatched from General Benjamin F. Kelley's First Division headquarters at New Creek in what is now Mineral County, West Virginia, the 52 men of Captain Martin Wallace's Company G in Colonel James Mulligan's 23rd Illinois Infantry arrived at the gap on April 22. Once there, Wallace posted his men in a two-story log church on a slight rise overlooking the gap's meadow and positioned pickets at the eastern entrance to give him advance warning of Jones' arrival. Three days later, at 4 PM, 34 men from Captain Jacob Smith's Company A of the 14th West Virginia Infantry arrived from New Creek to relieve him. They never got a chance. Scarcely had the West Virginians arrived before Wallace's pickets rode in to warn their commander that the Confederates had finally arrived. Rather than allow Smith to relieve the Illinoisans, Wallace instead ordered him to take up a position in a log schoolhouse on the other side of the meadow on another slight rise.
Upon nearing the gap, Jones received word from the vanguard under Colonel Thomas Marshall (former aide to General Stonewall Jackson) that one or two Federal companies stood in his way. Deciding that finding another way past New Creek Mountain would take too much time away from an already delayed march, Jones determined upon taking the Union position with a frontal assault. Marshall's men were the first to make the attempt, but their first charge on Wallace's position fell apart under withering fire from the second story of the church and flanking fire from the schoolhouse across the meadow. Reforming his men, Marshall attempted another charge, this time pushing his troopers past the church to seal off Wallace's retreat. Despite the fact that they were now surrounded Wallace's men continued to hold off the Confederates, and without the artillery that might have helped Jones settle the matter without sacrificing yet more of his men the combat settled into a desultory stalemate.
Hoping to avoid further bloodshed Jones sent forward a flag of truce and written request for Wallace's surrender, warning the Union commander that he had thousands of men. "Go back with the rag," Wallace replied, "I don't care if he has millions, I will not surrender until compelled."[1] Upon a second request from Jones for his surrender, Wallace further responded "we are Mulligan's men, and we will fight to the last crust and cartridge."[2] When a third charge managed to set the church's roof on fire, however, Wallace was finally forced to surrender. When the Federals exited the building they were immediately set upon by members of the Maryland cavalry marching with Jones, who threatened to kill the Union soldiers for holding out so long. It took the personal intervention of Jones himself to prevent Wallace and his men from being murdered, although at least one prisoner was executed before his arrival to the scene.
After reaching the western end of the Greenland Gap, Jones proceeded to what is now Mount Storm in Grant County, West Virginia, where he allowed his men some much needed rest and recuperation. The following day, April 26, he split his forces into three prongs. The main body, under Jones himself, would proceed to the town of Rowlesburg, in Preston County, where he hoped to destroy a Baltimore & Ohio railroad bridge. Another contingent, under Colonel Asher Harmon, would move to destroy another bridge in Oakland, Maryland. The final prong, led by Captain Edward McDonald, aimed for the railroad trestles in Altamont, Maryland. After presumably achieving their objectives, the men under Harmon and McDonald were ordered to rendezvous with Jones at Morgantown in Monongalia County.
[1] Collins, 71.
[2] Collins, 71.
Sources
Ballard, James Buchanan. William Edmondson "Grumble" Jones: the Life of a Cantankerous Confederate. Jefferson, NC: McFarland & Company, Inc., Publishers, 2017.
Collins, Darrell L. The Jones-Imboden Raid: the Confederate Attempt to Destroy the Baltimore & Ohio Railroad and Retake West Virginia. Jefferson, NC: McFarland & Co., 2007.
"Jones' Raid on the Northwestern (Baltimore and Ohio) Railroad." In United States Congressional Serial Set, 2766:107–37. Washington, D.C.: United States Government Printing Office, 1891.
Skoch, George. "'To the Last Crust and Cartridge'." Civil War Times Illustrated, January 2007.
Image Sources
The Historical Marker Database

West Virginia and Regional History Center

Wikipedia

Additional Information