Captain John Hereford/ Mercer's Bottom
Introduction
Captain John Hereford was a Revolutionary War Adjutant in Colonel John Alexander's Virginia Regiment. He moved to Mason County in 1808, served as magistrate and sheriff, and died in 1846. Mercer's Bottom is part of the 16,000 acre tract of land surveyed by order of George Washington for General Hugh Mercer's family after the death of Mercer at the Battle of Princeton while fighting by the side of Washington.
Images
Captain John Hereford Side From Distance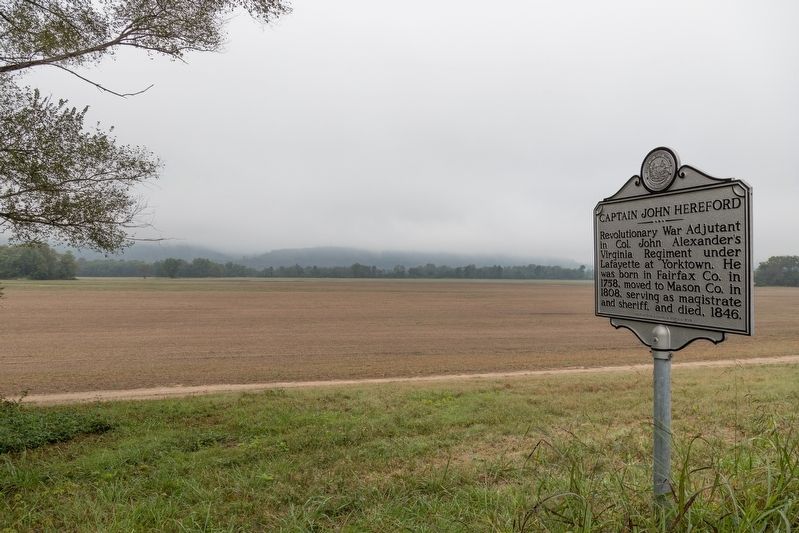 Captain John Hereford Side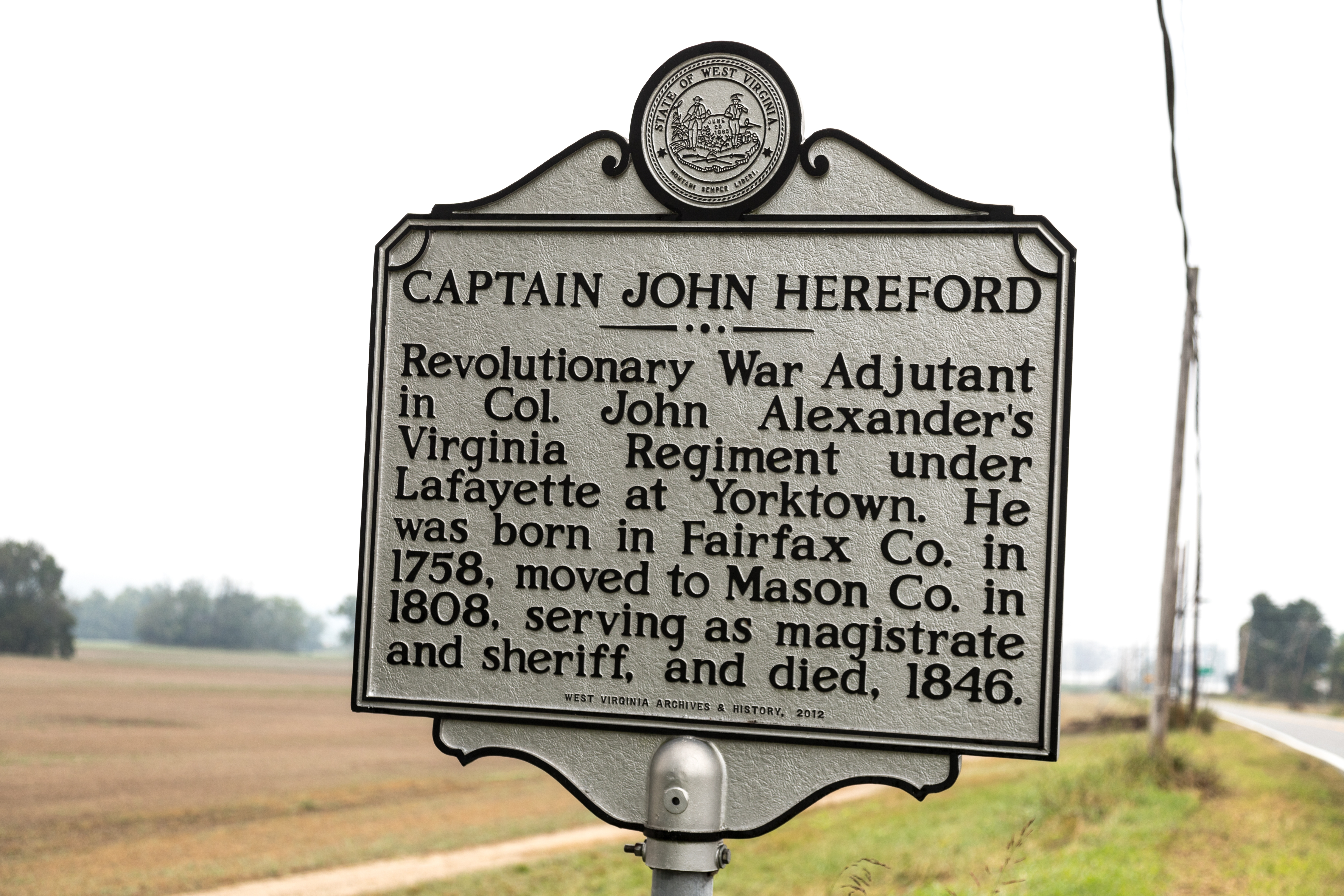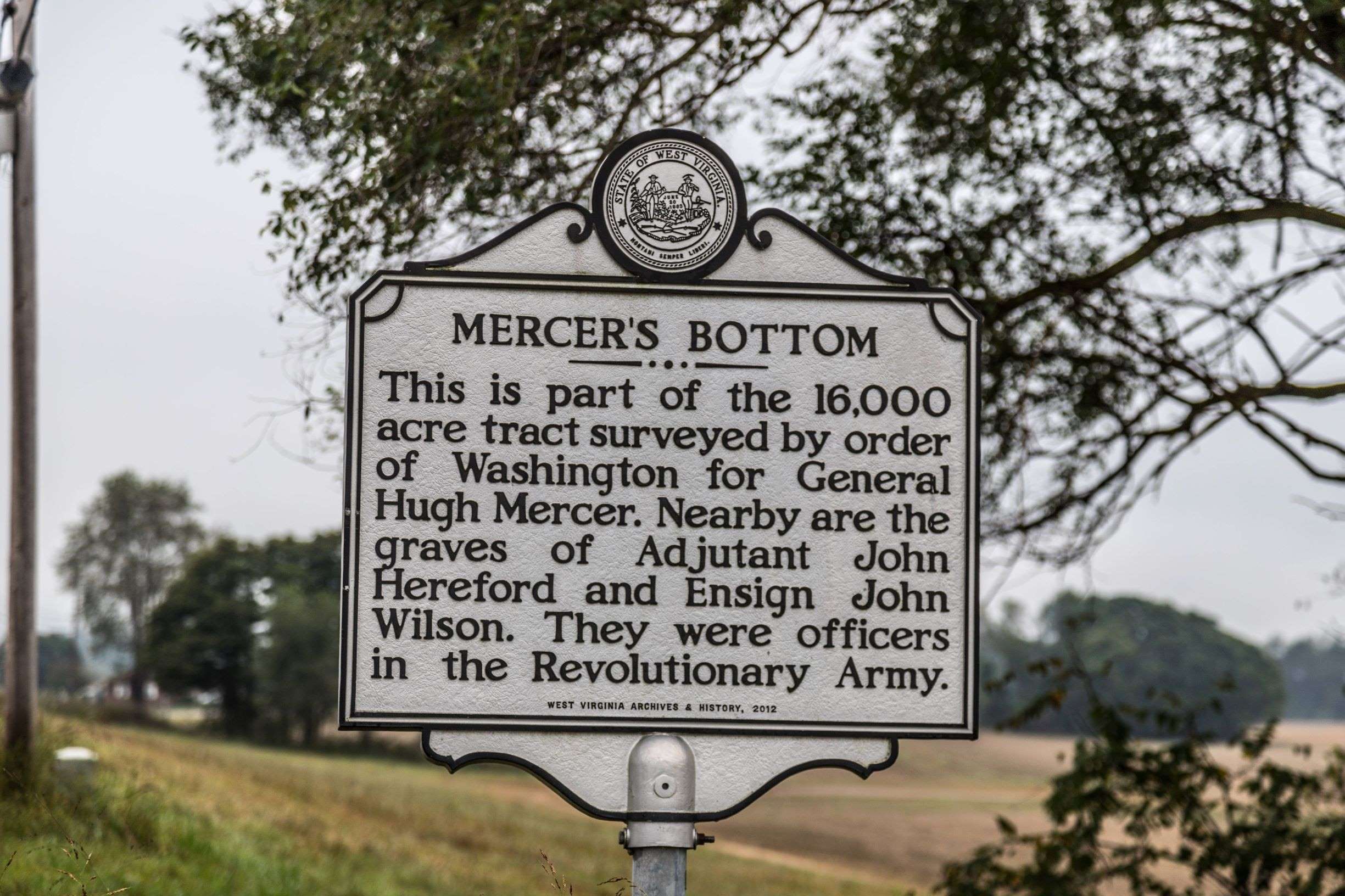 Backstory and Context
John Hereford (Adjutant)
           Born, Fairfax County, Virginia, February 3, 1758, and died, Mason County, May 13, 1846. His boyhood home was on the paternal estate of his great-grandfather on the Potomac River, who settled there after coming from Wales. Before he was sixteen years old, Hereford in 1774 was enrolled in a company in Leesburg that was being drilled in expectation of the coming war with England. In 1777, John enlisted as a sergeant in the Second Virginia Regiment under Lieutenant Gill, and marched under Marquis Calmus or Colms to Philadelphia where he was attached to Captain John Peyton Morrison's Company, and was in the Battle of Monmouth. In 1778-79, he enlisted for the war, obtained a substitute and received a discharge from Colonel Christian Febiger. He was then appointed commissary at Leesburg. When Cornwallis invaded Virginia, Hereford was adjutant of Colonel John Alexander's Regiment under Lafayette, and finally drove Cornwallis to Yorktown where he was captured. He continued as adjutant of Colonel Charles Dabney's Regiment and of Colonel West's Regiment under General Weedon.
                    Pensions were granted to the soldier and also to his widow in Mason County. There was also a land bounty grant of 160 acres. Supporting claims were made by Mrs. Jan McCabe, James Hamilton, Samuel Tillett, Elinor Tillett, a sister of Lieutenant Gill, Joseph Smith, Charles Clendenin, M. Stribling, Hugh Daigh, and Charles B. Waggoner. An interesting comment was the statement that Colonel Febiger, under whom Hereford served, had been in 39 military actions in Europe and in America.
Sources
Johnson, Ross B. West Virginians in the American Revolution. Genealogical Publishing Com, 1977, p. 130.
Image Sources
https://www.hmdb.org/PhotoFullSize.asp?PhotoID=451643

https://www.hmdb.org/PhotoFullSize.asp?PhotoID=451638

https://www.hmdb.org/PhotoFullSize.asp?PhotoID=451637

Additional Information