Toltec Building
Introduction
The Toltec Building is a historic structure in downtown El Paso built in 1910. Its original purpose was to be the home of a men's organization called the Toltec Club, was founded in 1908. Members of the club were prominent business, civic and political leaders at the time. British-born architect John J. Huddart designed the building in a combination of the Beaux-Arts, Renaissance, and Sullivanesque (named after American architect Louis Henry Sullivan) styles. As such, the Toltec Building is one of the more unique landmarks in El Paso. Notable features include arched windows, geometric terra cotta decoration, and balconies in front of the second-floor windows. Added to the National Register of Historic Places in 1979, it has been used for office and commercial space since the club closed in 1930.
Images
The Toltec Building, also known as the Toltec Club, was built in 1908 and is one of the most architecturally striking buildings in El Paso.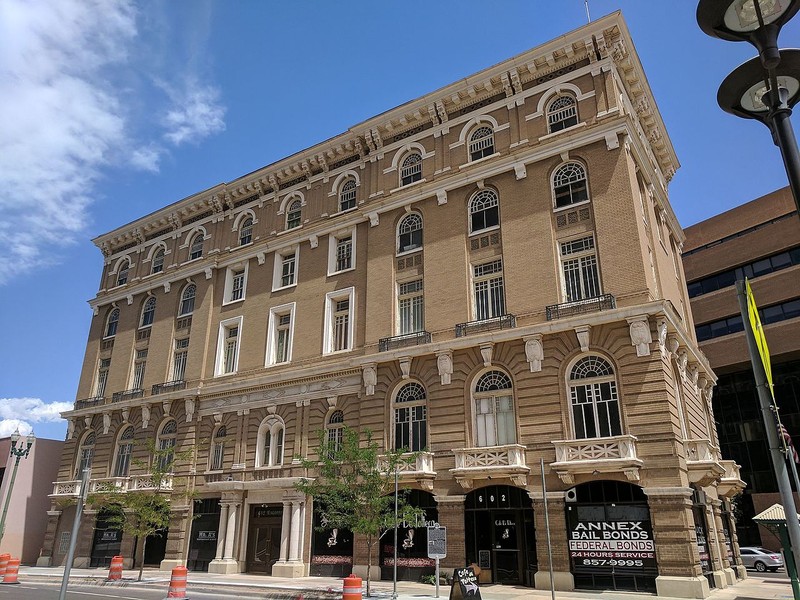 Backstory and Context
The Toltec Club was an exclusive organization; not only was it men-only but expensive to join as well. Members had to pay a $100 initiation fee and a $50 yearly fee (these were high costs in the early 20th century). Members included many of the city's top leaders at the time including lawyer and founding member W.B. Burgess, architect Henry C. Trost, and businessman and co-founder of the State National Bank Joseph Magoffin. The building hosted many notable individuals during its heyday including President Theodore Roosevelt, Mexican President Francisco Madero, and General John J. Pershing.
Sources
"Bell, Kleiu & Hoffman, Architects and Restoration Consultants, Inc." National Park Service - National Register of Historic Places Nomination Form.
March 12, 1979. https://catalog.archives.gov/OpaAPI/media/40971855/content/electronic-records/rg-079/NPS_TX/79002934.pdf.
Coons, Heather. "The Toltec Club: Of Ghosts and Guests." Borderlands, vol. 28 (2010-2011). Retrieved from El Paso Community College Libraries September 18, 2019. http://epcc.libguides.com/c.php?g=754275&p=5406008.
Kolenc, Vic. "Last major piece of William Abraham's long-held Downtown portfolio sells for $1.3 million." March 6, 2019. https://www.elpasotimes.com/story/money/business/2019/03/06/historic-downtown-el-paso-buildings-sale/3060835002.
Image Sources
Wikimedia Commons: https://en.wikipedia.org/wiki/Toltec_Club#/media/File:Toltec_Club_El_Paso.jpg

Additional Information