Sand Creek Massacre National Historic Site
Introduction
In November of 1864, the Sand Creek Massacre became one of the most infamous battles during the Indian Wars. The Battle was recorded as a victory against the Cheyenne and Arapaho Native American tribes on the hostile plains of Colorado, but was later investigated by the military and 2 separate Congressional reports due to conflicting testimonies by soldiers who participated.
Images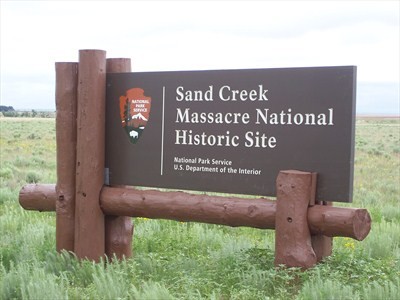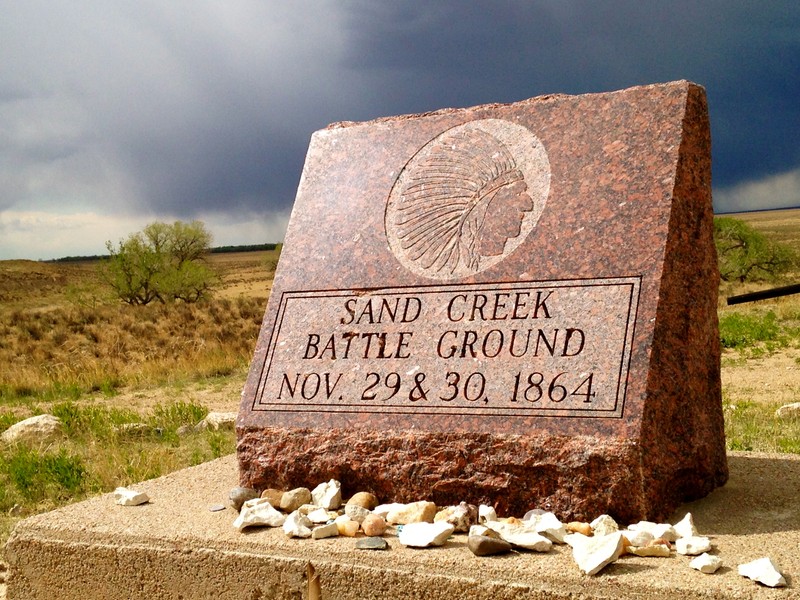 Backstory and Context
In the early 1850s the gold and silver rush in the Rocky Mountains caused a sudden influx of settlers and miners into the region and surrounding foothills. In the process of building mining and surveying towns, the Cheyenne and Arapaho tribes were displaced from the area that they had claimed. By 1858, the Native American and settler's feud reached a boiling point as more settlers moved westward during the Pike's Peak gold rush.
The Native Americans began to attack coach wagons, mining camps, and stagecoaches in and around the area. As the Civil War began, less and less soldiers were available to protect the settlers, and attacks increased. The settlers began to fight back, resulting in the Colorado War of 1863 - 1865.
In the Spring of 1864, Colonel John Chivington raised a militia and set out to destroy neighboring Cheyenne villages and clear the area of occupation. The Cheyenne called on neighboring tribes from Colorado and Kansas to help them defend their territory, including the Arapaho, Sioux, Comanche, and Kiowa. Chivington then raised a militia that came to be known as the Third Colorado Cavalry and participated in several skirmishes and clashes with the Native American forces.
In the Summer of 1864, after a season of continued violence and clashing, the Native American forces were willing to negotiate peace talks. On September 28th, the Indian Chiefs met with Chivington and other militia leaders at Camp Weld. Though no peace treaties were signed, the Native American army assumed peace and sanctuary were resolved between the opposing forces. The Native American force of 550 men, women, and children then headed to Camp Lyon in Sand Creek to set up camp and await further discussion of peace with Chivington.
Chivington received a telegram from General Samuel Curtis that said "I want no peace till the Indians
suffer more...No peace must be made without my directions."
Chivington, knowing that the Indians had surrendered, brought his 700 troops and artillery to the Sand Creek area, surrounding the Native American camp. The trusting chief Black Kettle was taken by surprise as the Third Colorado Cavalry opened fire. Many of the Native Americans were able to escape, including Black Kettle, but atleast 150 in their group were killed, mostly old men, women, and children. The Third Colorado Cavalry only suffered 10 casualties.




Sources
http://www.legendsofamerica.com/na-sandcreek.html
Additional Information