Applebutter Inn
Introduction
Author-Uploaded Audio
The Applebutter Inn is Heritage Farm's flagship log cabin. It is one of several lodging spaces scattered throughout the property. Located in the heart of the village, the Applebutter is the most visible and most popular inn at Heritage Farm. The Applebutter and all the other log cabins were constructed using logs recycled from old cabins across the Tri-State area. While heavily modified to provide modern comforts to guests, the Applebutter pays homage to the traditional hand-hewn log cabins once that were once prevalent throughout Appalachia.
Images
The Applebutter Inn was built using materials recycled from eight separate structures in the Tri-State Area.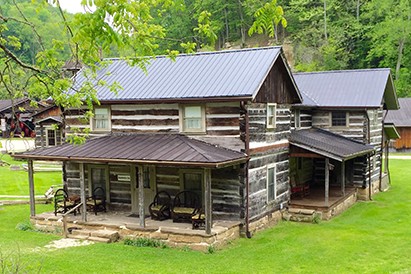 The inn contains four bedrooms, four and a half bathrooms, three porches, a full-sized kitchen, and a washer and dryer.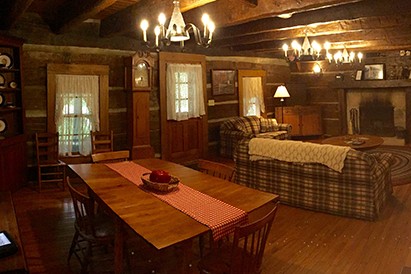 Backstory and Context
The Applebutter Inn is one of four log cabins (along with the Blackberry, Strawberry, and Woodbury Inns) available to rent overnight at Heritage Farm. There is also a farmhouse (the Hollyberry Inn), a 1930s train caboose (the Virginian Caboose Inn) and a Barn Retreat Center for guests to choose from as well. While larger, fancier, and outfitted with modern amenities such as electricity, HVAC, and kitchens, the inns at Heritage Farm are inspired by the traditional log cabin architecture of early Appalachian houses.
The Applebutter Inn is notably made with logs from eight different structures, with portions obtained from West Virginia, Ohio, and Kentucky. The front portion of the inn for example came from South Point, Ohio, while the kitchen came from a structure in Pt. Pleasant, West Virginia. Mike and Henriella Perry had a habit of rescuing abandoned or deteriorating log cabins from around the Tri-State area, and using the salvageable logs to create new structures at Heritage Farm. They developed a lasting love and appreciation for old log cabins after discovering hand-hewn logs within the walls of their own home back in 1973.
The early Appalachian settlers frequently preferred hewn logs over round logs for their homes. While it took significantly more time to make, hewn logs made the houses more physically stable, and the smooth, flat walls better protected the inside from wind, rain, and snow.
The Applebutter Inn contains four bedrooms, four and a half bathrooms, three porches, a full-sized kitchen, and a washer and dryer. It sleeps up to eight people and typically rents for $350 per night.
Additional Information