Stonewall Jackson Hill
Introduction
From this site overlooking the Potomac River to the south, General Thomas J. "Stonewall" Jackson bombarded the town of Hancock, Maryland across the river on January 5-6, 1862. During those two days, Jackson tried and failed to find a safe river crossing for the 9,000 Confederate troops under his command so that they might confront the federal forces under General Frederick W. Lander occupying Hancock in order to prevent them from entering Union territory. Upon finding his efforts to cross the Potomac unsuccessful, Jackson retreated to the town of Romney and then back to his headquarters in Winchester. Although he was unable to reach Maryland during this campaign Jackson was able to clear the region of Federal troops and sever both the Baltimore and Ohio Railroads and Chesapeake and Ohio Canal, successes he built upon in his famous Shenandoah Valley Campaign of the same year. The actual location of Jackson's artillery during the Battle of Hancock (known locally as Stonewall Jackson Hill) is not accessible, but there is a historical marker along US 522 commemorating the site.
Images
Historical marker for Stonewall Jackson Hill along US 522.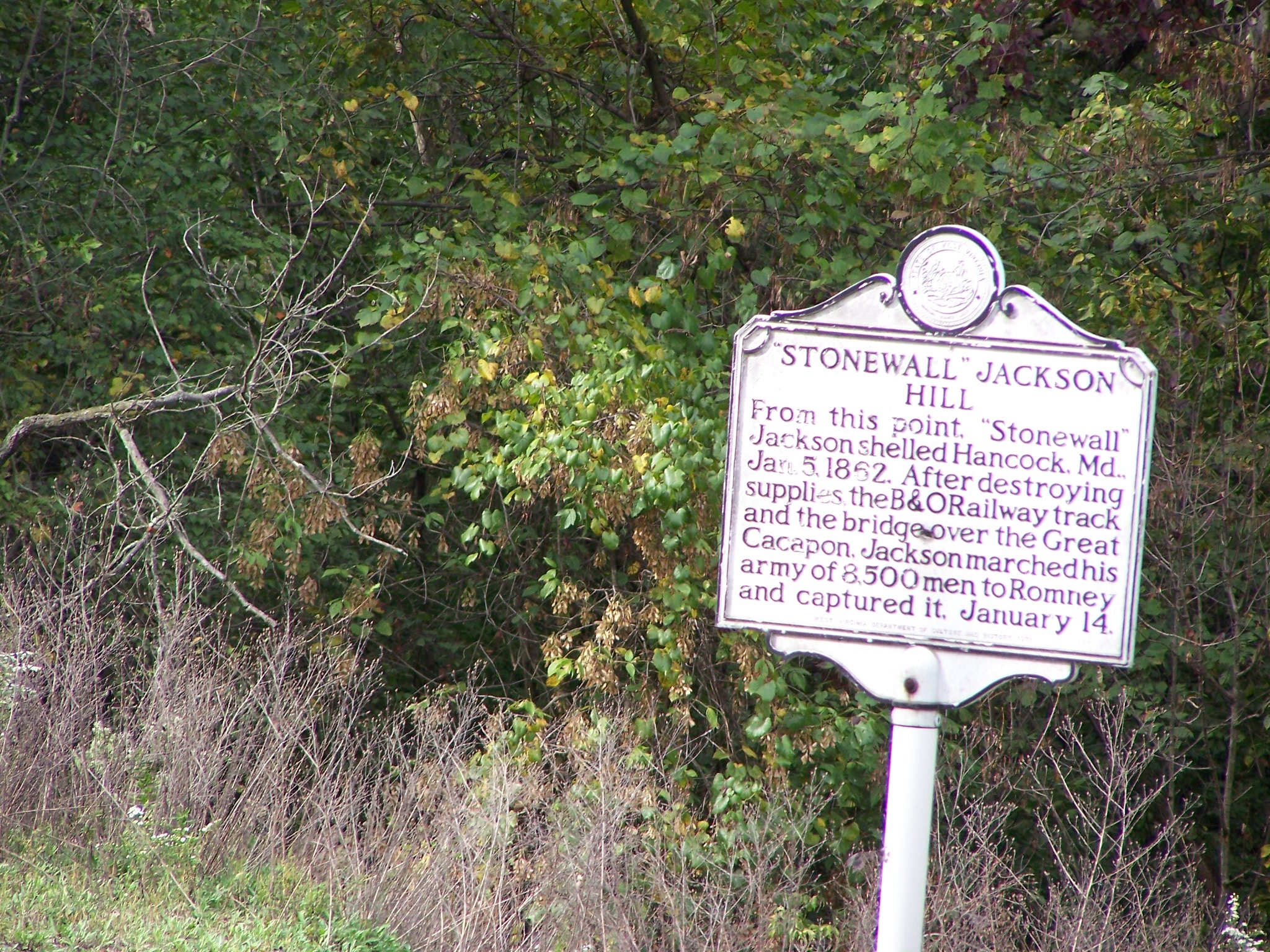 Stonewall Jackson in 1862, around the time of the Romney Expedition.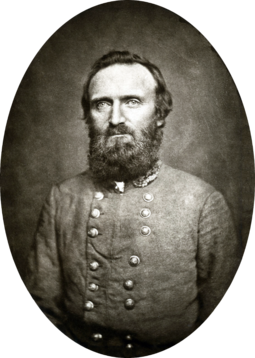 Richard Garnett circa 1860, shortly before his clashes with Stonewall Jackson during the Romney Expedition and Shenandoah Valley Campaign.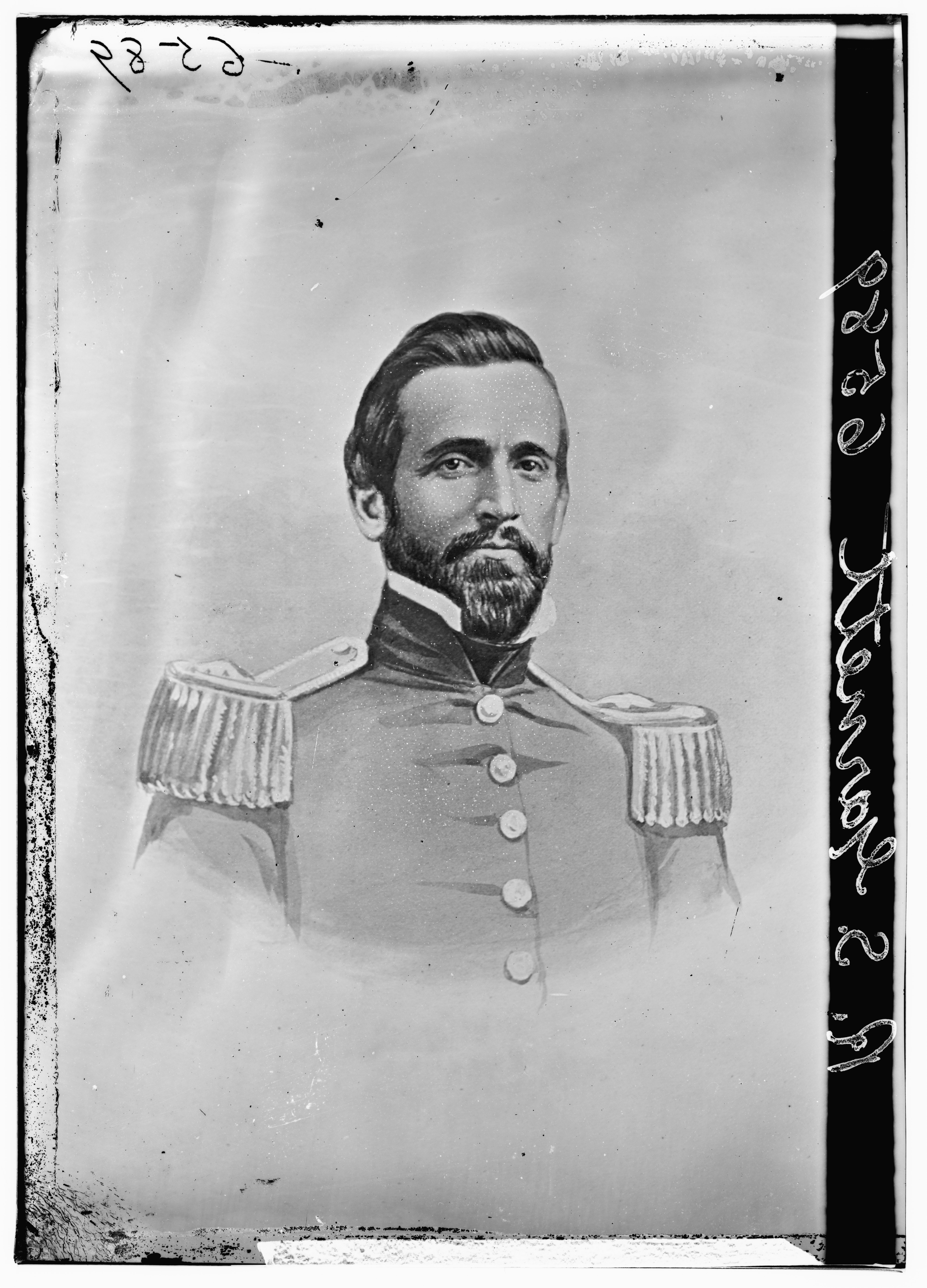 William Loring during the Civil War, around the time of his public dispute with Stonewall Jackson.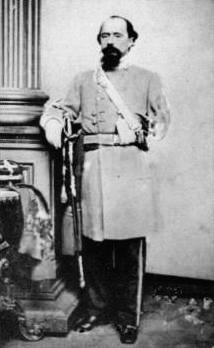 Undated image of Frederick Lander, who faced Stonewall Jackson in the Romney Expedition.
Backstory and Context
Following his prominent role in the First Battle of Bull Run on July 21, 1861 Thomas Jackson (known as "Stonewall" because of his refusal to retreat during the battle) was promoted to Major General and given command of the newly created Valley District. This district, which encompassed the Shenandoah Valley between the Allegheny and Blue Ridge Mountains in western Virginia, was occupied at the time by Union troops under Generals Nathanael Banks and William Rosecrans. After arriving to his headquarters in the district at Winchester, Jackson conceived of a plan to seize the valley from federal forces by marching northward with 15,000 troops in a lightning fast raid. Although Confederate President Jefferson Davis approved the plan, Jackson was only able to gather 11,000 of his desired 15,000 men, 2,000 of which he left behind to garrison Winchester in his absence.
The 9,000 men that remained with Jackson marched northwards on the morning of January 1, 1862 in unseasonably warm weather, a seemingly auspicious start to his campaign. That night, however, a surprise snowstorm slowed the Confederate column to a crawl and eventually forced Jackson's troops to huddle together for warmth because their overcoats in the wagon train had fallen behind. Later, troops from the Rockbridge Artillery who had defied orders by dismantling nearby fences for use as firewood almost destroyed their own cannon after setting fire to dry grass in the vicinity of their camp. The next day, Jackson unintentionally became inebriated after drinking what he thought was a gift of wine from a local civilian but turned out to be whiskey and nearly froze to death upon removing his overcoat complaining that he was too hot. Jackson and his men fared little better in the days that followed, the weather deteriorating and driving the column to slow even further.
Jackson reached the area south of the town of Bath in Morgan County (now Berkeley Springs, West Virginia) on January 3, 1862. Before entering the town, Jackson interviewed those among his forces from the area to determine the best strategy for taking it. Fourteen hundred Union soldiers under General Frederick Lander (who replaced Rosecrans) occupied the town and blocked Jackson's way northwards. After speaking to his men from the area, Jackson chose to advance his forces in two prongs: the first, consisting of the Valley militia, would parallel Warm Spring Mountain and attack Lander's troops from the west; the second, under General William Wing Loring, would advance directly towards the town and attack from the east. Exhausted and starving after two days of hard marching, however, Jackson's troops failed to reach their respective objectives before dusk on January 3. His own former unit, the Stonewall Brigade commanded by General Richard Garnett, stopped to eat after their wagons finally overtook them, a decision that put Garnett at loggerheads with the famously cantankerous Jackson. The militia, meanwhile, were prevented from entering the town from the west by trees felled across the road by Lander's forces. The following day, Jackson renewed his attack on the town and was ultimately successful in forcing the Union forces to retreat northward. During the confrontation, Jackson clashed with yet another of his generals, this time Loring, who according to Jackson was responsible for the 1st Tennessee Regiment's failure to push federal forces out of their position until his arrival with reinforcements. 
After ousting Lander from Bath, Jackson proceeded to the site now known as Stonewall Jackson Hill, from which he bombarded the town of Hancock, Maryland. From January 5-6, 1862, Jackson endeavored to find a ford across the Potomac River. Although he ultimately failed in this effort, his artillery was successful in causing considerable damage to the Baltimore and Ohio Railroad and Chesapeake and Ohio Canal that paralleled the Potomac River on the southern edge of Hancock. In doing so, he severed an important link in the transportation network that carried federal forces and materiel from east to west in their effort to sever the predominantly pro-Union western Virginia from the eastern half of the state. He also, as a result of this campaign, succeeded in driving the majority of Union troops from the Shenandoah Valley, a state of affairs that set the stage for his Shenandoah Valley Campaign just a few months later.
After his campaign of January 1862 (known as the Romney Expedition), Jackson retreated to the town of Romney, now part of West Virginia. There, his relationship with General Loring continued to worsen, culminating in an event known as the "Romney Insurrection." Jackson had left Loring in command of the Confederate forces in Romney before returning to his headquarters in Winchester. But, feeling that they were irresponsibly exposed to possible Union retaliation for the January campaign Loring's officers filed a petition for their withdrawal from the area, a request that the Confederate government honored by ordering their retreat from the Valley. Furious at Richmond's interference with his command, Jackson ordered Loring's court martial and resign his commission in protest. After being pressured by General Joseph Johnston to withdraw his resignation Jackson agreed, but ultimately chose to evacuate Winchester on March 9 because his command had been considerably weakened by the departure of Loring and his men.
A short time later, Jackson united his diminished command with that of General Richard S. Ewell and commenced the Shenandoah Valley Campaign. Capitalizing upon his successes in the Romney Expedition, Jackson sped throughout the Valley with 17,000 men in a series of quick raids that covered over 600 miles and resulted in five major victories against a combined Union force of some 60,000. His one defeat, at Kernstown, he laid at the feet of General Richard Garnett. His relationship with Garnett had only worsened since the night of January 3 outside Bath, and when Garnett chose to retreat after his men ran out of ammunition Jackson had him court martialed. Jackson died before the matter was resolved, leaving Garnett with a stain upon his reputation that he expunged by riding on horseback to his death in Pickett's Charge at the Battle of Gettysburg in 1863.
Sources
Hess, Earl J. Pickett's Charge: The Last Attack at Gettysburg. Chapel Hill, NC: University of North Carolina Press, 2001.
Lynch, Michael S. Cavalry in the Shenandoah Valley Campaign of 1862: Effective, but Inefficient. Biblioscholar, 2012.
Murray, Jennifer M. "Encyclopedia Virginia." In Encyclopedia Virginia. Virginia Humanities, April 12, 2011. https://www.encyclopediavirginia.org/Loring-Jackson_Incident.
Rankin, Thomas M. Stonewall Jacksons Romney Campaign, January 1-February 20, 1862. Lynchburg, VA: H.E. Howard, 1994.
Tanner, Robert G. Stonewall in the Valley: Thomas J. Stonewall Jacksons Shenandoah Valley Campaign, Spring 1862. Mechanicsburg, PA: Stackpole Books, 2002.
Image Sources
The Historical Marker Database.

Wikipedia

Wikipedia

Wikipedia

Wikipedia

Additional Information