B&O Railroad Station
Introduction
Youngstown's Baltimore and Ohio Railroad station was built in 1905 to supply the many Youngstown residents traveling between Washington, Baltimore an Chicago. Constructed at a cost of $70,000, the terminal is located on a curve in the track overlooking the Mahoning River and downtown Youngstown. The terminal was the central hub of travel until the 1950s when the railroad industry started declining as more Americans traveled by bus or private automobile. Thanks to preservationists and local citizens, the historic terminal has been restored and continues to serve the community as a banquet hall.
Images
B&O Railroad station as it currently stands. The location is now used as a banquet hall.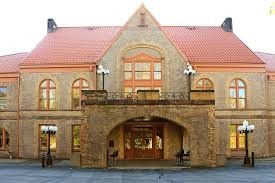 Interior of B&O Banquet Hall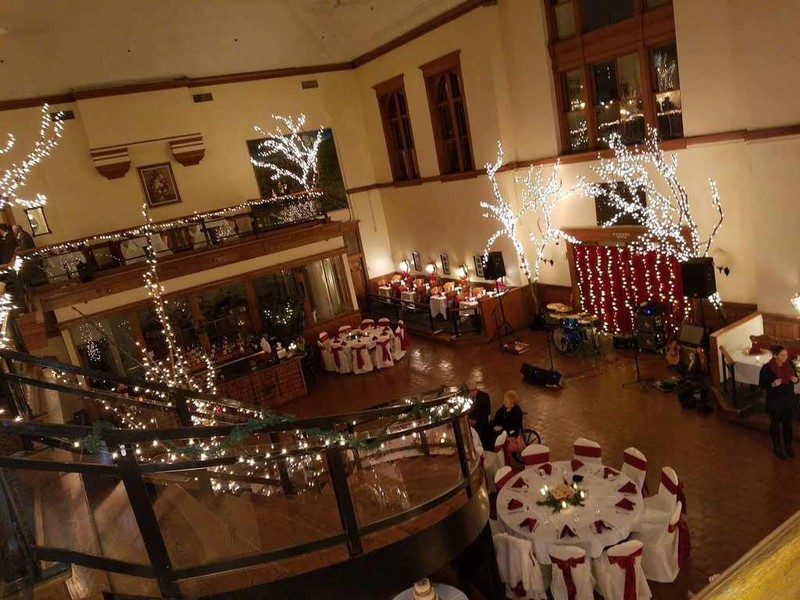 Backstory and Context
The Youngstown, B&O terminal was constructed in 1905 at a cost of $70,000. The terminal stands as a physical reminder of Youngstown's connection to the railroad. In 1925, for example, Youngstown was the place where the four largest rail lines in the Midwest converged.
The B&O railroad company acquired its first line in Youngstown in 1891-92 and opened the city to supplies and transport from Chicago to Washington. The construction of a terminal in the city was of paramount importance it gave a greater convenience to hundreds Youngstown area passengers traveling from Washington or Chicago.
The newly constructed railroad terminal featured many modern conveniences for the time. For example, an underground tunnel connection to the eastbound track and a water powered elevator that allowed for the baggage handlers to move luggage from lower tracks to higher tracks with minimal effort. The terminal also saw use with one of the fastest high-speed trains at the time. Including a train known as the "Capital Limited" this train saw famous passengers such as Andrew Carnegie and Herbert Hoover.
The Terminal saw its decline in the 1950s when the rise of automobiles slowly decimated the railroad industry. The station continued to operate until the mid-1970s when they converted it into an office for staff working for B&O. The building closed its doors in 1981, they stayed closed until 2001 when the building was converted into its current form. The terminal now has two new purposes, it functions as a banquet hall for local events and as a home for the Rust Belt Brewing Company. 
Sources
. Train Station to Banquet Hall , The Jambar . March 15th 2018. Accessed September 13th 2019. https://www.thejambar.com/train-station-banquet-hall/.
Williams , Judy. Baltimore and Ohio Railroad Terminal . National Register of Historic Places Nomination Form. Published January 13th 1986. United States Department of the Interior .
Image Sources
http://banquetatthebno.com/