Elias A. Calkins Doublehouse
Introduction
Built in 1875, the Calkins Doublehouse is a 2.5 story gabled-roof home with decorative shingles and cutouts on the street side. Constructed in the Victorian Gothic style, the home is a distinguished surviving example of homes preferred in this once upper middle-class neighborhood. It is split down the middle into two side-by-side houses, a popular feature of middle class living in late 1800s Milwaukee.
Images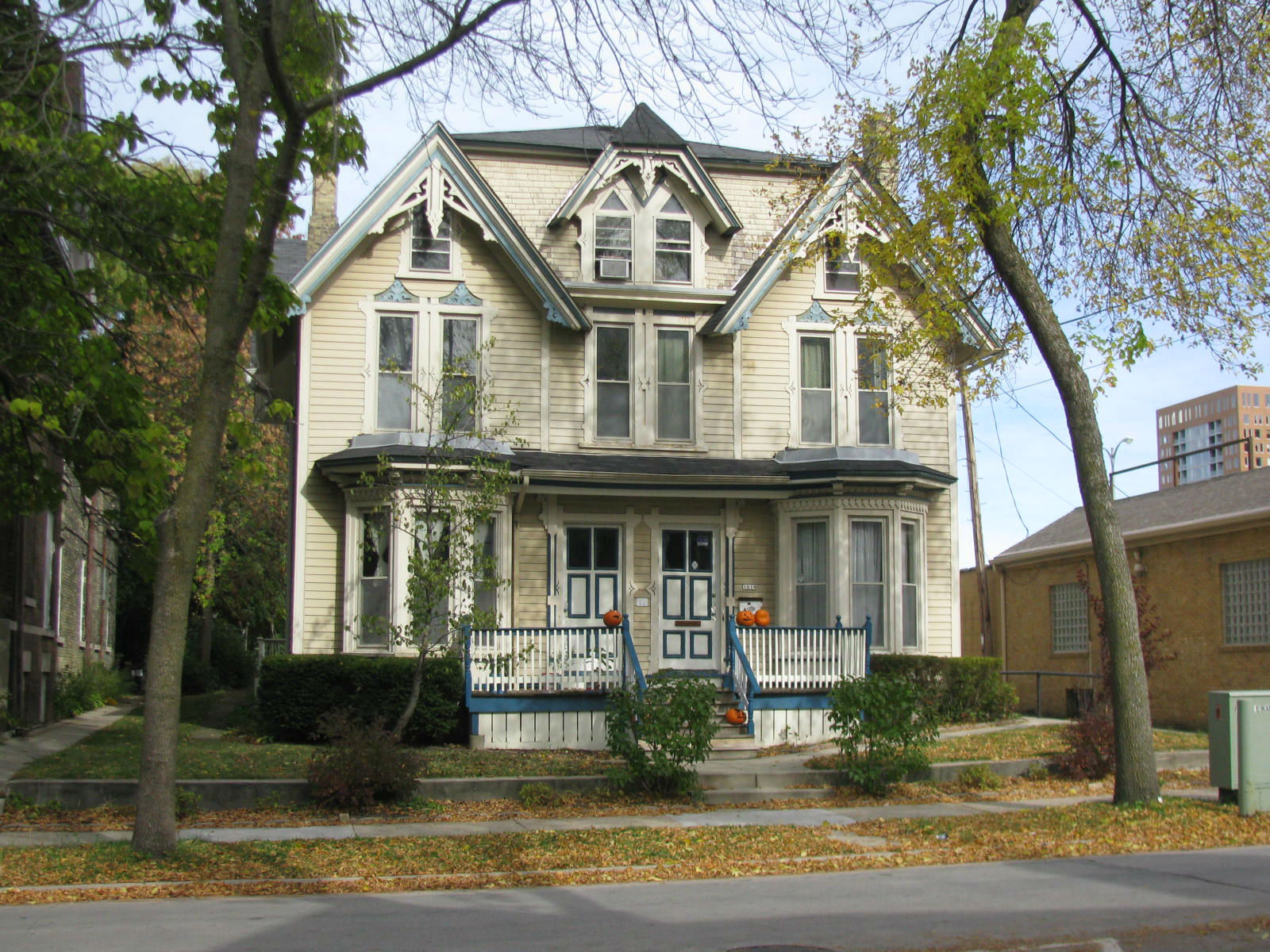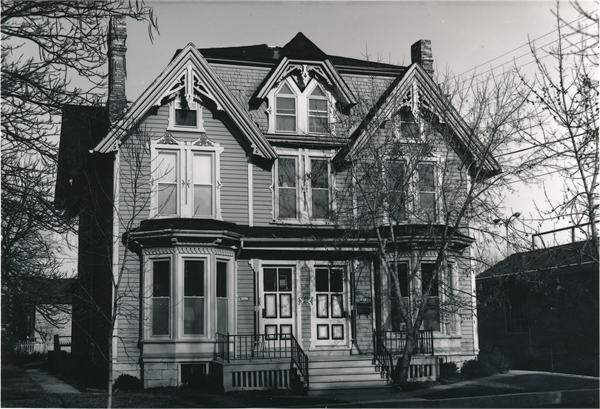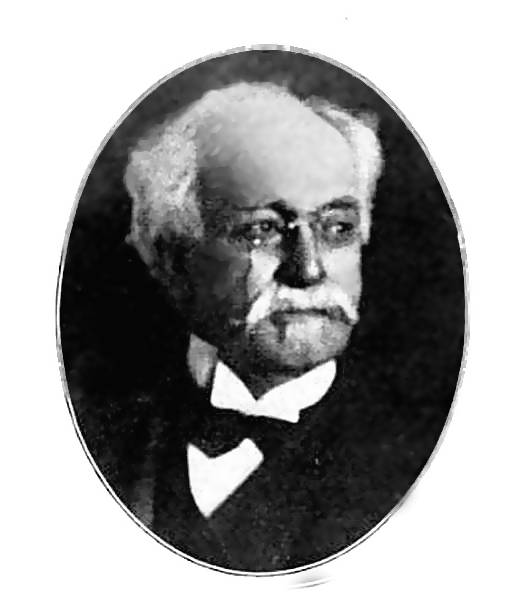 Backstory and Context
The doublehouse was an important feature of late nineteenth century middle class housing in Milwaukee. Unlike the duplex with its upper and lower unit structure, the doublehouse is actually split vertically down the middle, making two sides that mirror each other. This style of architecture is more costly to construct, so doublehouses were more expensive to rent. Because of this the doublehouse was popular for professional, business executive, or merchant tenants. While doublehouses used to appear frequently in Milwaukee's wealthier neighborhoods, most have since been razed. The Calkins Doublehouse is one of the best remaining examples of its type, and certainly the most decorative.
Built in the Victorian Gothic style in 1875, the Calkins house stands at 2.5 stories. Its gabled roof features wood cutouts hanging from the center as well as decorative shingles. The windows and door frames are also ornamented with borders. Like other examples of its style, this doublehouse's ornamentation is completely concentrated on the street side, with the sides and rear in a very simple, more utilitarian style. The house has been virtually unaltered over time, with the most renovation work being done on the wood siding, which was replaced with aluminum, though so well done it appears nearly the same. A one-story shed was also added to the kitchen wing in the back.
The architect of the Calkins house was James Douglas, who was a popular home builder in Milwaukee in the late 1800s. He began his architectural career building bridges, but by 1870 he had moved to the lucrative housing industry. His homes are concentrated on the lower east side, so many in fact that the area was once given the moniker "Douglasville." He designed a range of home sizes, from large brick mansions to the more modestly sized Calkins doublehouse.
Elias Ahira Calkins was a Civil War Colonel who after the war became a newspaper editor and owner of several papers in Madison, Milwaukee and Chicago. After the War he partnered with George Hyer to found and edit the Madison Capitol. After a brief stint in St. Paul, Minnesota, he moved to Milwaukee in 1870 where he founded the Sunday Telegraph. He bought the land for his doublehouse during this period and erected the house for $4,000. He lived in the east half until he relocated to Chicago in 1884 to write editorial for the Evening Journal. He died in Chicago on November 24, 1904.
After Calkins left his doublehouse, he sold the property in 1889 to two real estate brokers, William Wallace and Hamilton Townsend. After Townsend sold his side to Wallace in 1892, Wallace sold both halves to Thomas and Margaret Hanlin, house-movers, in the same year. The widowed Margaret sold the property to a Florida owner in 1894. But none of these owners actually lived in the house, unlike Calkins. Actual tenants included a bookkeeper, land manager, a coal sales agent, a teacher, a reverend, and a railway claims investigator. In 1948 the house was divided into four apartments. Since 1977, the building has been a site for Pathfinders, a shelter and counseling center for runaway teens. The house was placed on the National Register of Historic Places in 1990.
Sources
. Elias A. Calkins Doublehouse, NPS Registry Gallery. Accessed August 26th 2019. https://npgallery.nps.gov/GetAsset/fb59ef37-a824-4d56-a33f-7a6c3ed17a8d/.
. Elias A. Calkins is Dead, Wisconsin Hitorical Society- Chicago Chronicle article image. November 25th 1904. Accessed August 26th 2019. https://www.wisconsinhistory.org/Records/Newspaper/BA13763.
. 1612-1614 E Kane Pl, Wisconsin Historical Society. Accessed August 26th 2019. https://www.wisconsinhistory.org/Records/Property/HI107137.
Image Sources
J.R. Manning Landmarkhunter.com

Wisconsin Historial Society

https://www.findagrave.com/memorial/69599831/elias-ahira-calkins