Colored "White Hat" World War One
Introduction
During a time of racism and prejudice, African American enlisted to fight during World War One. Paul Washington Alexander, of Norfolk, Virginia was a member of the United States army during the Great War. Although, Paul Washington had limited education and faced many prejudices during his life, he still embodied the feeling of patriotism and fought during the war. "My attitude was patriotic and I felt that my call to the war was a blessing from God to give me a chance to serve my government and country in its greatest crisis".
Images
Slover Library picture of Paul Alexander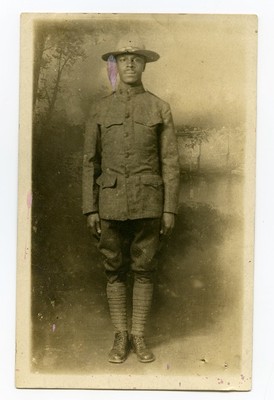 Slover Library picture of Paul Alexander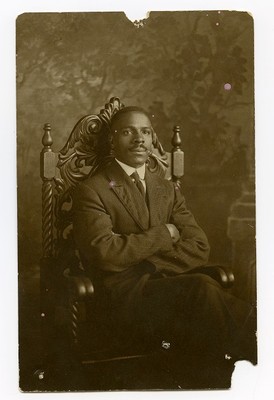 Backstory and Context
Paul Washington Alexander was born in Norfolk, Virginia on January 16th, 1889. What separates Paul Alexander from most of his African American peers is that he was a registered voter during time when it was almost impossible for American Americans to vote. Although, Paul Alexander education only reached the 7th grade, he still was a prominent member of American society. Prior to World War One, Paul Washington worked as a longshoreman on the Norfolk Naval Base. As a married man and an expecting father, enlisting into military service had to be a daunting task.

During the war Paul Alexander enlisted in the United States Army as a rank of private on June 20, 1918. While most African Americans that joined the war effort during World War were given odd jobs due to their race. Paul Alexander actually enlisted as a member of the Army's infantry unit. He was stationed at Camp Alexander in Newport News, Virginia. Starting out as a private Paul Alexander ranked up to private 1st class on August 14, 1918. it is possible due to his mos being infantry, he was not chosen to go abroad during the war because America did not want to put guns in the hands of African Americans.

Paul Washington Alexander can be described as a very patriotic man. He loved the United States of America although the United States may not have loved him. Once the war was over he continued to work at the Norfolk Naval Base as a longshoreman. A limited education did not prevent Paul Washington from serving his country nor did the color of his skin. Paul Alexander is not just a role model for the African American community but of America itself. During an era when most African Americans could not vote he made sure that he could, more importantly during an era his country did not love him he loved his country.
Sources
Alexander, Washington, Paul.
Virginia
War History
Commission, Norfolk, Virginia Records, MSS 0000-182, Sargeant Memorial Collection, Norfolk Public Library, Norfolk,
Virginia
.
Additional Information