Exemplary Bravery and Commendation in World War I
Introduction
Norfolk native and Post Office Department employee, Wyckham Langley Tyler, who worked at this address, was an African American serviceman with the 369th Infantry Regiment 93rd U.S. Infantry Division, known as the Harlem Hellfighters. Designated a Supply Sergeant, Tyler nevertheless "took charge of company in absence of officers and led to a position of resistance." His action brought Tyler a citation by the Regiment Commander and a field commission to 2nd lieutenant in France on September 27th, 1918. With his new commission, Tyler was transferred to Co. A 370th Infantry Regiment 93rd Division.
Images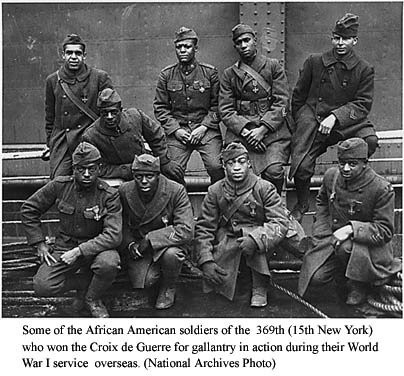 Backstory and Context
Wyckham Langley Tyler was born in Norfolk, Virginia on September 14th, 1886 to John W. and Victoria L. Tyler. Prior to World War I, he migrated to New York City where he was employed with the Post Office Department of the United States. He enlisted in the New York National Guard on October 2nd, 1916 and was assigned to the 15th New York Infantry Regiment. The 15th New York became the 369th Infantry Regiment 93rd Division of the American Expeditionary Force, an all African American Division.
Tyler began his military service at Camp Whitman in New York from July 16th, 1917 to August 16th, 1917. From there, he traveled to Camp Dix, NJ training from August 16th, 1917 to October 9th, 1917. From October 12th, 1917 to October 20th, 1917, Tyler finished his training at Camp Wadsworth in Spartanburg, South Carolina. He departed from Hoboken, New Jersey on December 10th, 1917 aboard the Pocahontas and arrived in Brest, France on December 26th, 1917. Within weeks, Tyler and his Regiment were on the front line, seeing his first action on March 28th, 1918.
The Regiment saw action at the Second Battle of the Marne, the Battle of Chateau-Thierry, and the Battle of Champagne on July 15th, 1918, at Reims. At the Battle of Champagne, Tyler took command of a unit in the absence of officers. For this he received a citation from the Company Commander and was sent to Officer's Candidate School in France from August 1, 1918 to October 3rd, 1918, becoming commissioned as a 2nd Lieutenant on October 1st, 1918.
The merit-based training and commissioning of an African American soldier during wartime was exceptional. The 369th Regiment provided the United States with more front line service than any other unit in the A.E.F., fighting valiantly and deserving of the reputation as Hellfighters that they gained during their time in France. African Americans, despite intense racial discrimination and stigmatization, served their country with distinction. Returning home from Europe with pride and hope, they were met most often with disdain and violence. Their experiences overseas shaped the future sentiments and their struggle for equality and fair treatment in the greater African American community. Stories like those of Wyckham Langley Tyler are points of pride and strength for all Americans. They deserve our highest respect and memorialization.

Sources
Dvorak, Petula. ""This Soldier Was A 'Hero Among Heros.' So Why Was He Denied A Medal of Honor?"." The Washington Post(Washington, D.C.)April 18, 2019. , Local sec.

Photographs of the 396th Infantry and African Americans During World War I. National Archives. September 23, 2016. Accessed May 05, 2019. https://www.archives.gov/education/lessons/369th-infant

Tyler, Wyckham Langley. Virginia War History Commission, Norfolk, Virginia. Sargeant Memorial Collection, Norfolk Public Library, Norfolk, Virginia.


Additional Information