Saint Anthony of Padua Church
Introduction
Built in 1920, Saint Anthony of Padua Church (also known as the Church of Saint Anthony) is significant as a fine example Romanesque Revival architecture. Local architect Arthur M. Garbutt, who led a firm in Casper that designed many buildings in the early 20th century, designed the church with semi-circular arched windows, a bell tower, decorative brickwork, and other elements. The tower resembles those found in Italy as evidenced by its square shape, arched windows, and tile roof. The church was added to the National Register of Historic Places in 1997.
Images
Saint Anthony of Padua Church was built in 1920 and is a fine example of Romanesque architecture.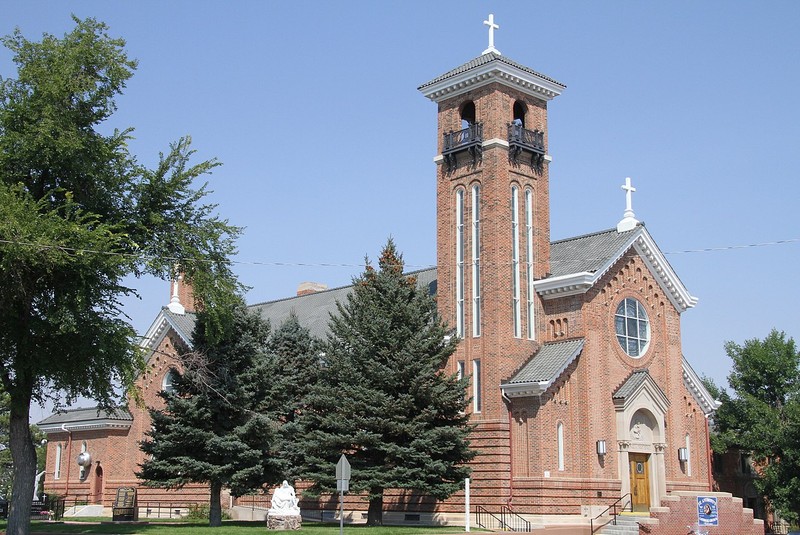 Backstory and Context
The first St. Anthony's Church was built in 1898 and was a wood-frame building. A group of local Irish women started a fundraising campaign in 1897, which was successful, prompting the Bishop of the Catholic Church in Wyoming to form a building committee. Construction got underway in March 1898 and was completely shortly thereafter (it was not a big building). The congregation was comprised of largely Irish immigrants who had arrived in Wyoming in significant numbers by the 1880s to work in the cattle industry. The cattle industry declined in the 1880s as a result of blizzards and overgrazing, so the residents switched to raising sheep for wool. Sheep ranching soon became a prosperous industry and made Casper a major wool shipping center for the region. Oil was also discovered in what is now called the Salt Creek Oilfield, which attracted even more Irish immigrants (other immigrants, including Italians, Scotts, Slavs, and Germans came to Casper as well).
By 1915, the first church building had become too small for the growing congregation. Funds were raised in the coming years and construction began for the present structure in 1919. The congregation later added a school in 1927, an addition in 1949 to the school, a new convent in 1955, and renovated the basement in 1970.
Sources
"About." Saint Anthony of Padua Church. Accessed August 23, 2019. https://stanthonyscasper.org/about-us.
Rosenberg, Robert G. "Church of Saint Anthony." National Park Service - National Register of Historic Places Nomination Form. January 30, 1997. https://en.wikipedia.org/wiki/Church_of_Saint_Anthony_(Casper,_Wyoming).
Image Sources
Wikimedia Commons: https://en.wikipedia.org/wiki/Church_of_Saint_Anthony_(Casper,_Wyoming)#/media/File:StAnthonyCasperWY.jpg

Additional Information