J.L. Burnham Block
Introduction
Built in 1875 and designed by prominent Milwaukee architect Edward Townsend Mix, the J.L. Burnham Block is a three-story commercial building with two ground floor storefronts and a meeting hall on the third floor. It was constructed in an Italianate style, one of the few surviving examples of this style in the city and the best preserved. In the late nineteenth and early twentieth centuries the meeting space was utilized by a number of fraternal organizations, worker's groups and cultural social clubs. Because of these two reasons it is a significant part of Milwaukee's architectural landscape and cultural history.
Images
Burnham Block, date unknown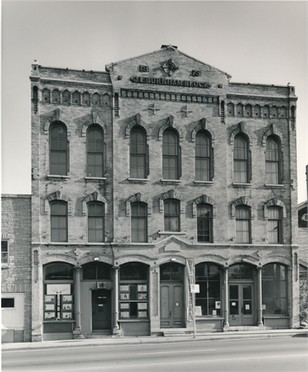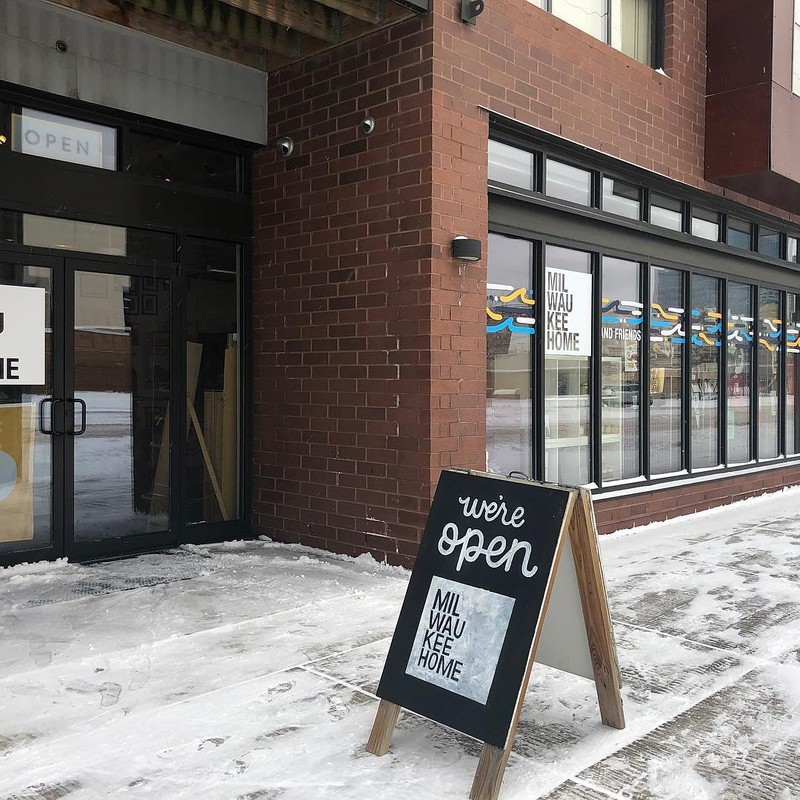 Burnham Block at night, 2014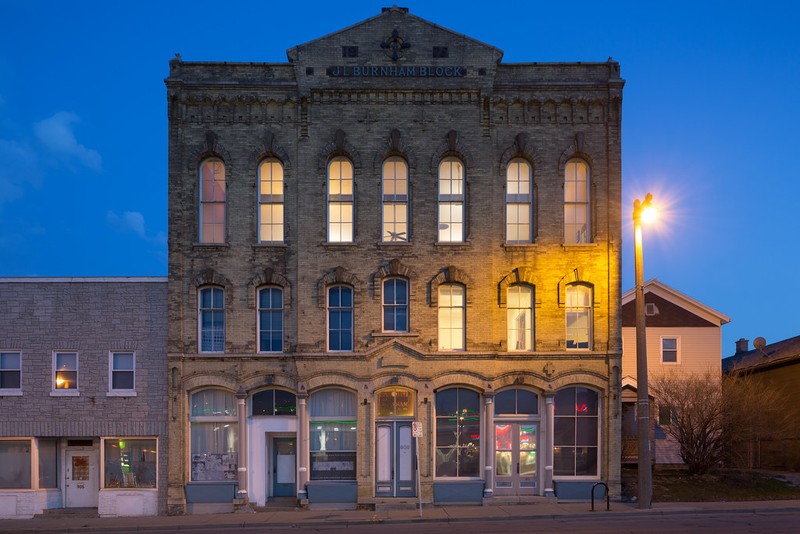 Backstory and Context
Johnathan L. Burnham was a Milwaukee brickmaker who, with his brother George, invented the first brick making machine. Their ability to make bricks faster and cheaper than competitors led to great prosperity and their brickyard was the largest in Milwaukee. Burnham also had many investment properties, including the Burnham Block, for commercial use. In addition to being a prominent businessman he also served one term in the Wisconsin Legislature in 1852.
The Burnham Block was constructed in 1875 as an additional investment property, with two storefronts on the ground level separated by a staircase leading to the second floor flats. The building is constructed of Milwaukee cream city brick, which the Burnham Brick company specialized in. Walker's Point was actually a suburb in 1875 when the building was built and it was one of the largest constructions on Milwaukee's south side at the time. Architect Edward Townsend Mix, one of the city's top designers, utilized an Italianate style with cast iron columns on the storefronts and decorative brickwork. Aside from minor renovations, the exterior appears close to its original look.
The third floor was created as a meeting space to meet a growing need to accommodate the many fraternal organizations that were developing in the area after the Civil War. Unlike many such spaces created in the late nineteenth century, the Burnham Block hall was not converted into smaller rooms and remains whole. Features include six rounded windows on the street side and an ornate cast iron grate on the ceiling.
Many types of fraternal organizations utilized this meeting space throughout the years. The first tenants were the Sons of Herman, a German Social club primarily for recent immigrants. They met on Thursdays from 1975-1891. A second German organization, the Harugari, met there from 1891-1890. Other organizations included the Ancient Order of United Workmen, created by a railroad mechanic to give working class laborers insurance, met from 1886-1890, the American Legion of Honor from 1883-1888, the Knights of Maccabees, who provided death benefits from widows, from 1983-1910, and the Modern Woodmen of America from 1907-1916.
After World War I the number of fraternal organizations utilizing the Burnham Block meeting space waned, and it was used as a dance hall, and possibly a speakeasy during Prohibition. Other tenants of the building included a tavern, a coal and second hand dealer, and a welding and machine shop. The space was renovated in the late 1980s along with its National Register inclusion in 1988. Current tenants include a jewelry maker and a Milwaukee Home store.
Sources
J.L. Burnham Block, NPS National Register Gallery. Accessed August 15th 2019. https://npgallery.nps.gov/GetAsset/416faa20-909a-4dc8-9a03-dba28b057245.
907-11 W National Ave., Wisconsin Historical Society. Accessed August 15th 2019. https://www.wisconsinhistory.org/Records/Property/HI103630.
Meyer, Maredithe. Milwaukee Home store to move from Third Ward to Walker's Point, Biz Times. January 25th 2019. Accessed August 15th 2019. https://biztimes.com/milwaukee-home-store-to-move-from-third-ward-to-walkers-point/.
Image Sources
Wisconsin Historical Society

Biz Times

David Schalliol, Flickr

Additional Information