Herman W. Buemming House
Introduction
Built in 1901, architect Herman Buemming designed this Classical Revival style home for himself and his new bride. The home was intended to represent a Greek temple with its large columned facade and porticos. The style stands out in the Pleasant Street area as a unique example of its architectural style, which was inspired by the World's Columbian Exhibition in Chicago in 1893. The house was added to the National Register of Historic Places in 1990.
Images
Buemming House from the side.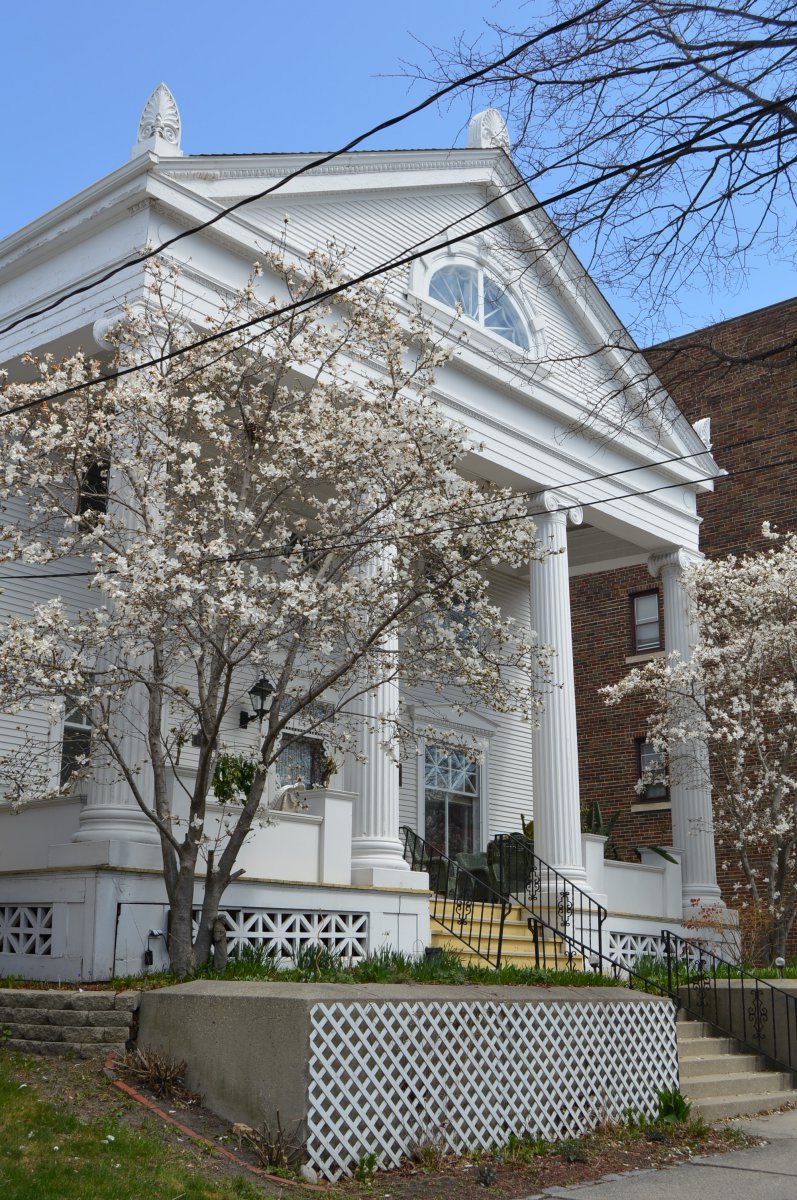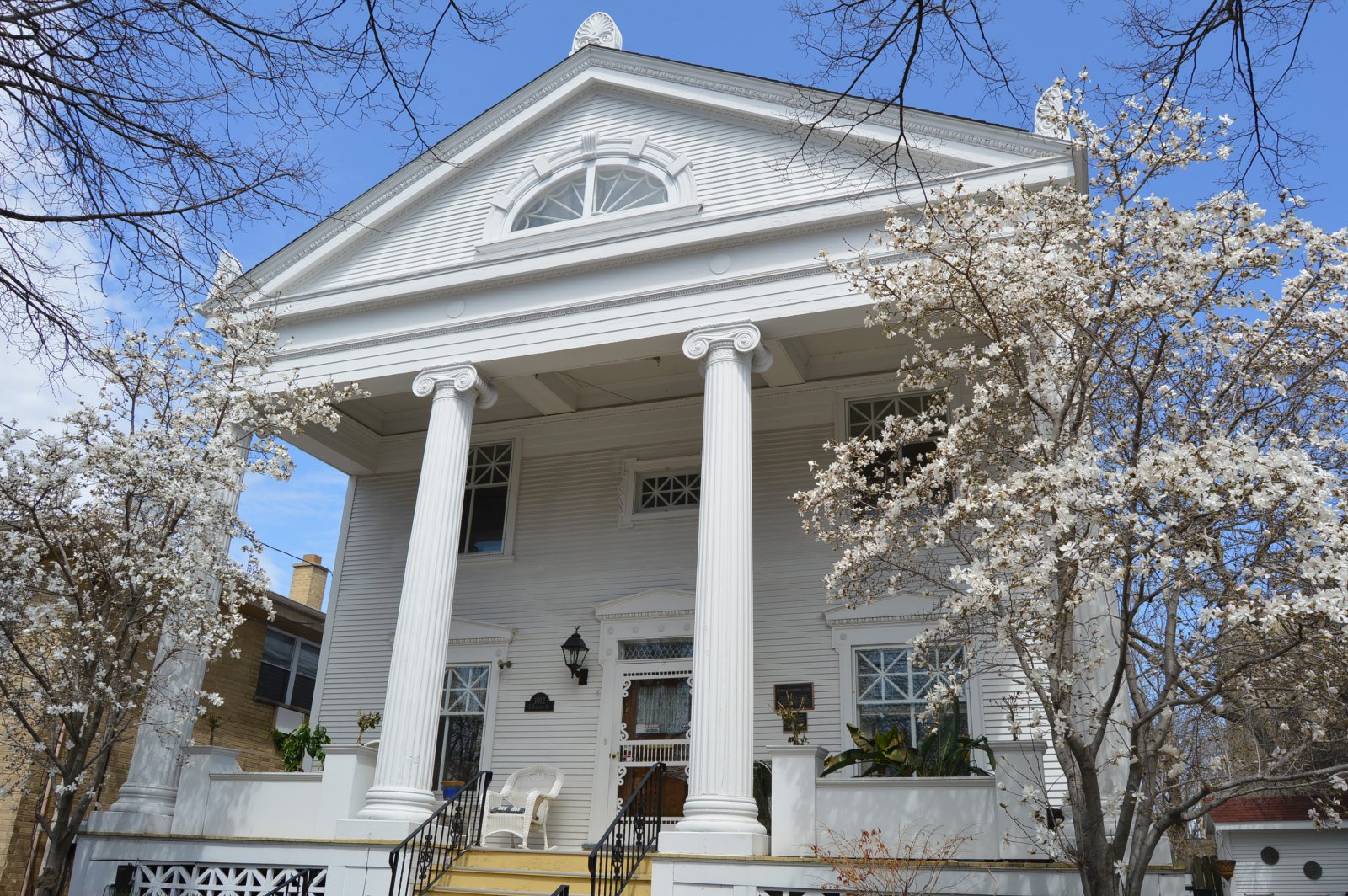 Historical Marker on the house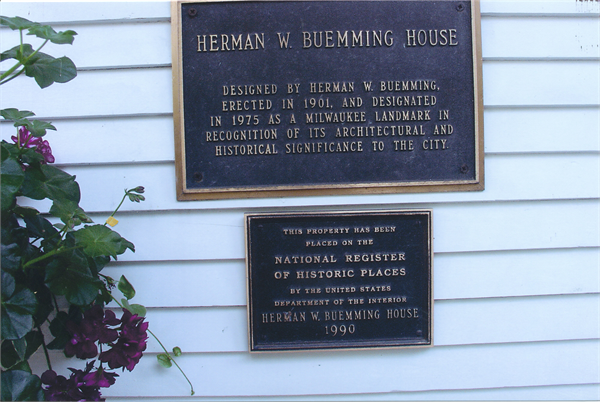 Backstory and Context
Architect Herman Buemming grew up in Milwaukee as a child and was educated at Columbia University. After some years as an apprentice in New York, he returned to Milwaukee to work on projects including the Railway Exchange building and offices for the Pabst Brewery. His career spanned both commercial and residential buildings. In 1901 his in-laws purchased a home next door to themselves for the newly wedded Buemming family. The small home was demolished and in its place Buemming designed a moderately size two-story home in the popular Classical Revival style. The design is intended to resemble a Greek temple, with a large front porch and white columns that stretch to, and support, the roof. The fact that the portico is not simply decorative but is integral to the structure itself, as to remove them would cause structural damage. Other elements include a central staircase to the front door and a curved window at the top of the triangle-shaped roof.
The interior is actually not Classical Revival at all, but instead an example of the Arts and Crafts movement. Feathered doorway moldings and dark wood walls abound. The library includes an iron and brick fireplace with a mahogany mantle. A powder room is tucked under the central staircase. 
Herman and Gertrude Buemming only lived in the home until 1910 before moving to a larger house. Charles Mott, President of the Brush-McWilliams Company, lived there from 1915-1945.  Frances Stover, art critic for the Milwaukee Journal and prolific writer, lived in the home with her sisters from 1946 until her death in 1967. Skylight Theater founder Clair Richardson lived there from 1973 until he died in 1979. Ronald S. San Felippo acquired the home in 1986. According to Trulia it was sold to new owners in 2016.
Sources
Herman Buemming House. National Park Service Register gallery. . Accessed August 13, 2019. https://npgallery.nps.gov/GetAsset/6039d30e-c3d2-4a4f-9239-526181faf19e/.
Herman Buemming House. Urban Milwaukee. . Accessed August 13, 2019. https://urbanmilwaukee.com/building/buemming-house/.
1012 E Pleasant St.. Wisconsin Historical Society. . Accessed August 13, 2019. https://www.wisconsinhistory.org/Records/Property/HI104337.
Image Sources
Urban Milwaukee

Urban Milwaukee

Wisconsin Historical Society

Additional Information