German Lessons at Clarendon House
Introduction
Clarendon House stood on this space during the late 19th century and was the residence of Emil Neufeld, a young German immigrant who tutored Charles Chesnutt in the language. Currently, the location features smaller storefronts and the Fascinate-U Children's Museum, which occupies the former city hall building. During Chesnutt's time, Clarendon House was flanked by print shops, barbers, and small grocers.
Images
German Lessons:from "The Fayetteville Examiner" 22 April 1880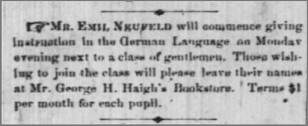 Clarendon House as seen in an 1885 Sanborn Fire Insurance Map.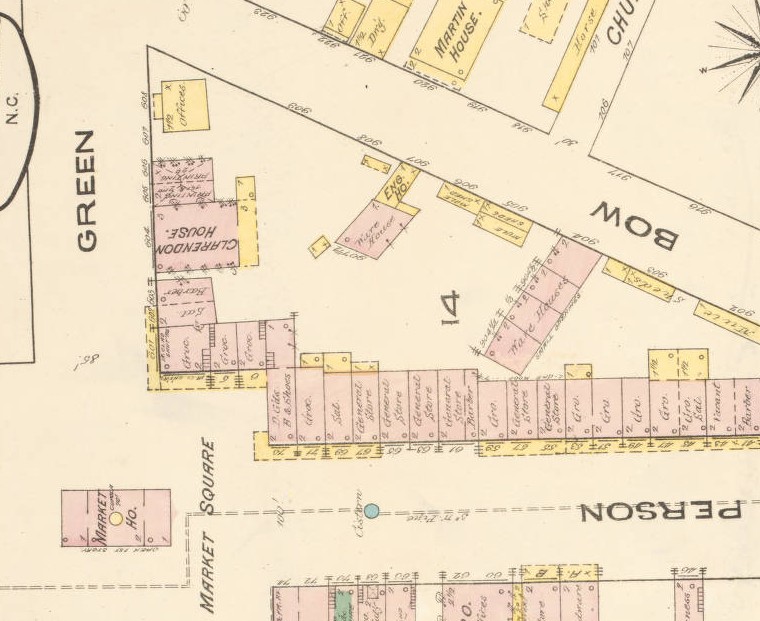 Backstory and Context
Emil Neufeld was part of a small wave of immigrants to find themselves in Fayetteville. In the 1880 census, he was listed as a boarder in the hotel of W.G. Matthews, who owned Clarendon House at the time.
Born in Germany, Neufeld was 25 in 1880 when he began to offer lessons in German to men in the community.
In his entry for 25 June 1880, Charles Chesnutt expressed his interest in learning from Neufeld but regretted that Neufeld "is so fully occupied at present he can not possibly take another pupil. He says there have been some objections made on the part of some of his patrons, to his taking a colored pupil" (141). 
Neufeld promised to consider Chesnutt's request despite the fact even William Kyle, at the time mayor of Fayetteville, advised him against it.
Chesnutt later wrote that "the people here, some of them at any rate, are prejudiced to Neufeld because he is a foreigner and a Jew...he says that they are so much prejudiced that he would like to hurt them real bad once. I wish he would. Some of these purse-proud aristocrats seem to think they own the whole world" (147-48).
By January 1881 Chesnutt had given up on these lessons, feeling he had gotten from them what he desired.
This brief acquaintance stands out from the otherwise lonely tone of Chesnutt's life in Fayetteville. Regarding Neufeld, Chesnutt wrote that "a fellow feeling makes us wondrous kind" (147).
Sources
Chesnutt, Charles. The Journals of Charles W. Chesnutt. Ed. Richard H Broadhead. Duke University Press, 1993.
"Fayetteville, N.C., Mar. 1885." University of North Carolina at Chapel Hill, https://dc.lib.unc.edu/cdm/compoundobject/collection/ncmaps/id/5097/rec/1.
"Mr. Emil Neufeld." The Fayetteville Examiner, 22 Apr. 1880, https://www.newspapers.com/clip/22272908/emil_neufeld_offering_german_lessons/.
Image Sources
https://www.newspapers.com/clip/22272908/emil_neufeld_offering_german_lessons/

https://dc.lib.unc.edu/cdm/compoundobject/collection/ncmaps/id/5097/rec/1

Additional Information