Harwelden Mansion
Introduction
Listed on the National Register of Historic Places, Harwelden Mansion is one of Tulsa's finest historic homes. Now a boutique hotel and event center, it was built in 1923 by wealthy oilman Earl Harwell for his family. It is a beautiful example of English Tudor architecture and has been well maintained over the years. The home features 30 rooms, red-brick walls, seven fireplaces, a slate roof (the first in Tulsa), original light fixtures, and a large projecting bay window above the front door on the east facade. It was restored in 2019. The front lawn features a bronze sculpture depicting a minstrel playing a flute.
Images
Harwelden was built in 1923. The name is a Welsh word that means "place from which the Harwells came."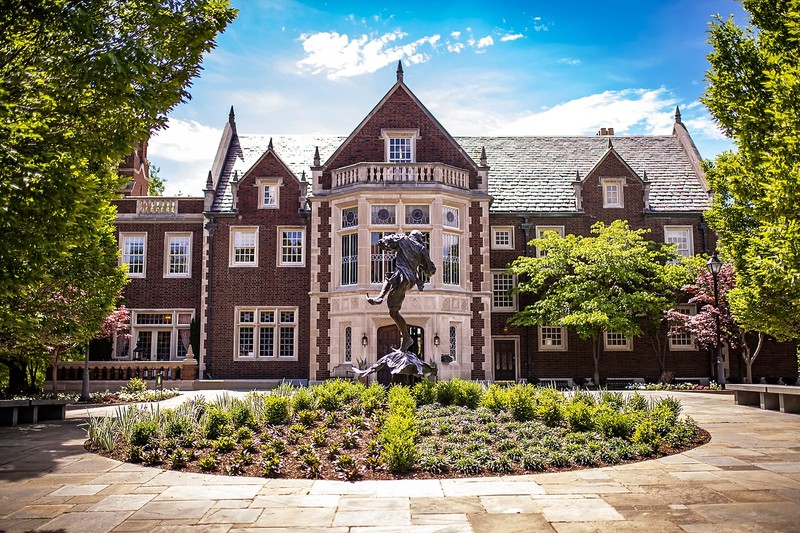 Backstory and Context
Attracted to the burgeoning oil industry in Tulsa, Earl Palmer arrived here from Texas in 1906 when he was 23 years old. He co-founded an oil company and ten years later sold it another company called Magnolia Petroleum Company, which, after a series of mergers, would eventually become Mobil Oil Corporation. Earl stayed active in the oil field until he passed away in 1950 at the age of 67.

Earl and his wife, Mary, were active members of the community. They donated money and property to the University of Tulsa, founded the Tulsa Boy's Home, and donated money to the Presbyterian Church. Mary continued philanthropic activities after Earl died. After she passed, ownership of the home was transferred to the Arts and Humanities Council of Tulsa, which was founded in 1960.
Sources
"About Us." Harwelden Mansion. Accessed August 2, 2019. https://harweldenmansion.com/about-us.

Ruth, Kent. "Harwelden." National Park Service - National Register of Historic Places Nomination Form. February 8, 1978. https://npgallery.nps.gov/GetAsset/9a2bde69-8038-4a71-80e6-1b110a74b1df.

Photo: Wikimedia Commons
https://en.wikipedia.org/wiki/National_Register_of_Historic_Places_listings_in_Tulsa_County,_Oklahoma#/media/File:Harwelden_Mansion.jpg