Heritage Woman statue
Introduction
This styled nude statue was intended to honor early white Kansas settler women when it was placed in Wichita amid the nation's bicentennial celebration in 1976. Wichitans accepted the statue at that time, but some appear to have become concerned with her nudity. Since 2005 the statue has been seriously vandalized three times.
Images
Heritage Woman. Photo by Rich Bergen.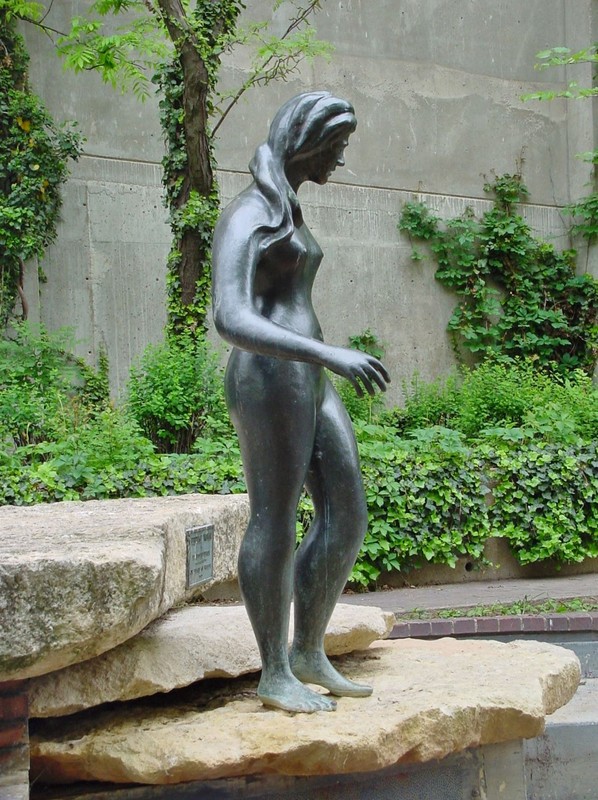 Backstory and Context
This styled nude statue was intended to honor early white Kansas settler women when it was placed in Wichita amid the nation's bicentennial celebration in 1976. The city council commissioned the statue for a new pocket park under construction behind the former city hall (now the Wichita-Sedgwick County Historical Museum) and Carnegie library.
Local artist Richard Bergen described his work as "an abstracted nude figure of a pioneer woman preparing herself for a cool dip in a Kansas stream." Demonstrating more empathy for western settlers than historical knowledge, Bergen explained that "When you've been walking across the plains on a hot, windy, dusty day and you come to a river … [y]ou'd probably strip off your clothes and jump in. That's what I think the pioneers probably did, too." Although Heritage Woman was highly stylized, the artist claimed that "It has a classical feeling to it."1 The Wichita Heritage Square advisory committee unanimously approved the Bergen sculpture, which the chair called "very effective and just right for the setting"; the director of Wichita's Community Arts raved that he "love[d] it. No question, she is a stunning person."2 They appeared to embrace the juxtaposition of a nude figure representing a pioneer woman, and of a hot, dusty settler for a Victorian-style urban park. Perhaps because the artist chose to name the sculpture after its site in Heritage Square Park rather than explicitly identifying the nude figure as a pioneer woman, the broader public seemed to share the arts community's appreciation. The citizens of Wichita apparently viewed Bergen's Heritage Woman within a long-established fine arts tradition of nude female forms. In contrast to the outrage expressed in Denton, Texas, in the 1930s and Salem, Oregon, in the 1950s, newspaper coverage of Wichita's Heritage Woman did not reveal any protests to her nudity. Instead, local residents appeared to embrace the work's merging of classical and contemporary aesthetic for their new Victorian-inspired urban park, and overlooked the artist's conception of a nude pioneer woman revealing herself in downtown Wichita.
Yet Wichitans' acceptance of the nude pioneer woman appear to have declined over time. In April 2005, vandals damaged the sculpture's hands, requiring $5,000 worth of repairs. Shortly after the city returned the statue to its plinth in Heritage Park in fall 2006, it was assaulted a second time, knocking it off its base, breaking it in half at the waist and cracking the bronze skin, causing another $20,000 in damages. Vandals attacked it a third time in early 2013, again removing it from its base and breaking it in half. This time repairs kept the statue out of the public eye for four years. City leaders hope that the installation of a tall iron fence around Heritage Park will protect the statue from further damage. Historical society staff suspect that the statue's nudity inspired these repeated attacks on Heritage Woman.
Sources
1 Pat Gaston, "Work Underway on Trifinity's Sister," The Salina Journal, May 19, 1976.
2 "Bergen Sculpture Okayed by Wichita." The Salina Journal, June 23, 1976.
Prescott, Cynthia Culver, Pioneer Mother Monuments: Constructing Cultural Memory. University of Oklahoma Press, 2019.
Additional Information