Elks Lodge Building
Introduction
The former Elks Lodge Building is historically significant for its association with the Benevolent and Protective Order of the Elks and its association with the Oklahoma Natural Gas Company, which moved into the building in 1932. The company was founded in 1906 and grew rapidly before making this building its headquarters in the early years of the Great Depression. The building was designed in the Italian Renaissance style and was originally meant to be twelve stories tall. Its exterior, which remains largely unaltered, features a number of interesting elements including double-arched windows separated by a column; above the windows are additional arches with tiles and a medallion inside. The building was added to the National Register of Historic Places in 1980 for its historically significant architecture as well as its connections to the business history of the state. While fraternal organizations have been faced with declining memberships over the past century, the oil and gas business remains central to the local economy and the Oklahoma Natural Gas Company still occupies the building today.
Images
Built in 1906, the old Elks Lodge Building was initially supposed to be twelve stories tall, but financial difficulties forced the Elks to stop at five. It is now the location of the Oklahoma Natural Gas Company.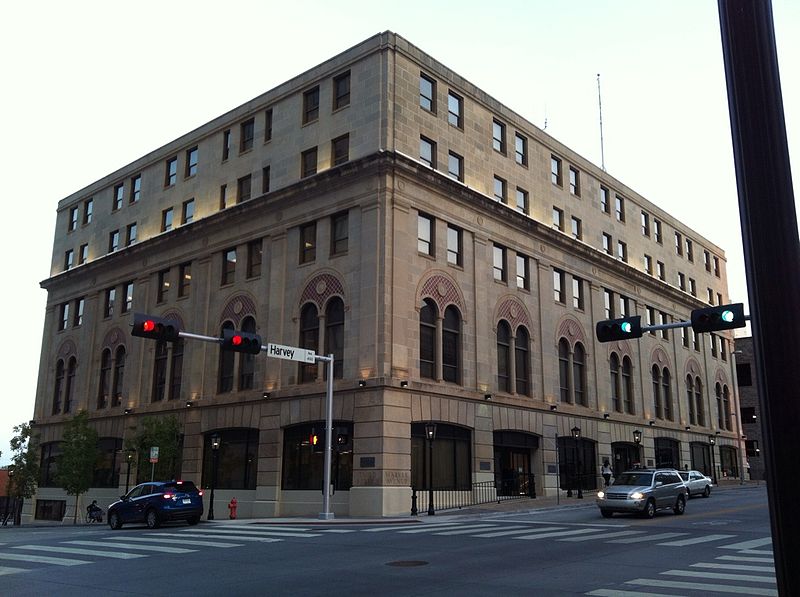 Backstory and Context
The Benevolent and Protective Order of the Elks was established in New York City in 1868. They established the lodge in Oklahoma City in 1898. The lodge rented meeting space until the building was constructed in 1926. As noted above, it was supposed to be twelves stories tall but the lodge did not have enough money to build the rest of the floors. The Elks owned the building until the Great Depression made it difficult to retain members and maintain the building.

The Elks sold the building to General William S. Key, who served in World War I as a colonel and became General of the Oklahoma National Guard. Back home, he became a successful businessman, investing in the oil industry. He bought the building to house his business offices and invest some of his money. His offices were located on the first floor; he rented the other levels. One of these tenants was the Oklahoma Natural Gas Company.

The company played a key role in the city's growth during the early 20th century. It built the first natural gas pipeline to the city in 1906 and the gas started to flow on December 28, 1907. The advantages of natural gas—it was cheap, clean-burning, and efficient—attracted businesses to the city. As a result, economic activity increased. The company purchased the building in 1947. The company is now a division of ONE Gas.
Sources
"About Us." Oklahoma Natural Gas. Accessed July 31, 2019. https://www.oklahomanaturalgas.com/about-us/about-us.

Blackburn, Bob L. "Elks Lodge Building." National Parks Service - National Register of Historic Places Nomination Form. March 10, 1980. https://npgallery.nps.gov/NRHP/GetAsset/NRHP/80003284_text.

Photo: Wikimedia Commons
https://en.wikipedia.org/wiki/Elks_Lodge_Building_(Oklahoma_City)#/media/File:Former_Elks_Lodge_is_now_headquarters_for_Oklahoma_Natural_Gas_Company.jpg

Additional Information