Camac House
Introduction
The Camac House at 401 East Graves was originally built in the late nineteenth century in the Florida Frame Vernacular architectural style. Possibly the house was built for the Hardin Family. In 1926, J .P. Prettyman was commissioned to remodel the dwelling and cover the exterior of the house with stucco for the new owners John W. and Sallie Camac. Mr. Camac was an import real estate developer of Orange City between the years of 1926 and 1929. He financed the Erwin Hotel, the Laverne Apartments and at least six other dwellings. He is noted for planting 500 trees to beautify the city.
Images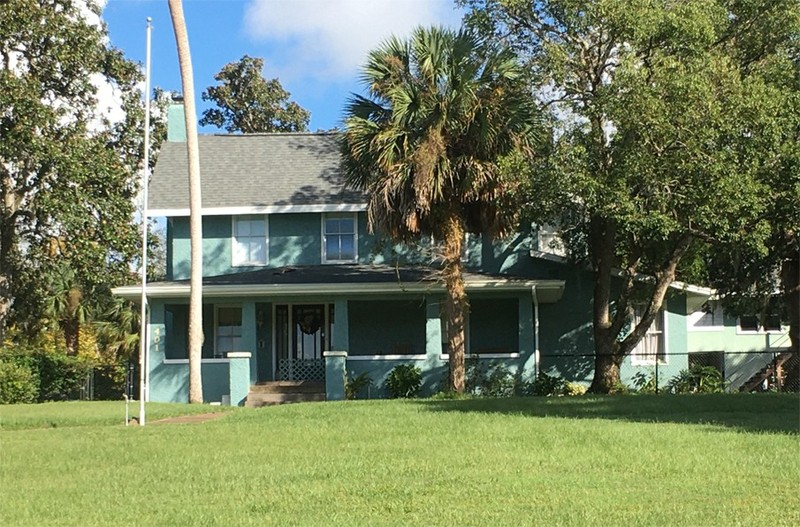 "Residence of J.W. Camac Orange City, Florida"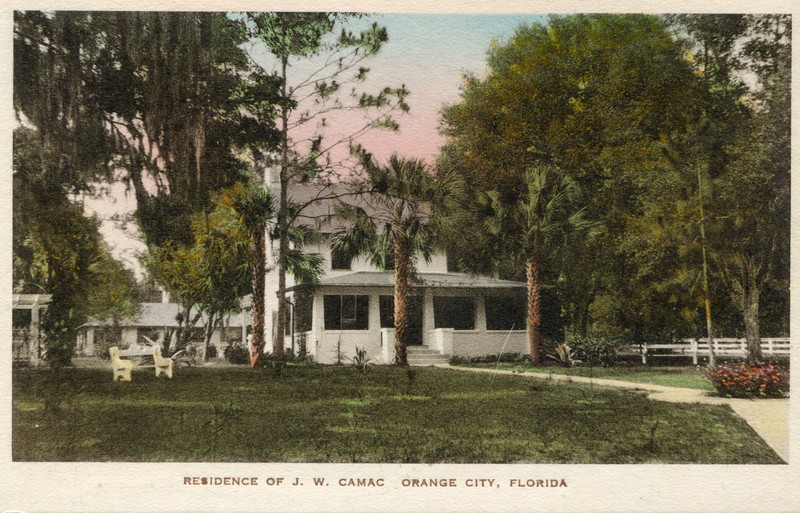 Backstory and Context
This former home of John W. Camac was first built in the Florida Frame Vernacular architectural style. This architectural style was popular in the nineteenth and early twentieth century in Florida. Upon taking ownership of the property in 1926, Camac began modernizing the structure and cladding the exterior in stucco. Many of the structures in Orange City that were developed by Camac displayed a stucco façade, typical of the time period.
John Camac, a native of New Jersey, had a real estate office in Philadelphia for 38 years before he ventured to Florida's burgeoning land boom in 1919. He opened a real estate office in Daytona Beach while maintaining his office in Philadelphia. In Daytona Beach he developed the Fernwood Hotel and several business block on the peninsula's Main Street.
In 1926, Camac moved his office to Orange City where he invested heavily in Orange City. He built the Erwin Hotel and Laverne Apartments, gave generously to fund the construction of the new M.E. Church and owned several other properties on Volusia Avenue. Local builder J.P. Prettyman worked closely with Camac on several projects. Prettman also did the renovation and stucco work to Camac's own house at 401 East Graves Avenue in Orange City. In 1926 Camac's investments in the city topped $300,000.
In 1926, John also help organize the Orange City Bank and served as Vice-President. The bank building at 211 North Volusia Avenue is now home to the Webster Medical Clinic. In 1927 John W. Camac made improvements to his properties and planted 500 trees on his properties
John W. Camac died on September 27, 1929 at 10:30 a.m. at a hospital in Daytona Beach. His funeral service was held on September 28, 1929 at the Baggett-Wetherby mortuary on South Beach Street, Daytona Beach. Dr. D. Stratford Scadening, pastor of the First M.E. Church of Orange City officiated. He was survived by his wife Sallie and two sisters from Philadelphia who were at his bedside at his death.
Sources
LaFleur, J.(Ed.). (2000). Our Story of Orange City, Florida. Florida: Village Improvement Association, Inc.
United States Department of the Interior National Park Service (2004).
National Register of Historic Places Continuation Sheet Orange City Historic District Orange City, Volusia County, Florida
(1929,September 29).John W. Camac Obiturary. Orlando Sentinel, pp.15. Retieved from
URL.Orlandosentinel.newspaper
https://lakehelen.com/Gateway/Frame%20Vernacular%20-%20Style%20Guide.pdf