Amon G. Carter, Sr. (1879-1955) - Historical Marker
Introduction
This historical marker describes the life and legacy of one of Fort Worth's most consequential figures of the 20th century, newspaper publisher and entrepreneur Amon G. Carter, Sr. (1879-1955), who played a key role in Fort Worth's economic development. He is most known for founding the Fort Worth Star-Telegram in February 1909. He also established WBAP, the city's first radio station in 1922 (it would later become the first TV station in the South and Southwest in 1948). Carter used the paper and radio station to vigorously promote the city around the state and country, employing the phrase "Where the West Begins." He was ultimately successful. A few successes included: oil companies moved to Forth Worth and built skyscrapers; the state established what is now Texas Tech University; as president of the Fort Worth Chamber of Commerce, Carter was largely responsible for bringing the first airplane to the city; and, the company that is now American Airlines moved to Forth Worth from Dallas. Carter was also a philanthropist, establishing the Amon G. Carter Foundation in 1945, which supported education and cultural programs.
Images
The historical marker is just outside the Blackstone Hotel building on Main Street.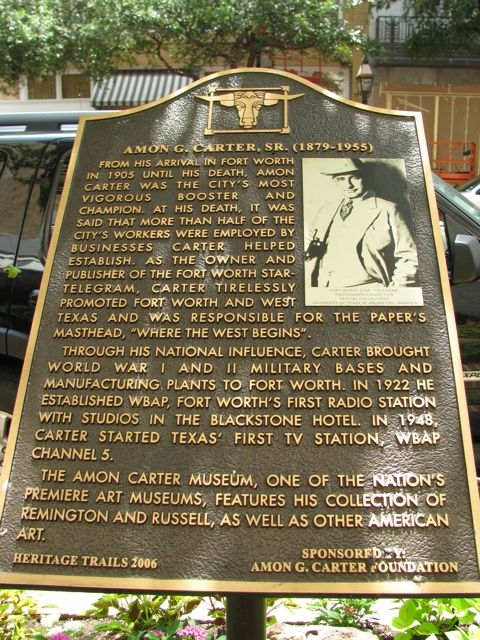 Amon G. Carter, Sr. (1879-1955)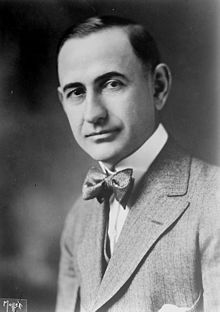 Backstory and Context
Amon G. Carter was born on December 11, 1879 in Crafton, Texas. Until he became an adult when he changed it, his name was Giles Amon Carter. In 1892 his mother died, compelling him to quit school and move to the town of Bowie where he found work to help support his family. In the upcoming years, he found work in Oklahoma and California including working as a traveling salesman in 1900. He moved to Forth Worth in 1905 to start an advertising company. The next year 1906, he founded the newspaper Fort Worth Star, which he would later merge with the Star-Telegram. As stated above, this marked the beginning of the most successful period of Carter's career. He passed away in 1953 of a heart attack. He was married three times and had a son and two daughters.

Sources
"Amon Giles Carter (1879–1955): A Chronology." Amon Carter Museum of Art. https://www.cartermuseum.org/sites/default/files/image_uploads/acm_agc_timeline.pdf.

"Amon G. Carter, Sr. (1879-1955)." The Historical Marker Database. Accessed July 22, 2019. https://www.hmdb.org/marker.asp?marker=52283.

Procter, Ben H. "Carter, Amon G., Sr." Handbook of Texas Online. Accessed July 22, 2019. https://tshaonline.org/handbook/online/articles/fca69.