Northrop F-5E Tiger II "MIG-28"
Introduction
This Northrop F-5E Tiger II served in the US Navy as an "Aggressor" adversary aircraft. Its two-tone brown and tan desert "Tiger Stripe" camouflage with a red star on the tail and number 13 painted on the nose simulates Russian type markings. The F-5 is a supersonic fighter combining low cost, ease of maintenance, and great versatility. More than 2,000 F-5 aircraft have been procured by the USAF for use by allied nations. The F-5, which resembles the USAF Northrop T-38 trainer, is suitable for various types of ground-support and aerial intercept missions, including those which would have to be conducted from sod fields in combat areas. The F-5 first flew on July 30, 1959, and deliveries to the Tactical Air Command for instructing foreign pilots began in April 1964. Pilots from Iran and South Korea were the first to be trained in the F-5, followed by pilots from Norway, Greece, Taiwan, Spain, and other Free World nations that have adopted the F-5. A two place combat trainer version, the F-5B, first flew in February 1964. In 1966-1967, a USAF squadron of F-5s flew combat missions in Southeast Asia for operational evaluation purposes. The F-5E Tiger II was a greatly improved version of the earlier F-5A Freedom Fighter. Redesigned as a highly maneuverable, lightweight, and inexpensive air superiority fighter, the E model featured an air-to-air fire control radar system and a lead computing gunsight. More powerful J85 engines required the fuselage to be both widened and lengthened. The forward wing root was redesigned to give the "Tiger II" wing its characteristic triple delta shape. The first flight of the F-5E was on Aug. 11, 1972. The first USAF unit to receive the aircraft was the 425th TFS at Williams Air Force Base, Arizona, responsible for training foreign pilots in the F-5 aircraft. The most well-known use of the "Tiger II" was as an aggressor aircraft at the USAF Fighter Weapons School, Nellis Air Force Base, Nevada. The aggressor pilots of the 64th Fighter Weapons Squadron were trained in Soviet tactics and used the simulate MiG-21s for training USAF pilots in aerial combat skills. Eventually, aggressor squadrons were formed at RAF Alconbury, England, and Clark Air Base, Philippines, for training USAF pilots stationed overseas along with pilots of friendly foreign nations.
Images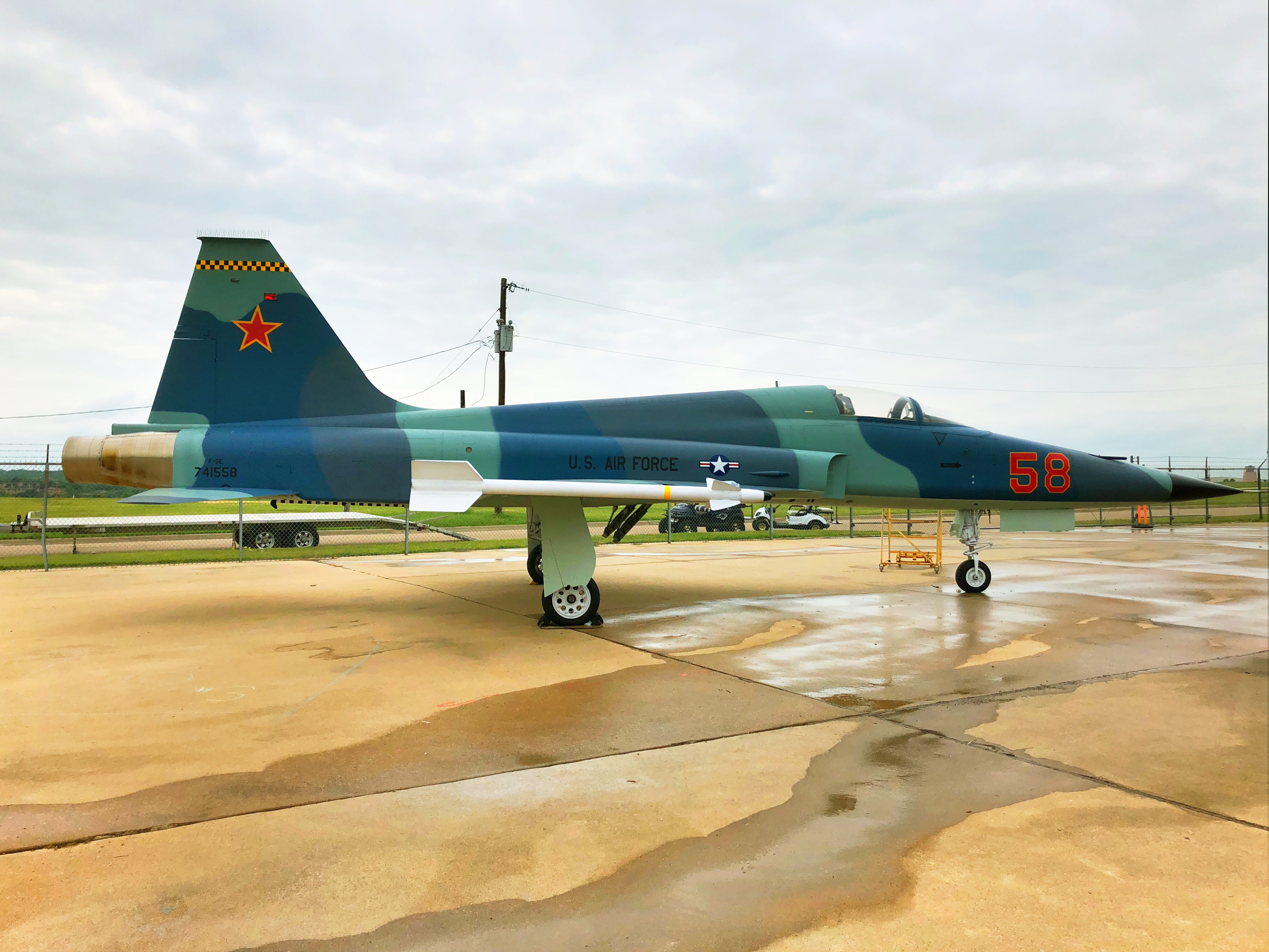 Backstory and Context
The Fort Worth Aviation Museum's Northrop F-5E Tiger II, originally Air Force serial no. 74-1558, c/n U.1218, was eventually transferred to the US Navy and assigned Bureau of Aeronautics No. 741558. The musem acquired this aircraft in February 2006 on loan from NNAM. The aircraft served with US Navy Fighter Squadron Composite Thirteen or VFC-13 as an "Aggressor" or adversary aircraft. It has a two-tone brown and tan desert "Tiger Stripe" camouflage with a red star on the tail and number 13 painted on the nose to simulate Russian type markings. In 1984, this aircraft was in Air Force service with the 64th Aggressor Squadron at Nellis Air Force Base, Nevada. Interestingly, it has a Swiss F-5 wing installed (originating aircraft ID is unknown), as the original wing was low time sent to F-5/T-38 SLEP program. It flew in the 1986 movie Top Gun as one of the Black MIGs.
Locally: This F-5 is similar to the T-38s flown from bases in Texas and Oklahoma for pilot training.
Sources
Fort Worth Aviation Museum
Image Sources
Fort Worth Aviation Museum

Additional Information