Anthony and Louise Viaer Alumni Hall, Huston-Tillotson University
Introduction
Constructed in 1914, this building was long-known as the Administration Building for Tillotson College. The building is now Anthony and Louise Viaer Alumni Hall and part of Huston-Tillotson University, a coeducational and historically African American academic institution formed by the merger of Samuel Huston College and Tillotson College in 1952. The building was formed with concrete blocks manufactured by students in the industrial education program at Tillotson College, an educational institution which was chartered in 1877.
Images
Anthony and Louise Viaer Alumni Hall, or the Administration Building as it is known historically, at Huston-Tillotson University in Austin, Texas.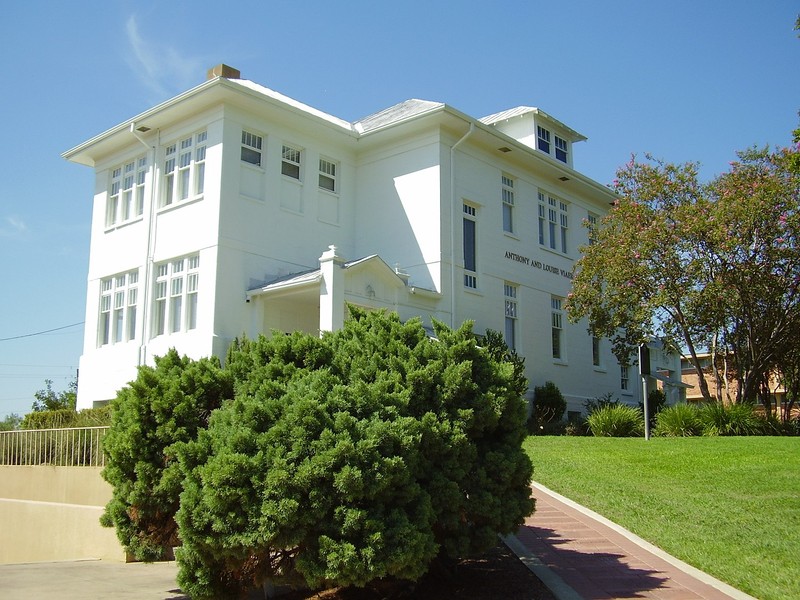 Backstory and Context
The Administration Building at Huston-Tillotson College (built, 1914) enjoys Prairie School design, an architectural style developed by developed primarily by Frank Lloyd Wright. Huston-Tillotson students manufactured the building's bricks as part of the school's commitment to providing its students (mainly comprised of African Americans) with practical training in trades such as construction, mechanics and industrial jobs. The building is named after Anthony E. Viaer, an alumnus of the Class of 1958 who provided students with a $1 million scholarship opportunity.
In 1914, when the Administration Building opened its doors, the college had been known as Tillotson Collegiate and Normal Institute. Tillotson College served African American students, providing them with a liberal arts education as well as emphasizing industrial and technical training. Indeed, a facility for teaching industrial classes had been constructed during its charger year in 1887, followed by Evans Industrial Hall in 1912. The direct student involvement of constructing the Administration Building demonstrates the college's commitment to providing students with practical training in the industrial arts.
The 1952 merger of Samuel Huston College and Tillotson College further allowed the university, which became known as Huston-Tillotson College, to add a strong focus on the sciences to its overall pedagogical emphasis. By 2000, the institution had achieved University status and is known as Huston-Tillotson University today. The school retains ties to the African American community, as well as The United Methodist Church and the United Church of Christ.
Sources
Brooks, F. Erik, and Glenn L. Starks. Historically Black Colleges and Universities: An Encyclopedia. Santa Barbara, Calif: Greenwood, 2011.

Freeman, Martha Doty and Kenneth Breisch. "Nomination Form: Administration Building." National Register of Historic Places. nps.gov. A partial copy of the form can be found digitally at https://atlas.thc.state.tx.us/NR/pdfs/86003845/86003845.pdf.

"Prairie School." Chicago Architecture Center. architecture.org. Accessed July 03, 2019. http://www.architecture.org/learn/resources/architecture-dictionary/entry/prairie-style/.

Photo Source

Anthony and Louise Viaer Alumni Hall: By WhisperToMe - Own work, Public Domain, https://commons.wikimedia.org/w/index.php?curid=5029095

Additional Information