Bonne Terre Depot
Introduction
Constructed in 1909, the Bonne Terre Depot is locally significant for its fine architecture and association with the mining and transportation industries. It replaced the town's first depot built in 1898, which unfortunately burned down in 1909. The present depot was built by the St. Joe Lead Company, which operated the Bonne Terre Mine, which is located just a few blocks away to the north (it is not clear who built the 1898 depot, but it seems the company did so). The depot was essential for the company as it was from here that all freight traffic was managed, and where supplies and produce of a subsidiary of the company—called the Bonne Terre Freight and Cattle Company—were shipped. Passenger trains also used the station. Today, the depot is a bed and breakfast hotel. The owners restored the old building and furnished with authentic train antiques and memorabilia. There are also old train cars on display and a 19th-century English phone booth. The depot was added to the National Register of Historic Places in 1984.
Images
The Bonne Terre Depot is a historic train station built in 1909. It is now a bed and breakfast hotel.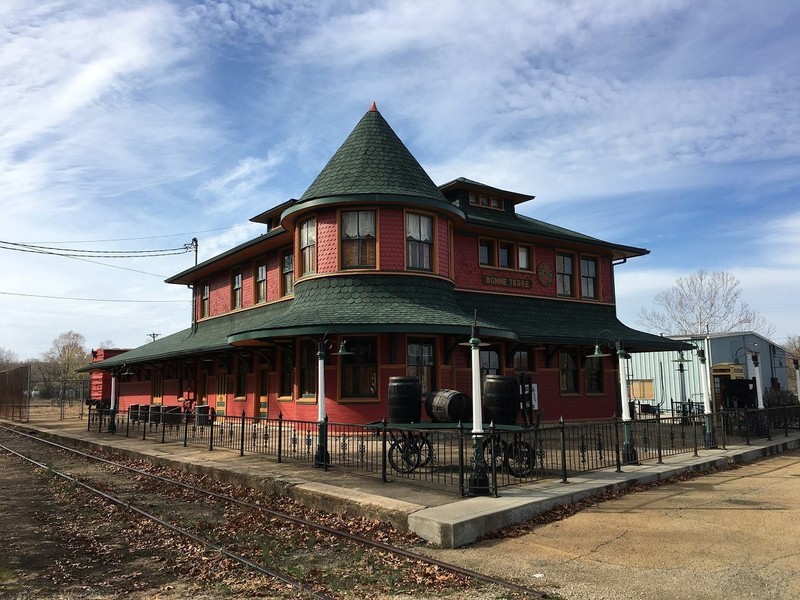 Backstory and Context
The first lead mining operation began in Missouri around 1720 by the French, who established a mine in the Bonne Terre area (French and Spanish explorers had already mined by that point). The St. Joe Mining Company was founded in 1864 and over time developed one of the largest lead-mining areas in the world.

During the first fifteen years of operation, although the mine was doing relatively well, the work was slow and inefficient, especially in the use of oxen to transport the lead ore and mules to haul supplies. To speed up operations, in 1880 the company decided to build a narrow-gauge railroad line to its smelting mill. Then in 1887, the company built another rail line to the Mississippi River south of St. Louis (at the town of Herculaneum) in order to get the ore to customers even faster. Before that, it had to pay to use another rail line to St. Louis.

The Bonne Terre mine continued to operate until 1962 when the lead ore ran out. It was very productive over its lifespan, producing 35 million tons of lead valued at around $300 million.
Sources
"About the Bonne Terre 1909 Depot." Bonne Terre Depot. Accessed June 26, 2019. http://www.bonneterredepot.com/about.

Cameron, Janice R. "Mississippi River and Bonne Terre Railway Depot." National Park Service - National Register of Historic Places Nomination Form. April 5, 1984. https://dnr.mo.gov/shpo/nps-nr/84002606.pdf.

Raiche, Stephen J. "Bonne Terre Mine." National Park Service - National Register of Historic Places Nomination Form. September 9, 1974. https://dnr.mo.gov/shpo/nps-nr/74002281.pdf.

Photo: Wikimedia Commons https://en.wikipedia.org/wiki/National_Register_of_Historic_Places_listings_in_St._Francois_County,_Missouri#/media/File:Bonne_Terre_Depot_NRHP_84002606_Saint_Francois_County,_MO.jpg
Additional Information