Krog Park
Introduction
Though a place for rest and relaxation today, Krog Park was actually a former cemetery called Bassora Cemetery. Here, many of Washington's early settlers are buried, including the town's founders William and Lucinda Owens. The park features a large stone marker with an inscription and the names of those buried here. The Owens' gravesite features a historical marker and matching tombstone pillars. The one for Lucinda was created in 2012 since her grave was unmarked. The park also features a Korean War memorial, a Vietnam War memorial, and a veterans memorial.
Images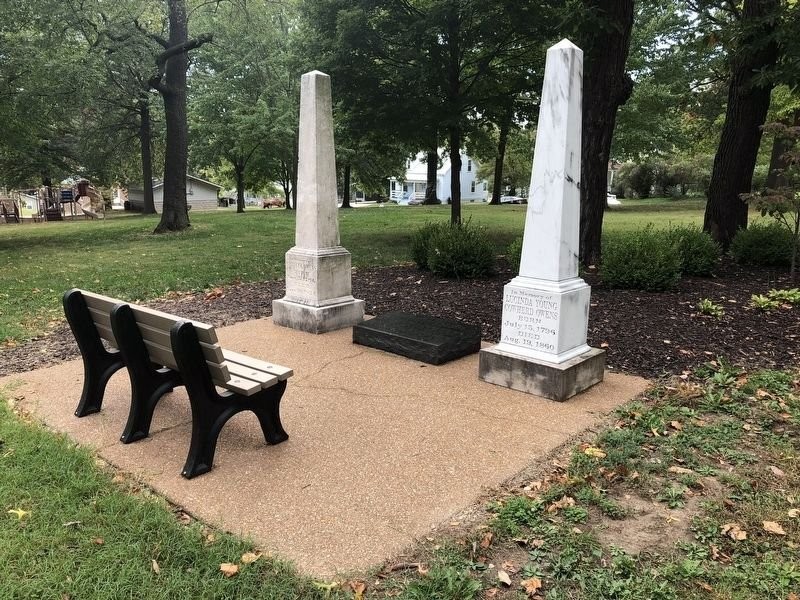 Backstory and Context
William Owens bought the land that would become Washington in 1829. Tragically, he was murdered in 1834 but Lucinda kept the dream alive. She bought the property and on May 29, 1839 filed a plat of the county, which established the town. The cemetery continued to accept burials until 1880 and it was officially closed in 1883.

The cemetery was then left neglected and by 1926 it was decided that it should be eliminated altogether. However, the majority of burials were not moved, including Lucinda and William. William's grave was found in 2012 and records indicated that Lucinda's grave was located nearby. This is why the two tombstones are located next to each other.
Sources
"Bassora Cemetery." The Historical Marker Database. Accessed June 15, 2019. https://www.hmdb.org/marker.asp?marker=124423.

Butterfield, Karen. "County Cemetery Society Marks 10th Anniversary." June 12, 2016. http://www.emissourian.com/local_news/county-cemetery-society-marks-th-anniversary/article_ad5c583f-680c-511c-a9e0-bd0e58d93bb9.html.

"Gravesite of Washington's Founder - Lucinda Owens." The Historical Marker Database. Accessed June 15, 2019. https://www.hmdb.org/marker.asp?marker=124413.

Photo: The Historical Marker Database