Historical Marker: Battle of Westport Confederate Line, October 22, 1864
Introduction
The Battle of Westport (October 21-23, 1864) was the last major engagement of the Civil War west of the Mississippi River. With 22,000 soldiers, the Union army outnumbered the Confederates, who only had 8,500 soldiers. Curtis was ultimately victorious and the state remained firmly in Union control for the rest of the war. This historical marker is near where a confrontation occurred between the brigades of both armies. At this location, Union soldiers drove back a Confederate charge and seized two cannons. They also nearly captured Brigadier General William Lewis Cabell. The marker is located near the Church of Christ on River Blvd.
Images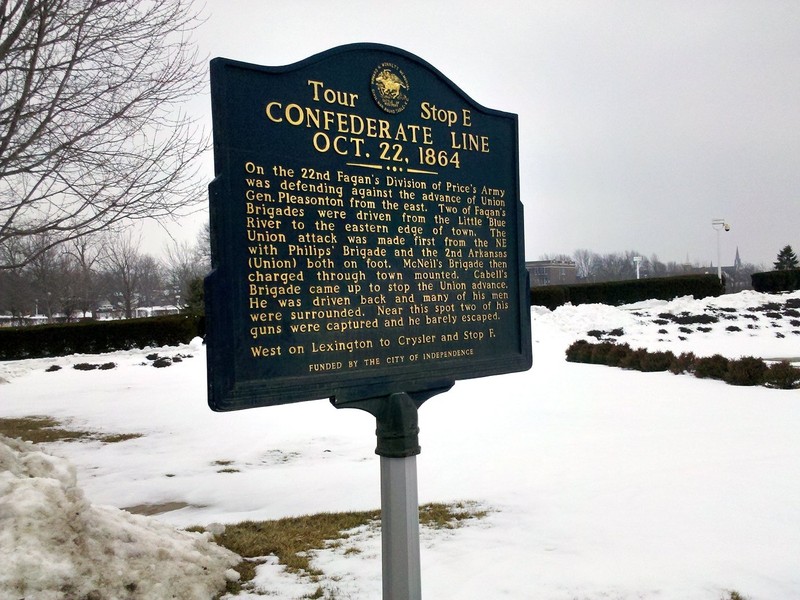 Backstory and Context
The Confederate Army of Missouri, led by General Sterling Price, was heading west towards Kansas City conducting raids in hopes of rallying Missouri residents to the Confederacy. This approach failed due to the fact that most residents hoped to maintain neutrality while a significant portion of Missouri residents remained loyal to the Union and even actively opposed secession. Union General Samuel R. Curtis, commander of the Union Army of the Border, was tasked with stopping Price's advance and it was his army that routed Price's men at this location. 
Sources
"Confederate Line, Oct. 22, 1864." The Historical Marker Database. Accessed May 14, 2019. https://www.hmdb.org/marker.asp?marker=40171.
Photo: The Historical Marker Database
Additional Information