Vaile Mansion
Introduction
Considered one of the best examples of Second Empire architecture in the country, the Vaile Mansion is one of the most beautiful homes in Independence and operates today as a house museum operated by the Vaile Victorian Society. It was built by its namesake, Colonel Harvey M. Vaile, in 1881 after ten years of construction. The home features 31 rooms, nine marble fireplaces, painted ceilings, flushing toilets (a luxury at the time), a large built-in water tank, and 48,000-gallon wine cellar. Other notable features include a central tower, an elaborate first-story porch, Italianate and Gothic details, a kitchen with indoor hot and cold water, a beautiful walnut grand staircase, and hand-carved Italian marble on the mantle in the parlor. The mansion hosted numerous gatherings in the 1880s and 1890s attended by those of high social standing including U.S. Senators and Congressmen. The mansion was added to the National Register of Historic Places in 1969. It features Victorian-era furniture and other items; none of the original furnishings remain.
Images
The Vaile Mansion was built in 1881 and is regarded as one of the best examples of Second Empire architecture in the country.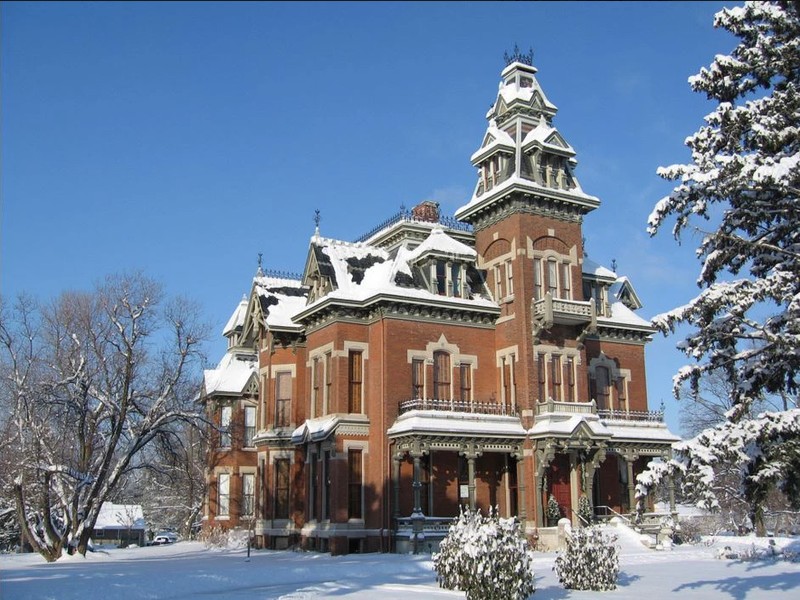 Backstory and Context
Harvey Vaile was born in 1831 in Vermont on a farm. He and his family moved to upstate New York in the 1840s and it was there he met his future wife, Sophia. He taught as a schoolteacher to earn enough money to attend the University of Louisville where he studied law, graduating in 1859. He moved to Kansas City that year and became involved in the abolitionist movement there. He also was a founding member of the Republican Party in Jackson County.

Vaile became wealthy by investing in various business ventures, most notably in the construction of the Erie Canal and the Star Route Mail system, the mail system in which mail routes extended into territories as of yet not under the jurisdiction of the federal government. As such, the federal postal service could not deliver mail in these areas but hired contractors to do so. Vaile was one of them and operated the route to Santa Fe, which was in Mexican territory at the time, from 1863 to the early 1880s. Vaile and other Star Route operators used stagecoaches and wagons to transport mail and packages.

Vaile's venture into the Star Route came to end in 1882, when he and other operators were charged with defrauding the government (U.S. postal officials were bribed in exchange for Star Route contracts). In end, Vaile was found not guilty. However, Vaile was charged again in early 1883. During the trial, he learned that Sophia was dying of stomach cancer and was allowed to be by her side. She passed away on February 15th, 1883.

He was ultimately acquitted and became a cattle rancher, eventually owning vast amounts of land. He crossbred Hereford and Longhorn cattle and was very successful in doing so, enabling him to earn even more money. He lived in the mansion until he died in 1895. The mansion was owned by a number of individuals thereafter and even became a nursing home. The last owners donated it to the city in 1983, which began to restore it. It is not clear when it opened as a museum.
Sources
"A Man and His Mansion." Vaile Victorian Mansion. Accessed May 9, 2019. https://www.vailemansion.org/history.

Burgess, Kent. "The Vaile - Part One." The Inter-City News. Accessed May 9, 2019. http://www.inter-citynews.com/2015/02/the-vaile-mansion-part-one.html.

Holmes, M. Patricia. "Vaile Park." National Park Service - National Register of Historic Places Nomination Form. October 1, 1969. https://catalog.archives.gov/OpaAPI/media/63819331/content/electronic-records/rg-079/NPS_MO/69000108.pdf.

Photo: Vaile Victoria Mansion
Additional Information