Hermon Lee Ensign Animal Fountain
Introduction
Two years prior to his death in 1899, Hermon Lee Ensign established the National Humane Alliance and willed his fortune to provide drinking fountains for animals in any city that requested one from the foundation. Texarkana was one of over a hundred cities that benefitted from Ensign's philanthropy and now this is one of only a handful of the purpose-built fountains that are still operable. The fountain was originally located downtown and was moved twice, but still serves as a reminder of a time before the widespread adoption of the automobile when travelers needed a place to water their horses.
Images
Texarkana's Ensign Fountain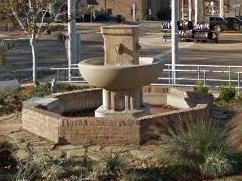 Backstory and Context
Hermon Lee Ensign's foundation continued to fund the construction of fountains until 1921. The fountains were produced by the Bodwell Granite Company of Maine and featured ornamentation made of brass and granite. The current location of the Ensign fountain is at the intersection of East Seventh and N. Stateline Ave. The Initial location of the Ensign Fountain was placed in front of the downtown post office as a watering trough for horses and dogs and to improve the scenery. The fountain was moved following complaints and concerns about traffic.
Sources
American Humane Association. The National Humane Review, volume 1. New York: American
Humane Association, 1913
Possum, Manville. "Herman Lee Ensign Animal Fountain." Waymarking. Marching 19, 2019. Accessed February 19, 2019
Thomas, Clinton. "Texarkana's National Humane Alliance Fountain." Four States News. July 17, 2017. Accessed February 19, 2019
Additional Information