Ken Steele and the New York City Voices
Introduction
Ken Steele, a mental health activist, wrote, I have a vision that goes like this: In the new century, mentally ill people will have the science, the organized voting strength, and the means to leave our ghettos of isolation behind us. We will finally join with the mainstream community, where we'll be able to live as independent individuals and not as a group of people who are known and feared by the names of our illness. Steele empowered tens of thousands of people with mental illness by founding New York City Voices, the National Mental Health Voter Empowerment Project (MHVEP), Awakenings Support Group, an Information and Referral Service, and sharing his story. New York City Voices was an influential "consumer journal for mental health advocacy." The first floor of the building 250 Baltic Street in Brooklyn, NY was the publication site of New York City Voices when it resurfaced after a year in 2012. Steele suffered from schizophrenia and the intense social mental illness stigma that accompanies it for 32 years. On May 3rd, 1995, his voices went silent after taking Risperdal from his only close, connective, and empathetic psychiatrist, Dr. Seidan. In the remaining five years of his life, he made the most out of it by fighting the political, social, cognitive, and strong stigma that kept him from the help he needed for so many years.
Images
Steele saw that self-disclosure was a difficult but important first step to "successfully addressing the stigma" and to "find common ground, information, and empathy." "My hope was that voices could now become a positive noun—one that clarifies disto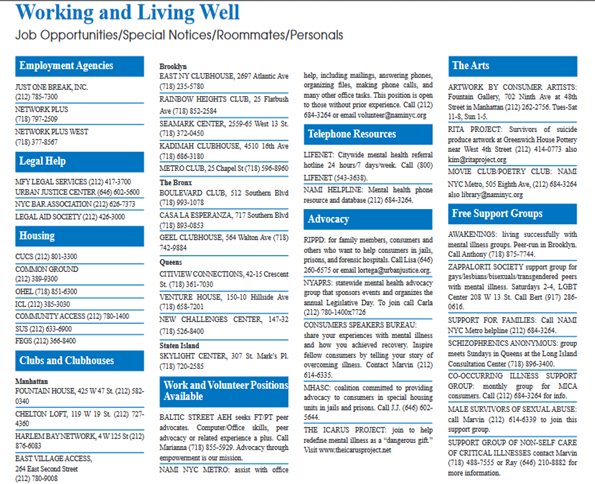 New York City Voices contained approved resources specifically for the mentally ill, including employment, legal aid, affordable housing, social groups, volunteerism, telephone resources, advocacy groups, artistic groups, and support groups, which in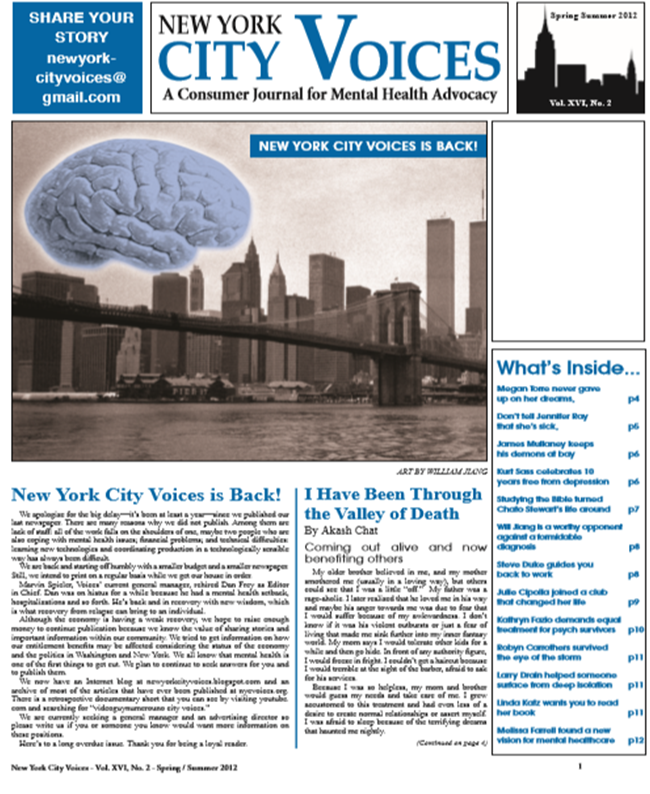 Backstory and Context
New York City Voices started with Dr. Seidan allowing Steele to be the editor for Park Slope Center for Mental Health's newsletter. Park Slope Center News was transformed to New York City Voices. Steele's founding intent "was to widen the publication's coverage, expand its readership, and publicize the [Steele's] Mental Health Voter Empowerment Project." One of its most crucial purposes was featuring real life stories of advocacy, triumph, struggles, and outreach. Instead of the silence of true stories and the stigma going unchecked, "real-life stories were now being used for real good," Steele noted.
It grew from being four pages circulating 2,500 copies 1995 to 32 pages circulating 51,000 in 2000. Steele's work provided resources and knowledge to bridge the gap against "poverty, diminished social status, and a decreased sense of political efficacy." The American Journal of Psychiatric Rehabilitation states that through access to voting, employment, education, housing, and regular social interaction people have access to making informed decisions, improving their life, affecting others, and creating change.
As the newsletter quickly spread with requests, Steele established an Information and Referral Service in his own home and guided countless people to be connected to a network of active helping professionals. Naturally, his work was taking a toll and he recognized the value of having a support group. Thus, Awakening Groups began for people with psychotic mental illnesses and "focused on full recovery," such getting a job or disclosing mental illness.
The miraculous story of Steele's life behind his advocacy is one of resilience. In 1962, he first experienced the symptoms of schizophrenia at 14. From the start, he was tortured by voices commanding him to kill himself and dehumanizing him with constant insults. After a year and three suicide attempts with fire, hanging, and being run over, he was finally diagnosed.
While there is still a lot unknown about schizophrenia; back then, there was little known and many misconceptions. A medical dictionary listed its symptoms and defined it as "some form of insanity" without mentioning hope in treatment. There was a huge emphasis on violence towards others. It's not true as "less than 1 percent of people with schizophrenia ever become violent and more likely to have violence committed against them." Unfortunately, this became true in Steele's life.
He made over 10 suicide attempts in his life with different painful methods. He suffered abuse from being in and out of psychiatric hospitals as they were not to the standard they are held to today. He underwent horrific side effects from medications at high doses and was sexually assaulted at one time. He went into sex work, struggled with homelessness, and faced abandonment from family.
Slowly, he got connected with the resources that helped him in his recovery and management. Through Fountain House, a nonprofit that provides emotional support and vocational training, he was able to get an accommodating job and an apartment with a housing subsidy. While it was very strenuous to therapist shop, Steele was referred to a therapist at Park Slope Center for Mental Health. In 1994, he started regularly seeing Dr. Seidan. She explained the new medication to him rather than forcing it on him. She advocated resources such as extended benefits of Medicaid in treating his physical health.
On May 3rd, 1995, after successful efficacy of Risperdal, he vowed "to use my own voice to make life better for myself and others…I would listen, and learn from, the voices of other mentally ill people…We could make a difference." After Steele's death, Dr. Raby, the Vice President and Treasurer of the National Picnic for Parity, Inc, who worked with Steele, said, "when his voices stopped, an already remarkable man was unmasked.'"
The idea for the MHVEP came from listening to the frightening and still active voices who talk about taking away support systems. "It mattered little to these political voices. They simply did not want our care to cost them money."
In 1993, Governor Cuomo signed the Mental Hygiene Reinvestment Act but didn't consider it a political act and said, "the trouble with you people is that you don't vote." As insensitive as his words are, a study found that people with disabilities were found to follow politics more than the average population despite their lower rates of political efficacy. In November 1994, Steele addressed the obstacles that kept people "politically silent when there's so much at stake."
Thus, the MHVEP was created. In six years, the project registered 35,000 disadvantaged people in NYC alone and became national through collaboration with the National Alliance for the Mentally Ill's "I Vote, I Count" campaign, the National Picnic for Parity, and the National Mental Health Association (NMHA). The importance of its national influence and positive publicity cannot go understated. Between 1989 and 2000, a peer-reviewed study in the Community Mental Health Journal found states varied widely in their stances of and the perceived competency for civic involvement.
While New York restricted the mentally incompetent for voting rights, 25 states as of 1999 restricted people with mental illness. Steele said, "being mentally ill and being mentally incompetent are not the same thing."
The Yale Journal of Health Policy, Law, and Ethics recognized that "the persistence of disenfranchisement on the basis of mental illness inevitably contributes to silencing socially disfavored views and lifestyles." Consequently, Steele dedicated 1his remaining years to fighting the institutionalized history of stigmatization and misunderstanding of a whole group of citizens as they are a "deviation from some clearly defined norm." Mr. Cody, the Vice President of Communications of NMHA noted the future for these projects as "Steele's legacy of accomplishments is a living one...The man has passed, but his life's work goes on." As the CEO of the Mental Health Association, Mr. Glazer, said, "we must ensure that what Steele strived for becomes more than a vision -- it must become the view."
Sources
Davis, J. K. (2010). Voting as Empowerment Practice. American Journal of Psychiatric Rehabilitation, 13(4), 243–257. https://doi.org/10.1080/15487768.2010.523352
Frey, Dan, editor. "New York City Voices." 2012.
Kopel, Charles. " Suffrage for People with Intellectual Disabilities and Mental Illness: Observations on a Civic Controversy." Yale Journal of Health Policy, Law, and Ethics, vol. 17, no. 1, ser. 4, 2017.
Lenat, Richard. "Remembering Ken Steele." New York City Voices, New York City Voices, 2000, www.willslist.org/newyorkcityvoices_archive/ken.html.
Steele, Ken, and Claire Berman. The Day the Voices Stopped: a Schizophrenics Journey from Madness to Hope. Basic Books, 2001.
Walker, A. M., Klein, M. S., Hemmens, C., Stohr, M. K., & Burton,Velmer S.,,Jr. (2016). The consequences of official labels: An examination of the rights lost by the mentally ill and mentally incompetent since 1989. Community Mental Health Journal, 52(3), 272-280. doi:http://dx.doi.org/10.1007/s10597-015-9941-x
Additional Information