Cuba City State Bank Clock
Introduction
On its 50th anniversary in 1953, the Cuba City State Bank purchased this striking, three-faced McClintock clock as a gift to the residents of Cuba City. It was first attached to the side of the bank building at the corner of Main and Clay Street and moved to a free-standing beam when the bank was demolished in the 1970s. Changes in bank ownership led to the removal of the clock altogether in 2011, until a group of volunteers raised money and lovingly restored the piece in 2015-2016. The clock is now displayed along South Main Street, near Cuba City's Presidential Plaza and Caboose.
Images
Cuba City State Bank clock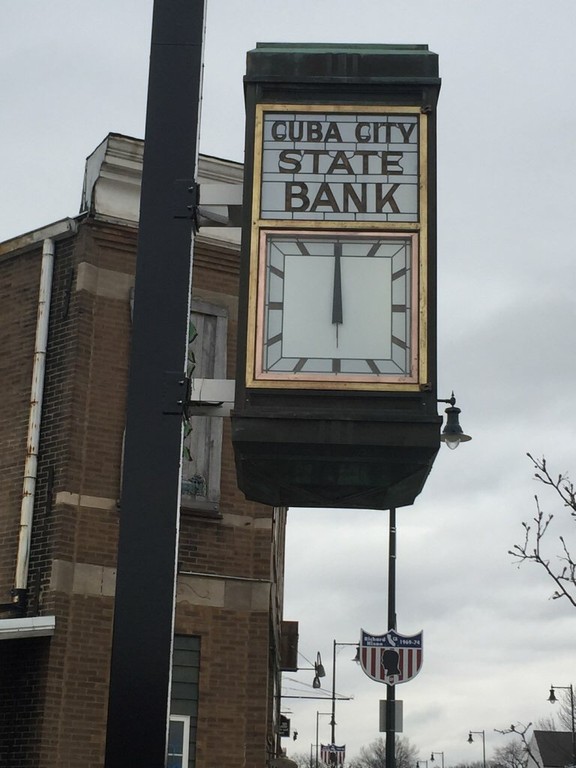 Backstory and Context
The Cuba City State Bank began, fittingly, in the building beside the clock's current location. Previously known as the Farmers Bank when it was founded in 1896, the institution built the new building in 1907 and changed its name to Cuba City State Bank in 1910. It remained in this building until 1928 when it acquired the stock and assets of Cuba City's First National Bank and moved into that building on the corner of Main and Clay Street.
The Farmers Bank was granted a charter as a State Bank in 1903, which explains why its 50th anniversary--the occasion of the clock purchase--was celebrated in 1953.
Sources
"Cuba City Bank Installs Clock as 50-Year Gift." Telegraph-Herald (Dubuque, Ia.). May 19th 1953.
Cuba City Centennial. Cuba City, Wis., 1975.
"Down with the Old and Up with the New." Tri-County Press (Cuba City, Wis.). January 13, 2011.
Harris, Dena. "Clock Revamped For Main Street." Tri-County Press (Cuba City, Wis.). April 30, 2015.