Emma Tenayuca - Historical Marker
Introduction
This historical marker commemorates the life and legacy of Mexican-American labor activist Emma Tenayuca (1916-1999) who gained notoriety in Texas in the 1930s for her efforts to promote worker's rights, improve working conditions, end discrimination, and raise worker wages. Tenayuca is best known for helping organize the successful 1938 Pecan Shellers Strike, during which workers of pecan companies—primarily Mexican and Mexican-American women—protested a 50 percent wage reduction and terrible working conditions (see below for more details). For her efforts, Tenayuca earned the nickname "La Pasionaria"—"The Passionate One."
Images
The marker is located in the park near Commerce Street.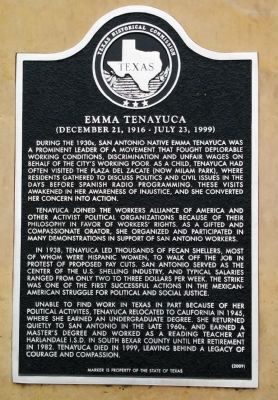 Emma Tenayuca (1916-1999)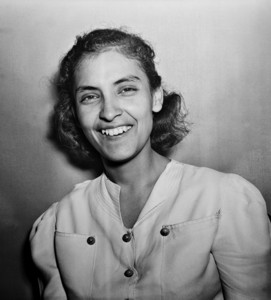 Backstory and Context
Emma Tenayuca was born on December 21, 1916 to a large family of Spanish and Native American (Comanche) descent. At an early age, family financial difficulties forced her to live with her maternal grandparents in a largely Mexican-American neighborhood. This move would shape the rest of her life. Her grandfather, Francisco, would often take her to Milam Park (then called Plaza Del Zacate), where she would listen to locals discuss civil and political issues of the day as well as the daily hardships they faced. When the Great Depression hit, she was witness to the suffering it caused to low-class workers. It was from these experiences where her interest in social activism originated. She became an activist in high school and was arrested in 1933 at the age of 16 when she joined workers striking a cigar company.
As an adult, Tenayuca founded two international women garment unions and was a leading member of the Worker's Alliance of America and the Woman's League for Peace and Freedom. She also joined the Communist Party in 1936.
Pecan Shellers Strike
On January 31, 1938 almost 12,000 pecan shellers went on strike. As stated above, they protested the wage cut and working conditions. At the time, San Antonio produced 50 percent of the country's pecan supply in 400 factories. Workers suffered from poor ventilation, no running water or toilets, and many died of tuberculosis, partially as a result of inhaling the fine pecan dust. The companies preferred hand shelling over using machines because it was cheaper. The workers formed
the International Pecan Shellers Union No. 172, which was a chapter of United Cannery, Agricultural, Packing, and Allied Workers of America.
The strike lasted for three months and Tenayuca was its leader at the beginning. Her ties to the Communist Party, however, drew negative attention and she was removed as the strike's official leader. Despite this action, she remained actively involved in the strike, which was ultimately successful. The pecan producers agreed to a seven to eight cent wage increase.
In 1939, Tenayuca was scheduled to speak at a Communist Party meeting in San Antonio at the
San Antonio Municipal Auditorium
. It drew thousands of protesters who stormed the auditorium, forcing Tenayuca to escape. This event and threats against her life compelled her to move and she made her way to California in 1945. There, she earned a teaching degree and then a master's degree in education. She returned to San Antonio and became a teacher, finally retiring in 1982.
In her later years, Tenayuca was recognized for her achievements. She was inducted into the San Antonio Women's Hall of Fame in 1991 and was also the subject of documentaries and depicted in public murals, songs and plays, among other areas. She passed away on July 23, 1999 of Alzheimer's disease.
Sources
Ayala, Elaine. "Emma Tenayuca gets her due."
National Catholic Reporter
. August 22, 2008. Retrieved from the WebArchive on April 25, 2019. https://web.archive.org/web/20120101065526/http://ncronline.org/node/1621.
Croxdale, Richard. "Pecan-Shellers' Strike." Handbook of Texas Online. Accessed April 25, 2019. https://tshaonline.org/handbook/online/articles/oep01.
"Emma Tenayuca (December 21, 1916 - July 23, 1999)." The Historical Marker Database. Accessed April 25, 2019. https://www.hmdb.org/marker.asp?marker=81175.
"Pecan Shellers' Strike Sparked Hispanic Workers' Movement." American Post Workers Union, AFL-CIO. Accessed April 25, 2019. https://www.apwu.org/labor-history-articles/pecan-shellers%E2%80%99-strike-sparked-hispanic-workers%E2%80%99-movement.

R. Matt Abigail & Jazmin León. "Tenayuca, Emma Beatrice." Handbook of Texas Online. Accessed April 25, 2019. https://tshaonline.org/handbook/online/articles/fte41.

Additional Information